Argentina
A WINE LOVER'S PARADISE
It takes more than one visit to maximize your Argentinean experience, so vast is this country that stretches from the tropics to its temperate southern reaches. It's also a different pace of life here with an often fluid travel schedule and dinner usually served after nine. The country's icons, however, are loud and vigourously command our attention. The nation that gave us the Tango is also the home of a wine-lover's paradise in Mendoza's valleys. Coastal capital city Buenos Aires brims with vivacity and offers reminders of a tumultuous past. As a contrast to the cosmopolitan experience, some of the world's most magnificent wild spaces inspire awe and bring about a sense of solitude. The big skies, jagged peaks, shimmering glaciers and magnificent waterfalls of Patagonia provide photographic fodder; Mount Fitz Roy dramatically explodes skyward. Also not to be missed are the painted deserts of the Andes and the white-tipped mountains in the Lake District. Finally, there's the wildlife: legions of penguins in the cool south, condors, foxes, pumas, eagles and falcons to name but a precious few. In Argentina, everything is exuberant. Join us and become part of that energy.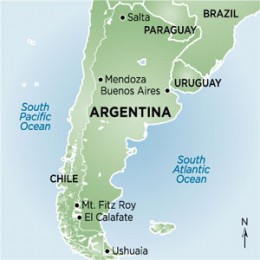 ---
BEST TIME TO TRAVEL
From October to mid-December and April to mid-June.
---
GOOD TO KNOW
Argentines like to start their days late and end late!
---
SIGNATURE MOMENTS
Reading Eva Peron's inscription at the Recoleta Cemetery
Visiting with the oenologist at leading wineries
Learning to tango with a private instructor
---
BE SURE TO TRY
• Provoleta
• Dulce de leche
• Alfajores
---
RECOMMENDED READING
The Old Patagonia Express by Paul Theroux

Vino Argentino - An Insider's Guide to the Wines and Wine Country of Argentina by Laura Catena
Tango: the Dance, the Song, the Story by Simon Collier
---
VISAS
Canadians and Americans do not need a visa for stays under three months.