(for 6 people)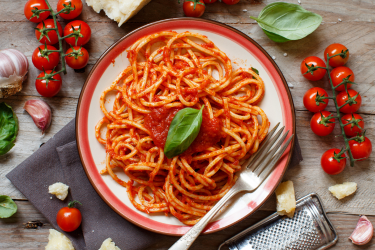 Ingredients
500 gr. Spaghetti
500 gr bottle of tomato passata
3 tablespoons of tomato paste (concentrate)
Olive oil
2 cloves of garlic, chopped
Red chili peppers (pepperoncino)
Directions
Step 1
Make a tomato broth using 2/3 of the passata and an equal amount of water.
Add the tomato paste to the broth.
Add salt to the broth.
Bring to a boil and then simmer. (The broth needs to be hot when added to the pasta)
Step 2
Add olive oil to a large frying pan.
Add chopped garlic and the red chili pepper and lightly fry.
Add the undiluted 1/3 of the passata.
Spread the passata to cover the base of the pan.
Once the passata is thickened, add the spaghetti.
Allow the underside of the spaghetti to start caramelizing before turning over with a spatula.
Once the other side is crisping a little, add a ladle of the hot tomato broth.
Keep adding the broth until the spaghetti is al dente. (You can add water if you run out broth).
We'll be on the lookout for this distinctive dish as we tour
Puglia
with master winemaker
Howard Soon
in April 2024.