Our Quest tours are conceived and executed to maximize your time in the field. So it's especially nice when you can be 'in the field' all day and all night! That's the case at one of my favourite stops on our annual East Africa Safari. The Kubu Kubu Tented Camp is as remote as it is magnificent.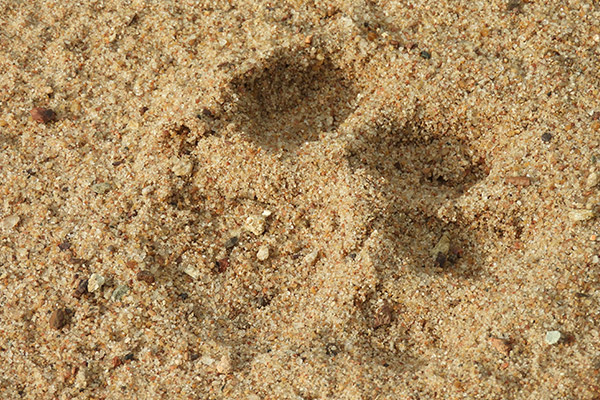 Lion track on Kubu Kubu path
© Glenn Barrett
Located in the plains of central Serengeti, wildlife is all around you – there are no fences separating Kubu Kubu from its surroundings. I saw Impalas grazing not that far my cabin and at night I could hear Lions roaring and Spotted Hyenas laughing. Fortunately, once the sun sets Maasai guards escorted me between my cabin and the main lodge building. During my 2020 tour one of the guards pointed out Lion and African Buffalo footprints on the dirt path that led from the cabin area towards the main lodge and in 2019 a guard's flashlight found a Small-spotted Genet foraging between two cabins!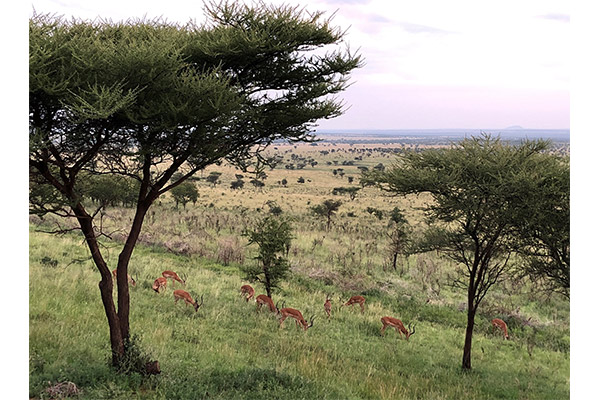 Impala at Kubu Kubu
© Janice White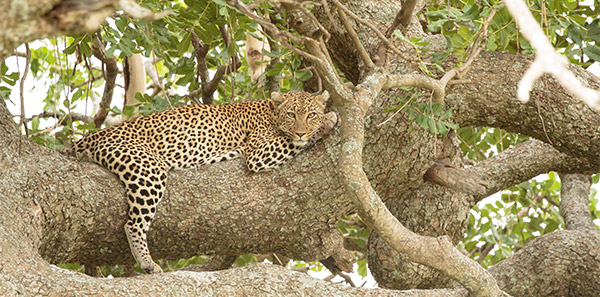 Leopard resting in a tree near Kubu Kubu
© Janice White
Opened in 2016, this is a permanent tented camp (vs a mobile camp that moves to different locations in different seasons). But if the words 'tent' or 'camp' have you thinking 'uncomfortable', worry no more because these accommodations are much more like a cabin; they have a solid roof and floor, and some of the walls are solid, while others are canvas. The comfortable beds all have mosquito netting and the bathrooms are fantastic, featuring an outdoor shower so your wildlife watching never has to end! Each cabin also has a balcony oriented to allow beautiful views of each day's exhilarating sunrise and sunset.

Sunset over Kubu Kubu Camp
© Glenn Barrett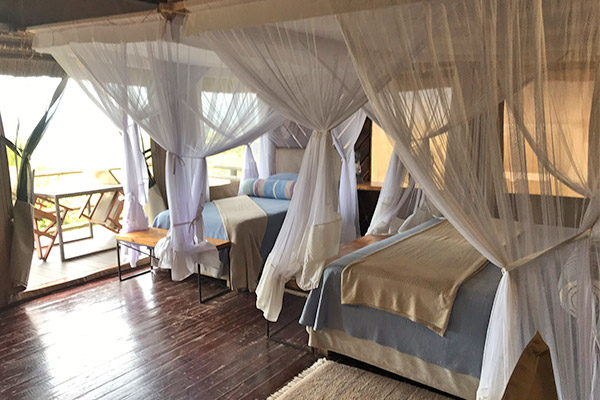 Room at Kubu Kubu Camp
© Glenn Barrett
The camp consists of 25 cabins plus the main lodge building which houses a lounge, dining area, exercise room, gift shop, and an expansive deck. But wait - there's more! There is also a large infinity pool where you can float gazing out over the Serengeti. One afternoon as I lounged poolside I spotted Grey Kestrel, Rüppell's Long-tailed Starling, African Pied Wagtail and Miombo Rock-Thrush. African bird life is exquisite!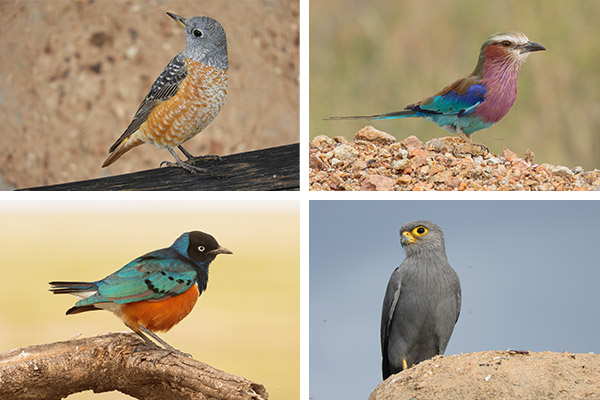 (top left) Miombo Rock-Thrush © Glenn Barrett
(top right) Lilac-breasted Roller © Janice White
(bottom left) Superb Starling © Janice White
(bottom right) Grey Kestrel © Glenn Barrett
The food at Kubu Kubu is delicious with the hot and cold breakfast buffet including an omelette station and a wide selection of fresh fruit and baked goods. At night the buffet is expansive with a salad bar and hot entrees and we always enjoy the BBQ. With a variety of local and international offerings, you will not go hungry at this location, nor should you ever be thirsty as all drinks are complimentary at Kubu Kubu.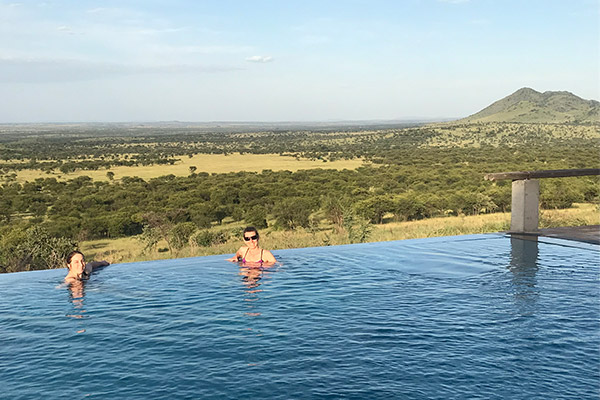 Infinity pool at Kubu Kubu
© Glenn Barrett
Kubu Kubu Tented Camp at daybreak
© Janice White
Kubu Kubu is perfectly located to explore all that the Serengeti offers. Each day's game drives always turned up incredible wildlife sightings and the resident wildlife and spectacular landscapes of Kubu Kubu awaited us each afternoon on our return. You can truly be 'in the field' 24 hours a day!
February 21 - March 3, 2024