Glenn Barrett
Glenn Barrett was recently given the Monarch Award for his sustainable garden in Hamilton, Ontario. You can read more about his accomplishment
here
...a testament to the fact a garden can be "natural" and attractive at the same time.
Growing up in a family that took regular camping trips throughout Canada and the USA, Glenn's interest in nature and the outdoors began early in life. He pursued those goals by attending the University of Guelph where he graduated with a B.Sc., specialization in Wildlife Biology. With interests in both biology and environmental education, Glenn worked for the Wellington County School Board helping teachers and students naturalize portions of school properties to provide learning opportunities for students. Glenn also led outdoor education programs at the University of Guelph's Arboretum and Mountsberg Conservation Area, and he volunteered at the Sacramento National Wildlife Refuge in California for six months, where he participated in all facets of this refuge's busy environmental education program.
Employed as a Wildlife Technician for Environment Canada since 1994, Glenn assists with wildlife toxicology and population conservation projects on birds, herpetofauna and mammals at sites throughout the Great Lakes Basin. Glenn gained additional wildlife experience assisting with studies in Alaska on Black-legged Kittiwakes and in the Galapagos Islands where he camped for five months on Española Island (one of the islands we visit during our Galapagos expeditions!).
A keen naturalist and published nature photographer, he has pursued both interests while travelling throughout Canada, USA and Ecuador. A Past President of the Hamilton Naturalists' Club, Glenn continues to be an active member involved in leading hikes, writing articles for the Club newsletter The Wood Duck, participating in land trust activities, and taking on leadership roles in Club projects including 'Nature In Your Neighbourhood' and the 'Birds of Hamilton and Surrounding Areas' book. Glenn is well-known to our Quest expeditioners in particular through having led several of our Galapagos expeditions and Best of Cuba tours in the past. He'll continue to enhance our travellers' discoveries in Trinidad & Tobago!
Our travellers can't say enough good things about Glenn!
"Glenn is an excellent leader. He is so organized! He dealt with group of quite varied individuals with grace and efficiency. Can't praise him highly enough." - Jenny S., Trinidad and Tobago traveller in 2017
"[Glenn has] all the characteristics that a good group leader should have - namely, extremely knowledgeable about the subject matter, attentive to all details of the trip, respectful of the variety of personalities in the group, not judgemental in any way, ensuring that everyone knew what to expect each day, unflappable in the face of unexpected events..." - Jan P., Trinidad and Tobago traveller in 2018
"Glenn is an exceptional tour leader - calm, down-to-earth, inclusive, aware of group dynamics and very helpful." - Tanzania Safari traveller in 2019
Upcoming Tours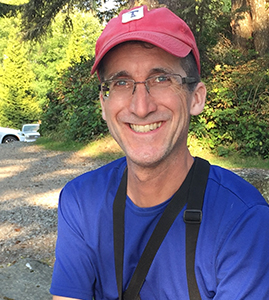 Blog Posts
All Before Breakfast at Asa Wright Nature Centre

Diversity and Landscapes of Cuba