For any visitor to Mongolia who has the chance to sleep in a ger, that is probably a highlight. I enjoy it every time I have a chance.
One of the aspects that often makes it a very enjoyable experience are all the little noises around the ger.
Sometimes you'll be able to see stars through the roof flap and that makes listening to the noises even more enjoyable.
Obviously, a free-standing ger is more likely to provide the audio soundtrack than a ger camp ger, but still.
There's nothing quite like a herd of small sheep and goats moving around the ger as you're lying inside. Their bleating comes in so many different varieties and then there is also the sound of so many small hooves…
If yaks are around, their strange snorting, snuffling grunts are pretty fun to listen to.
Dogs near and far will set each other off in a barking fit at some point in the night or in the morning.
Cows will honk angrily in the morning, perhaps impatient for milking to commence.
And then there's horses. Obviously their hooves are more formidable sound than those of small animals.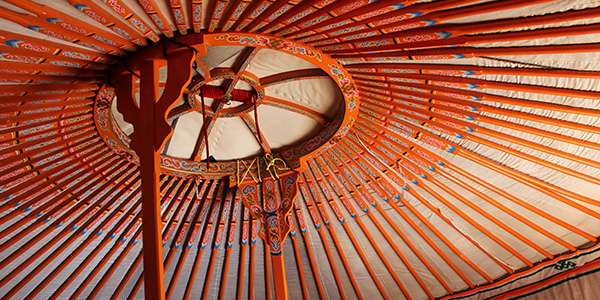 In many areas of Mongolia there are a lot of birds as well. Cuckoos are quite common in wooded areas, craws everywhere. Lots of birds of prey as well who sometimes let you know they're around.
More likely than not, you'll have a crackling fire in the stove. With a bit of luck it's even a dung fire that adds the herbal grass scents to the sounds.
There's probably some kind of flap loose somewhere around the ger, so if it's windy, you'll hear that.
Chances are that whatever you're sleeping on is creaky.
All of that adds up to a sometimes wonderful soundscape. No wonder, Mongolians will tell you that after sleeping in a ger you will wake up with a clear head.
---
Julian Dierkes is our
alumni UBC
Study Leader for our Mongolia tour taking place June 3 - 17, 2019.
Click here to learn more about this tour.