I was fortunate to go on a scouting trip to Zambia (and a small part of Malawi) in fall of 2021. I knew just a little about the country as a wildlife destination. I had heard that its reserves exuded a certain feeling of wildness about them, something that appealed to me. So, I took the opportunity to get to know the country better overall, visit a number of areas of interest, and to make considerations for future Quest tours.
Independent since 1964, Zambia is a large country straddling the southern and eastern Africa regions. I knew that is much less visited by travellers than some of its close neighbours including South Africa and Tanzania, and with less to go by, I tried to imagine what it might be like. The closest I had ever been to Zambia was Kruger National Park in northeastern South Africa some years ago. Given its location at this juncture of south and east, I expected it would share characteristics with both of those regions. Despite the relative unfamiliarity of Zambia and relatively short preparation time, I was confident it would be excellent. What would it really be like? I would visit a small number of far-flung reserves: Lower Zambezi National Park; Kafue National Park; and South Luangwa National Park (and also Victoria Falls), before heading to Malawi. My October visit would fall at the end of the dry season when the land would likely be parched.
The mode of transportation between my entry point at Zambia's capital Lusaka and the various far-flung parks would be a Cessna Caravan flown by a highly experienced pilot, Ignatius.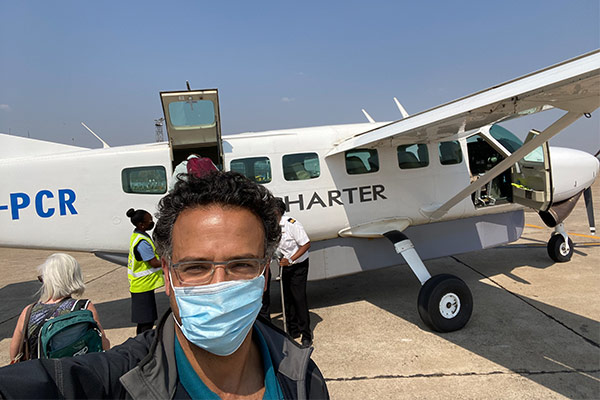 Travelling with 8 other passengers, this would be a fantastic way not only for most direct access, but also to have a good view of the landscape below.

Of Sandbars and Oxbows
One thing that became quickly obvious at the zenith of the dry season was just how limited surface water was. The large rivers flow year-round but undergo tremendous changes in water level and should serve as an obvious draw for water-dependent mammals including elephants and hippos and much else. The Zambezi is the major river and receives water from large tributaries such as the Kafue and the Luangwa. The permanence of these larger rivers served to explain the locations of their respective namesake national parks that I would visit. Our first stop was Lower Zambezi National Park.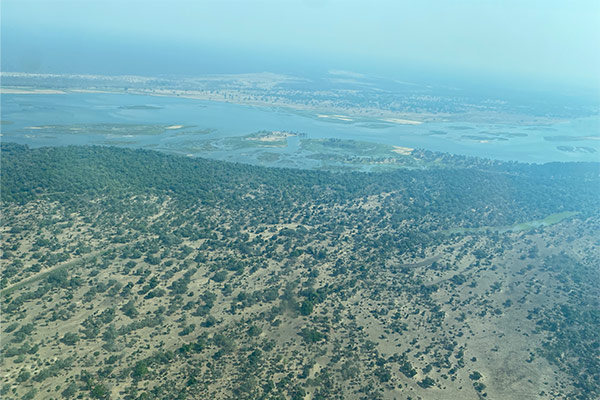 Green colour concentrates along the Lower Zambezi during the dry season.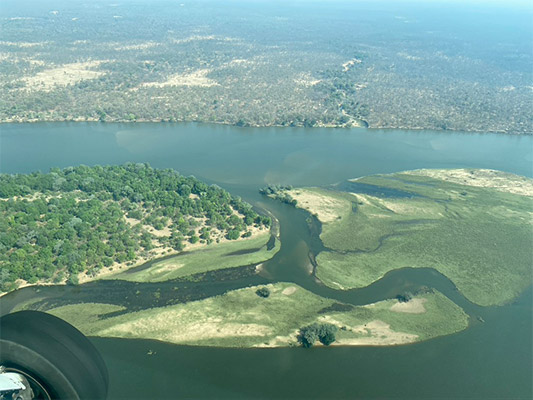 Large islands in the river provide lush grazing opportunities for large mammals including elephants, hippos and Cape Buffalo.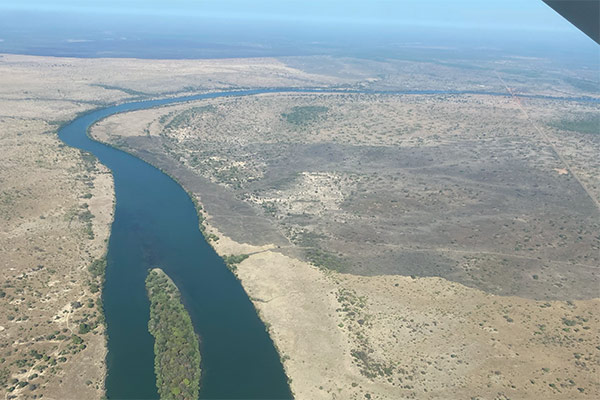 The area surrounding the Kafue River here appears dry but for a trim of green along its banks.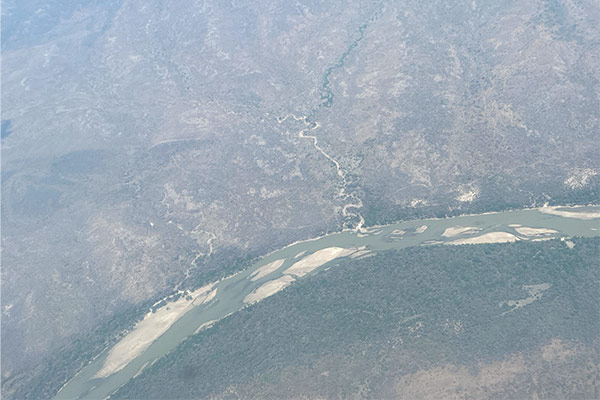 The low water levels on the major rivers reveal huge sandbars, here in the Luangwa River. I expected that the flood waters must be considerable during the wet season in order to create them. The green away from water at bottom is trees leafing out just ahead of the rains.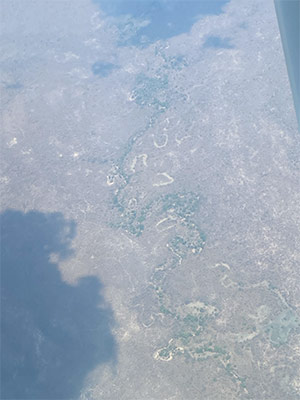 Most smaller tributaries run dry, and the "skeletons" of extinct tributaries remain in the form of oxbows, which may yet serve a great importance during the rainy season when the fertile soils there yield fresh graze. Can you see the pale "horseshoes" near the green ribbon? Those are oxbows in a seasonal river's former path.

Few and Far Between
As I would discover, the importance of the rivers would mean that Zambia's wildlife lodges are often placed a stone's throw from the water. However, lodges in Zambia are placed at low density and conceived to be intimate. They are largely out of view of each other and blend harmoniously with the local relief. What's more, they are not fenced off from their environments. The spacing and open borders mean that wildlife is free to enter the premises, and while this might occasionally pose challenges, the need to co-exist can mean a more interesting stay. I had the chance to experience just this in Lower Zambezi National Park where the riverside lodges I visited were frequented by elephants. I was simply heading to breakfast one morning...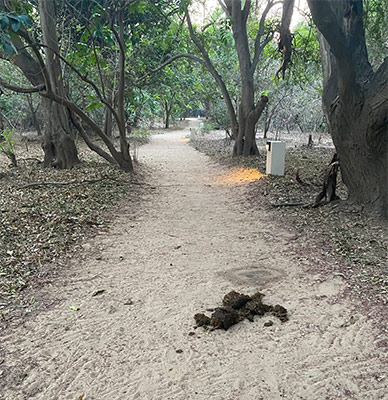 Fresh elephant dung was the first sign that I should be alert en route to breakfast!
These two did not seem too concerned about my presence. An excellent record of anti-poaching means that elephants in Zambia are more confiding.
For safety, I would not continue down the path. Lodge staff members are always aware of the possibilities and one escorted me to breakfast by an alternate route.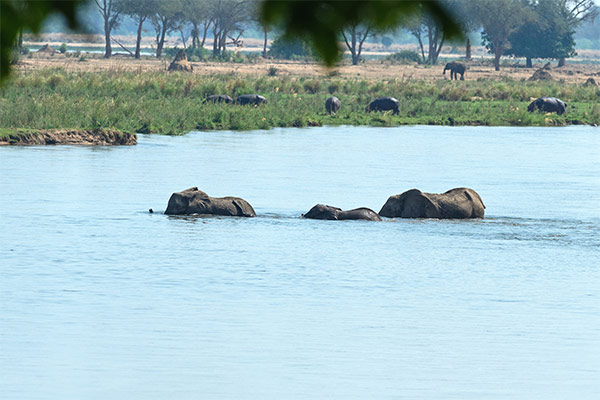 The presence of elephants was to be enjoyed. The placement of my room by the Zambezi meant that I could watch two mother elephants escort their two young across a channel to one of the large river islands! Can you see the trunk of the youngest one beside mom's flank? Note the hippos in the background.
In Kafue National Park, our riverside lodge was regularly frequented by hippos, who came to feed on the dependably green grass there.
I had to wait a little while for them to clear the area so I could head for breakfast. It was a welcome sight nonetheless!
As for the lodges themselves, the ones I visited were all interesting, stylish and comfortable, affording privacy and a chance to experience the sights and sounds of the African bush.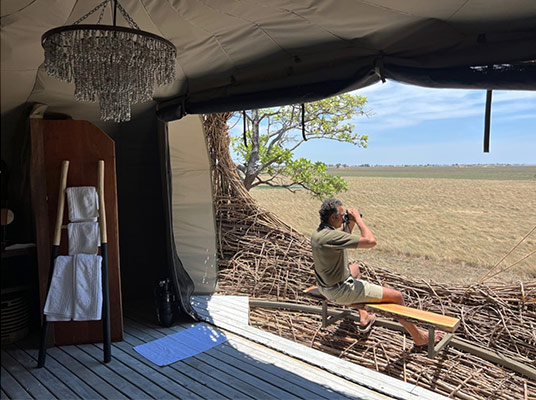 Cabins such as this one in northern Kafue National Park afford a high,
panoramic view of the surroundings.
This lodge along the Kafue River had well-spaced tents.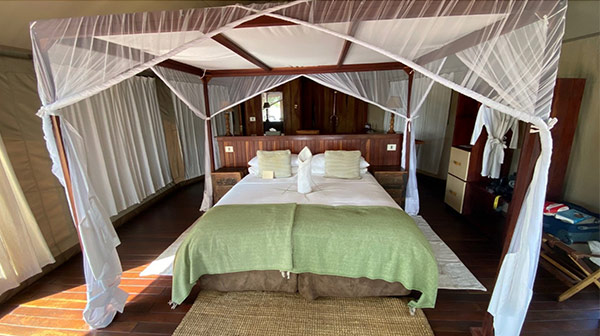 The insides of the tents were lovely and comfortable.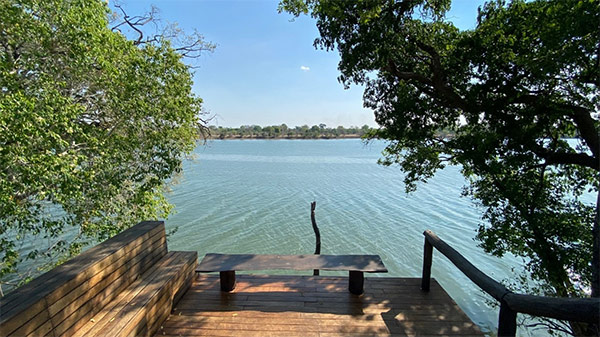 The view from the tent was nice and private.
At night, I could hear African Wood-Owls calling here!
Up-close encounters
I've mentioned the intimate experiences we have with wildlife at the lodges themselves, certainly a bonus of any lodge, anywhere! The relatively small number of visitors also means we can enjoy supremely intimate and spontaneous encounters on excursions away from the lodges. On one of our driving excursions at Kafue National Park, we encountered a lioness who acted oblivious to us, using this road near a dry creek bed with something apparently on her mind. She walked right by us and posed. Then, she began making low roars across the creek bed.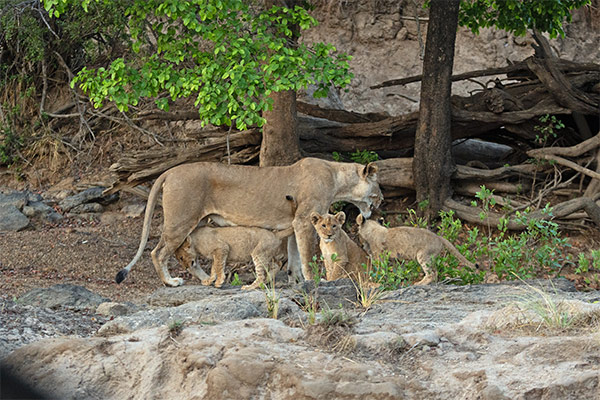 And then, one by one, her cubs started appearing by her side. She was summoning them out of hiding where she had left them! There were four. She kept calling and then two more appeared from farther away, running towards her quickly, not wishing to be left behind, I assume!
Then the family of 7 walked off, mother intent on their direction and the cubs engaging in play to the extent their movements would allow! It was amazing to be right there and have this moment evolve right before our eyes!
If you'd like to know more about Zambia and our new tour, please call me or
email me
anytime. I know you'll enjoy the discovery as much as I did!
---
Zambia: Insider's Africa
October 31 - November 11, 2023
|
Learn more