"Why would you ever want to go to India?"

"Why wouldn't you want to visit India?" is what we would reply.
I have recently read on line the acronym for some individuals' experience of INDIA: "I'll Never Do It Again." However our experience has been completely the opposite. Our acronym for INDIA is: "I Need to Do It Always".
We have visited India twice. In 2014 we visited Northern India and now in 2016 southern India. Two very different and both equally FANTASTIC experiences. We are hooked on India and we will return. "Why?" you wonder. Quite simply we love India for a variety of reasons...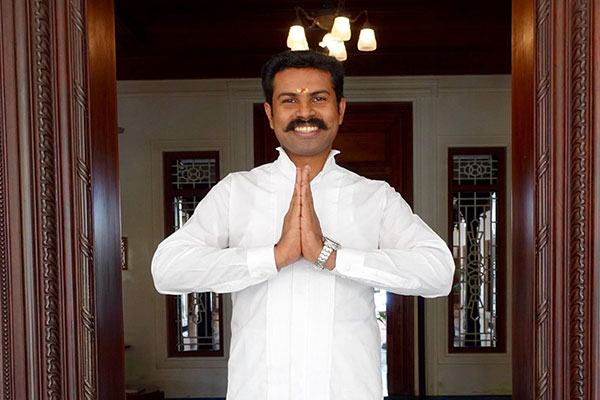 We LOVE India mostly for its PEOPLE!!!
We were greeted with warmth, kindness, and hospitality beyond our expectation wherever we went. In the markets, on the street, from our bus window, in the restaurants or in the homes of the Indian people we were greeted with a sea of smiles and the warmest of welcomes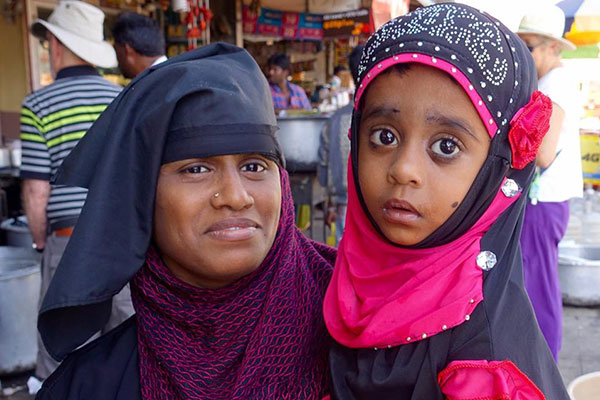 Muslims, Hindus and Christians living in harmony with one another in southern India. Recognizing each other's beliefs and traditions and often celebrating with one another is not uncommon.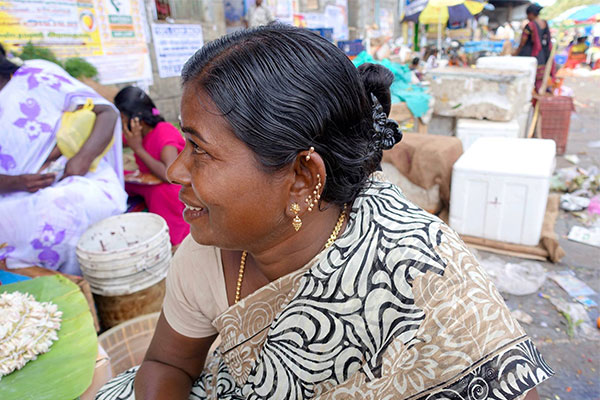 Beauty is everywhere; in the market, on the street, on her ears.
Beauty lies in the eyes of the beholder.
A great variety of vegetables and pulses (peas, beans, lentils, and chickpeas) grow throughout India and make possible the varied vegetarian diet that over 300 million people adhere to.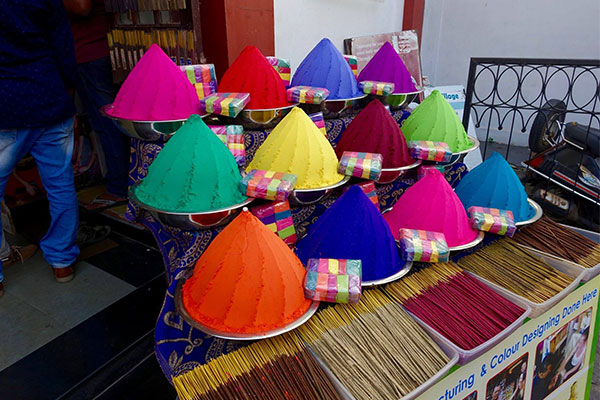 We love the colours of India from the temples, to the Kolams, to the women's sari's, to the markets to the abundance of nature.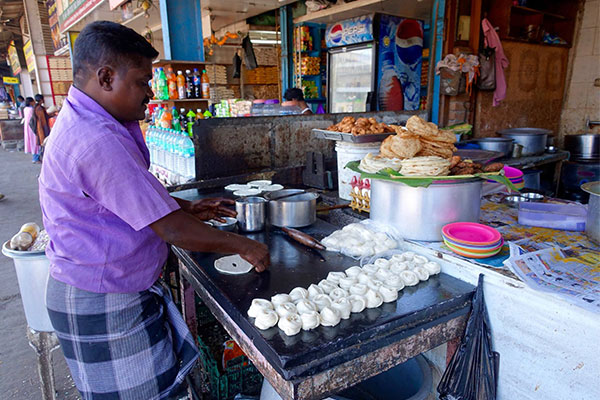 I came to India uneducated on the food of Southern India. I had based by knowledge on Indian food from my experience of restaurants in Edmonton which typically serve Northern Indian food.
You'll find lots of breads and curries in the North. Much of what you eat in the restaurants in the West, such as naan bread, rotis, samosas, curries such as Palak Paneer (spinach and cheese) and Aloo Ghobi (potato and cauliflower), and the like, is North Indian.
I love South Indian food and quickly learned that it is very different from North Indian food.
Generally speaking, South Indian cooking is based around rice, lentils, and stews. Dishes such as dosa (a lentil and rice crêpe), idli (steamed lentil rice cakes), saaru/rasam (tomato, tamarind, and lentil soup), and huli/sambar (spicy lentil and vegetable stew) are all from the South. Coconut and coconut milk are used extensively in the south as well.
A favourite: paratha bread, which this street vendor above is making.
So yummy.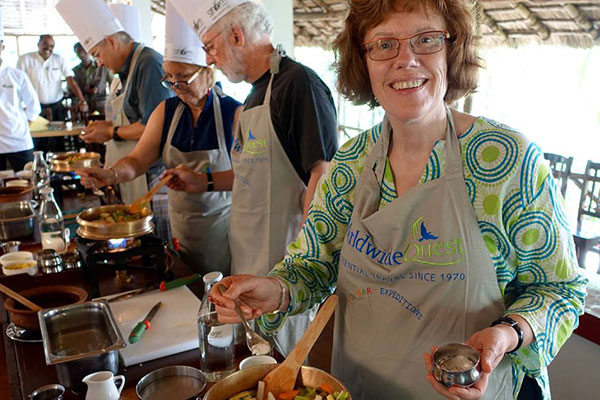 I love the many opportunities we had to cook in southern India. We learned how much we really do like Southern Indian food. I also learned each region's food is very different and that you cannot make blanket statements of India.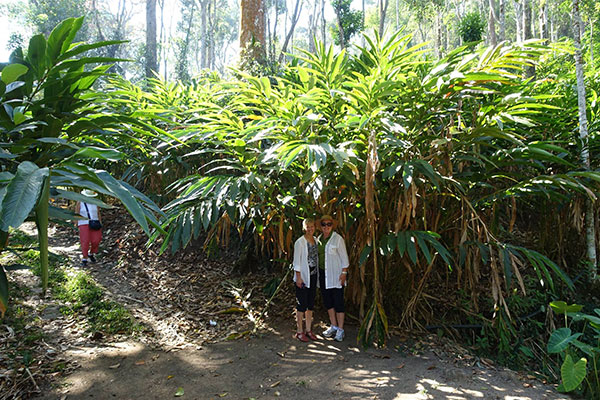 We loved visiting the jungles and learning more about the spices that grow there. The spices form the foundation for cuisine throughout the country. We had no idea that the plant Lori and Diane are standing under (above) is a cardamon plant!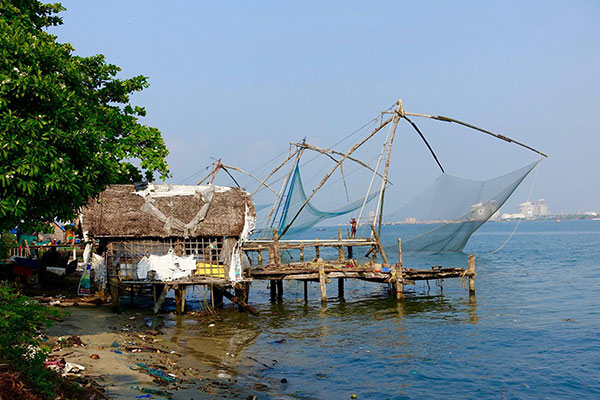 Is there garbage in India? Yes, there is, as in most developing countries. Is there poverty in India? Yes, as there is in most developing countries. However, this picture was taken in Kerala where the literacy rate is 98%. You need to know that India is not one great big slum.
What I see in this photo is the contrast, but also the beauty, of the 600 year old Chinese way of fishing with the traditional nets that are still being used today.
I am reminded that while we can't help everyone, everyone can help someone. This is a way of being that will always make a difference. We have for the past three years chosen to sponsored a girl's education in Northern India. It is our small way of making a difference.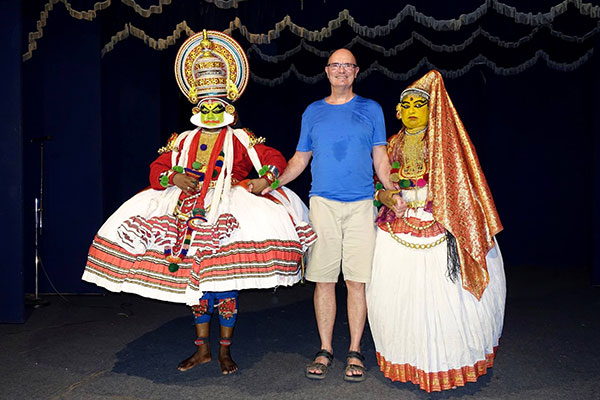 We loved having the opportunities to observe the rhythm of life in India including their traditional forms of art as shown in the Kathakali dance of Kerala.
Kathakali is a stylized classical Indian dance-drama noted for the attractive make-up of characters, elaborate costumes, detailed gestures, and well-defined body movements presented in tune with the anchor playback music and complementary percussion.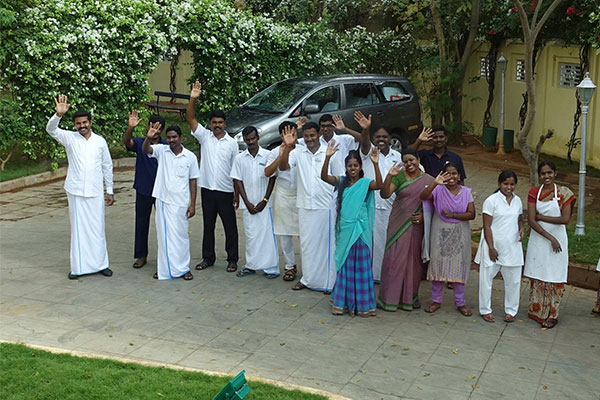 It is the people of southern India that will always remain with us. This was not an uncommon site of having the staff come out to our bus and wave goodbye as we made our way to our next destination, whether it be leaving our hotel, restaurant, or the private Indian homes we were in.
Unbelievably kind, gracious people of India.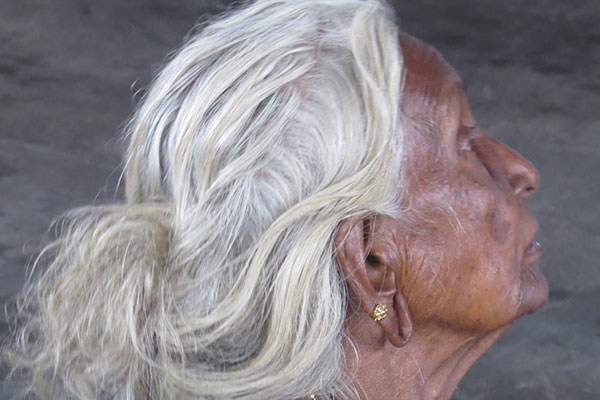 This photo was taken by Liz and captures the beauty and soul of southern India for us.
What I have learned on this trip is that you cannot make one or two generalized statements of India. India is a diverse and large country. Each state has their own food culture, identify, language and cultural traditions.
We would encourage you to consider visiting India and to leave your preconceived ideas of India in your luggage. Come with an open heart and non-judgmental eyes and I know you will be touched beyond belief as we have been.