If one's ability to transform one's childhood interests into a career is considered remarkable, then new Quest leader Josh Vandermeulen is a remarkable individual indeed, for he has been interested in natural history since childhood and is now doing what he loves.
But don't let his young looks fool you into thinking it has been easy for him. Although he completed by studies in Ecology at the University of Guelph not so long ago, this rare under-30 Quest Nature Tours leader is already a seasoned professional biologist and traveller with a gamut of skills and accolades under his belt.
For a number of years already, he has been actively conducting field surveys of herpetofauna (reptiles and amphibians) and bird life from Ontario's "Deep South" of Pelee Island in Lake Erie all the way up to the shores of James Bay. He has also been a leader among his peers in giving generously of his own time to assist with various non-profit initiatives in the naturalist community. During this same time, Josh has had a chance to develop a taste for adventure and discovery of new countries, and his photographic skills and interests have blossomed in kind.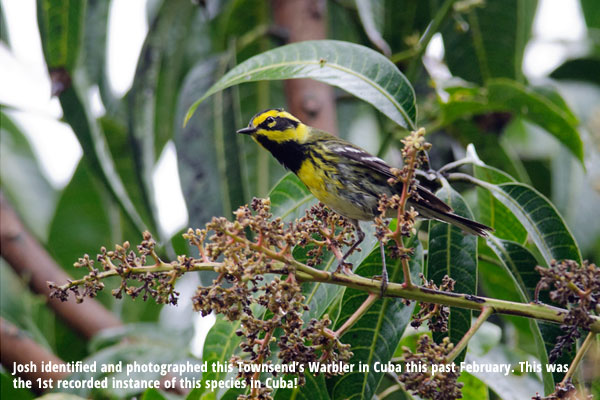 Josh has also enjoyed some notoriety (of the good kind) from some of his accomplishments, not least of which was his Ontario "Big Year" in 2012. This entailed his attempt to observe as many bird species as possible in Ontario in a single year and to break the previous record of 338 species observed. Josh was successful and managed to find 344 species, even though he was out of the province for weeks at a time! His feat received media coverage by some major news outlets such as CTV and the Toronto Star.
His field skills aside, Josh has also accumulated an outstanding record of client service and is literally not afraid to get his hands dirty if the task demands it! Participants in our first Best of Cuba departure this past February had an opportunity to travel with Josh as he assisted Glenn with the tour, and we received glowing reports. We think you too will enjoy travelling with Josh. Seeing as he is a great adventurer, we think he will go far.
We ask you to give Josh a warm welcome to our 'Quest family' of travellers!
To learn more about Josh and to see more on his upcoming Quest tours,
please click here.