Arribada,
a Spanish word that means 'arrival by sea', has gained monumental significance in the linguistic repertoire of herpetologists and wildlife lovers worldwide, thanks to an iconic and magical phenomenon that occurs in a few locations of the South Atlantic, Pacific and Indian Oceans during a narrow window in each lunar cycle.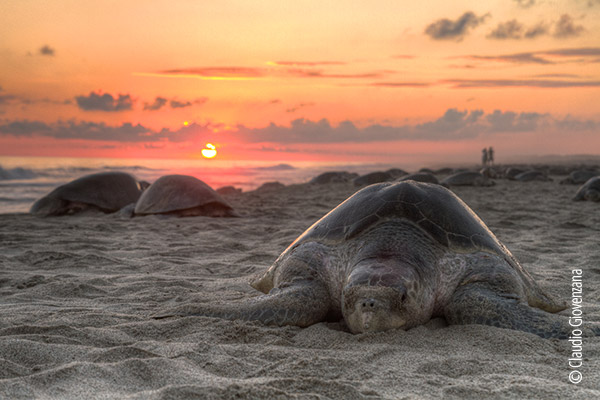 If you haven't guessed already, we are referring to the mass nestings of the threatened
Olive Ridley Sea Turtle
(Lepidochelys olivacea)!
Deriving its name from the olive-green colour of its heart-shaped shell, the Olive Ridley turtle is one of the smallest sea turtle species – larger only than the Kemp's Ridley Turtle, which is the only other sea turtle that is renowned for the arribada. While other turtles are also known to nest in groups, no other species nest in such large numbers and with such synchronization.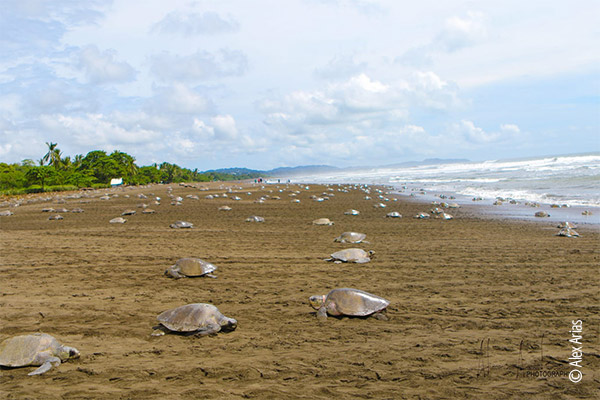 Arribadas occur over a period of several days, usually up to a week. Some days or weeks before the mass nesting, an increasing number of turtles congregates offshore. After some days, as if prompted by a secret signal, the arribada begins. It is said to begin in earnest when the moon is in its last quarter (waning gibbous). At first, a few hundred turtles come out on the beach, followed by a steady stream of animals for the next three to seven days. Eventually, thousands of females come ashore to lay their eggs. At many nesting beaches, the extremely high nesting density may lead to previously laid egg clutches being dug up by other females to lay their own eggs!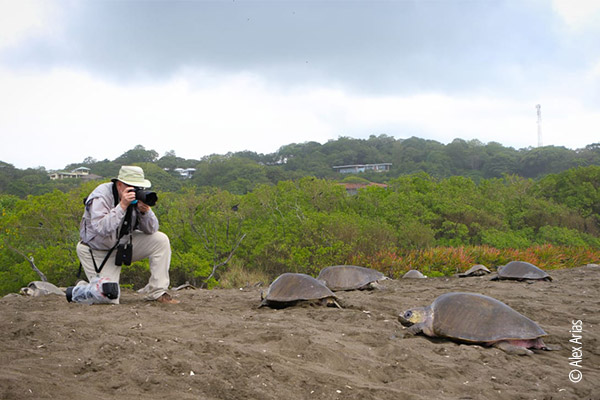 Females nest every year. After laying the eggs in a clutch, the female Olive Ridleys cover their eggs with sand using their bodies, patting the sand down firmly with their lower shells. Since the nesting turtles seem to be so immersed – as if in a trance – they seem to not be affected by onlookers! Why this phenomenon is so tied to the lunar cycle is not readily apparent to scientists.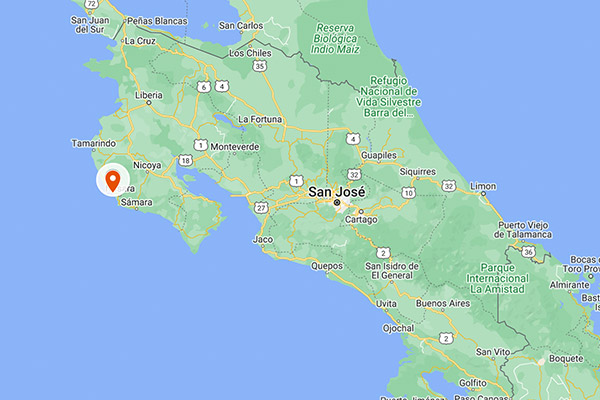 Playa del Ostional (Ostional Beach)
One of the best places to observe the Olive Ridley Turtle arribada is along Costa Rica's Pacific coastline and the Ostional Beach in the Nicoya Peninsula. Join us in witnessing this soul-stirring phenomenon as we embark on a
special tour of Costa Rica in 2023
with the
alumni UBC
Travel Club! Led by our expert tour leader
Catharine Jardine
, we will also see a variety of captivating bird life and numerous interesting mammals and amphibians as we explore some of the lesser-known regions of one of our favourite destinations in Central America!
---