Looking for a fantastic adventure in the remote reaches of Vancouver Island? Join expert guide Pamela Duynstee to explore the north island in-depth in your own private group this summer or book now for 2022!
Watch for orca and humpbacks on a full-day kayak expedition 
Relax in the comfort of the First Nations' owned lodges
Connect with totem pole artists 
Hike hidden forest trails
These are just some of the activities on the brand new  "North Island In-Depth" program designed by our friend Pamela who has helped us coordinate our Northwest Passage expeditions over the years. Now Pamela's deep into Vancouver Island and all points wild and wonderful in beautiful British Columbia and we can't think of a better guide to help you get the most out of your B.C. experience.
We met up virtually with  Pamela  Duynstee to find who more about her innovative  programs  on Vancouver Island.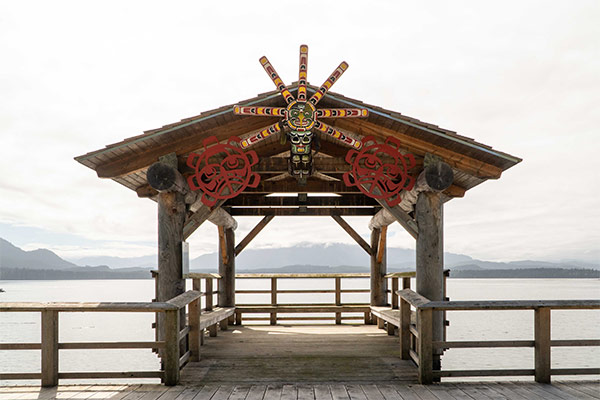 Art and carvings along the shore of Alert Bay, Cormorant Island

WQ: Indigenous culture and history plays a big role in your programs. What do you think travellers can learn from Vancouver Island indigenous groups?

Pamela: BC is home to more than 200 distinct First Nations, and on the North Island we'll be travelling in the Kwakwaka'wakw territory. Indigenous culture is all around us here, from the indigenous-owned hotels and restaurants to the cultural tours, museums, and historical sites we visit. It is in the hands of the indigenous people themselves to guide us and teach us about their culture - to open our minds to indigenous values and ways of life, and to educate us on the important events of the past.

Through storytelling and workshops, we learn about traditional foods, like bannock and salmon, and how to cook salmon on cedar planks over the fire. We learn about the significance of potlatch ceremonies, music and dance, as well as traditional methods of carving, painting and weaving. During guided hikes and wildlife viewing on the water, we hear stories about traditional migratory and trade routes, historical settlements, and the value of certain plants and animals like salmon and cedar trees.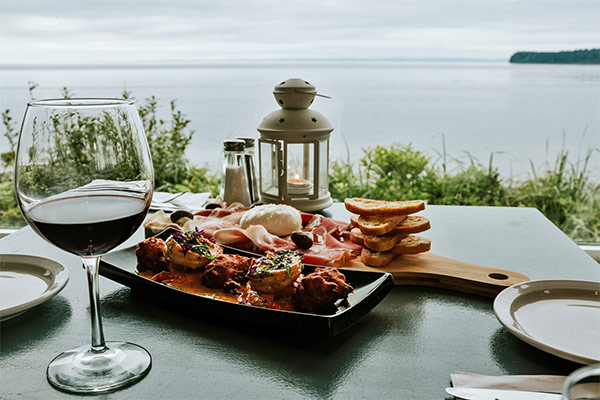 Dinner at Cluxewe Waterfront Bistro
A key part of our journey is learning about the past, listening to stories of indigenous history to help us better understand the events that shaped our country and the indigenous cultures we experience today. On Alert Bay, we visit the previous site of St. Michael's Residential School, one of the last residential schools in Canada to close down (1975). While a difficult topic for many, understanding this history is an important step towards reconciliation.
Finally, there are many interesting values woven into indigenous culture that we can learn from. The indigenous people hold a deep connection to the land and an understanding and respect for the interdependency of all living things. Land is borrowed from future generations, and with these values comes a sense of accountability and responsibility to act as stewards of the land. We also learn about their values of family and community and the focus on peace, harmony, reciprocity and the wellbeing of others.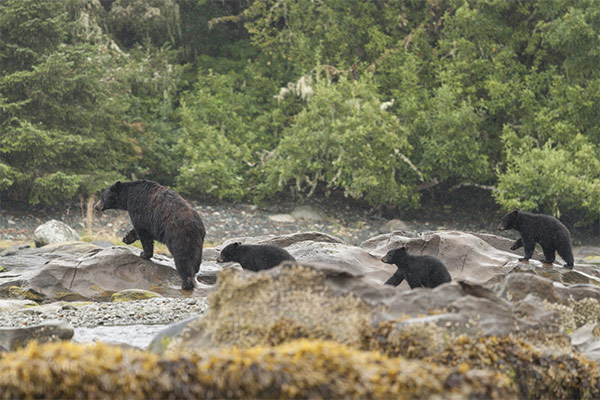 Family of Black Bears

WQ: What type of wildlife can we expect to see as we explore the North Island?

Pamela: The remoteness of the North Island lends itself to outstanding wildlife viewing – whether on land or at sea. During our water-based excursions, we visit several marine protected areas where humpback whales and orcas are commonly sighted, along with Dall's porpoises, Pacific white-sided dolphins, sea lions and sea otters, and a variety of sea birds. While kayaking on some of our trips, it's a joy to see the seals bobbing along in the current not far from our boats, or to spy the blow of a humpback whale in the distance.
With its many rivers and tributaries, this region is home to essential migratory routes of several species of salmon. With the salmon comes sightings of bald eagles soaring above, and if we're lucky, we'll find the odd grizzly bear while out on a wildlife tour. Black bears are common in this region as well, and we often see them sauntering by while driving down the highway or hiking on the trails.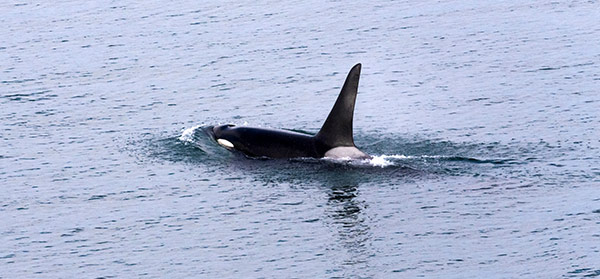 Sea otters are an incredible story of recovery here on the BC coast, as overhunting for the fur trade caused the species to become extinct in the early 1900s. Reintroduction efforts began in the 70s, where sea otters were relocated from the Alaskan coast to the northern shores of Vancouver Island. Now over 8000 sea otters are thriving in this region.

Another rare but fascinating site in the North Island region is when the orcas, or northern resident killer whales, rub their bodies on smooth pebble beaches. This is a social and recreational behaviour only seen in this one population of orca within BC. It's part of their culture and can continue for minutes or hours. The playful sounds they may while rubbing is the same tune heard when families of orca unite.
U'Mista Cultural Centre and the shores of Cormorant Island

WQ: Your programs include time in several small towns on the island – do you have a favourite?

Pamela: Alert Bay on Cormorant Island is probably my favourite – it's a welcoming small town with a rich history, located on a beautiful island with views of the Vancouver Island mountains to the west and the Johnstone Strait to the south.

To get there you take a small electric ferry from Port McNeill and arrive in this island (originally known as Yalis) only about 5km long and barely 1km wide. The roads on the island weave along the shoreline next to the beaches, through side streets of cozy homes and B&Bs, and up to scenic lookouts and hiking trails at the top of the island. There are over 16km of hiking, biking, and walking trails here, including a unique ecological park – a bog-like area with standing dead trees that was formed when the fish saltery attempted to dam a spring on the island.

Alert Bay is on the traditional territory of the 'Namgis First Nation, and the indigenous culture is prominent throughout the island. There is a beautiful boardwalk along the waterfront featuring indigenous wood carvings, many of the houses on the island are painted with indigenous art, and totem poles are erected on side streets and at the 'Namgis burial grounds. The island is home to the world's largest totem pole, standing proud beside the 'Namgis Traditional Big House. A highlight is certainly U'Mista Cultural Centre, where you can spend hours learning from interactive exhibits and the renowned potlatch collection.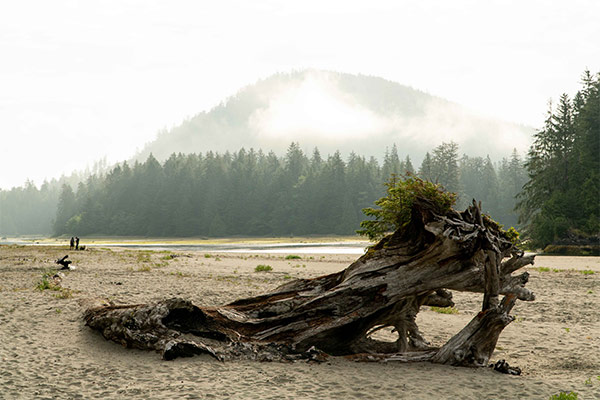 Beach and driftwood, San Josef Bay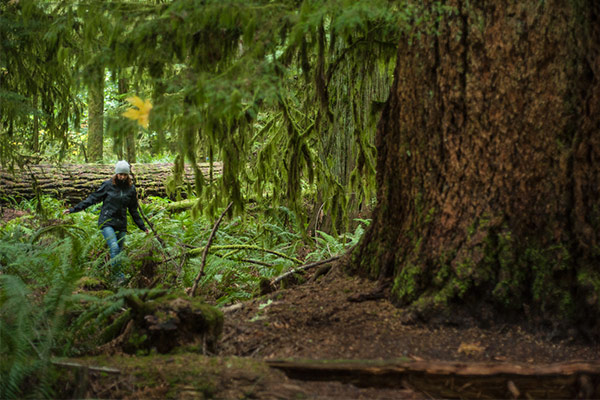 WQ: What do you think is most special about this part of Canada?

Pamela: The diverse, wild landscapes are incredible here, particularly along the coastline and areas like Cape Scott Provincial Park, where you can see the power of nature at work with such rugged rock formations and windswept trees. While the North Island can feel very remote, you'll be surprised by the long history and the rich culture that continues to thrive on this land, and the welcoming nature of each community here.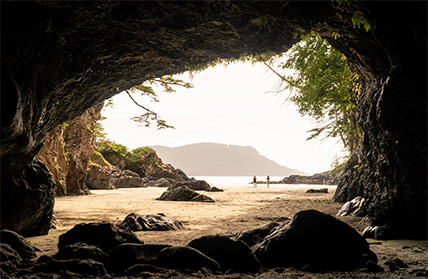 ---
North Vancouver Island
Choose your dates | June to September
Click here
to learn more
To book your own North Island adventure, please contact
Laurielle
at Worldwide Quest.