The perfect symmetry of the Mughal Garden fronting the Taj Mahal illustrates both the principles of the Qur'an and the ideal of pure love. The balanced proportions emanate peacefulness. But all that perfection is carefully planned.
Influenced by traditional Persian design, the gardens are based on the concept of the 'paradise garden.' Known as the 'charbagh', in its ideal form it was laid out as a square, subdivided into four equal parts. The Taj garden is split into four symmetrical sections, an allusion to the Islamic belief that paradise consists of four rivers: one of water, one of milk, one of honey, and one of wine.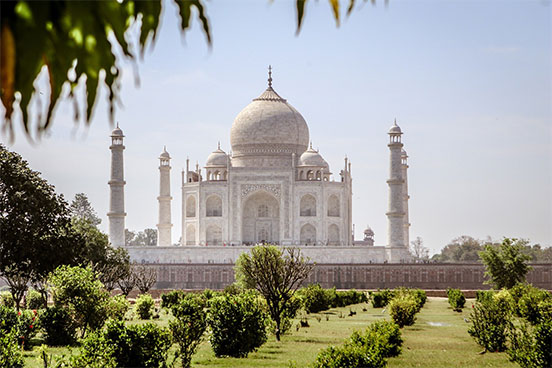 All the arrangements in the garden are based on the number four, considered the holiest number in Islam, or its multiples. The four major areas are divided by stone paths and pools of water. Within each quarter portion, there are 16 flowerbeds. It is said that each of the flowerbeds was originally planted with 400 plants including marigolds, poppies, and carnations. Now they are planted with damask roses, tulips, irises, and herbs.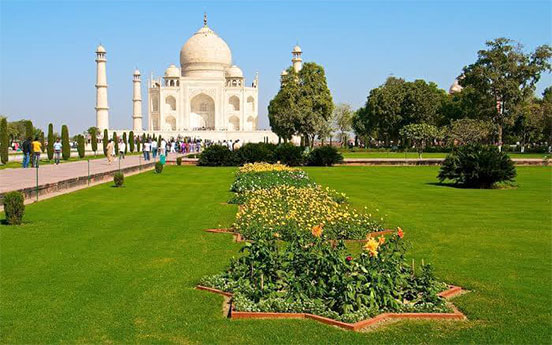 Trees line the pathways, adding both welcome shade and pleasing fragrances. The trees are either cypress (signifying death) or fruit bearing (signifying life) and these are also arranged symmetrically.
Typically, mausoleums or pavilions are placed at the intersection of canals or walkways, but the Taj Mahal is at the north end of the space. This effectively makes the landscape setting appear bigger and more lavish. At the centre of the garden is a raised marble pool, called the al Hawd al-Kawthar, the Pool of Abundance, in reference to the pool of paradise described in the Qur'an.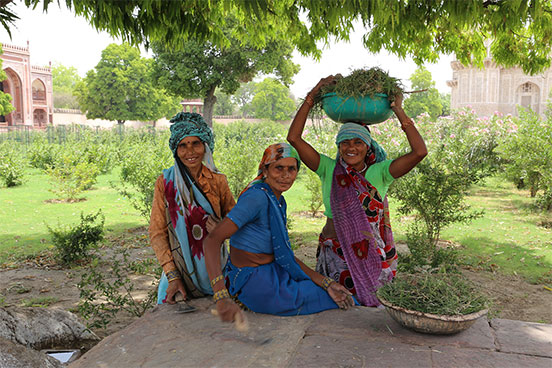 Groundskeepers at the Taj Mahal
The Taj garden projects across the Yamuna River, to the Mehtab Bagh, (the Moonlight Garden). perfectly aligned with the Taj Mahal. That garden is filled with fruit trees, and laid out with walkways, pavilions, pools, and fountains. The World Monuments Fund, in partnership with the Archaeological Survey of India have recently restored this garden to conserve its major features and add new plantings. It's our favourite spot for the perfect photo of the Taj Mahal at sunset.
We're going to India in February 2022 on our Ganges Expedition Cruise. We're meeting up in Delhi, so you have a chance to visit the Taj Mahal and its beautiful gardens before travelling on with us to Varanasi and our eight-day cruise.
---
Ganges River Cruise
February 14 - 26, 2022 |
Learn more