Classical Japanese gardens feed the eye and the mind. They are finely tuned, rich in detail, with deeply symbolic elements. Water, stones, bridge, and plants each play their part in inviting contemplation. Today's gardens continue to respect ancient traditions.
Ponds, streams, and waterfalls are a central element of most gardens and represent real or mythical lakes or seas. Sometimes they provide a home for carp (koi) which add an element of colour and life. In dry gardens, water elements are symbolized by raked gravel, sand, and upright stones.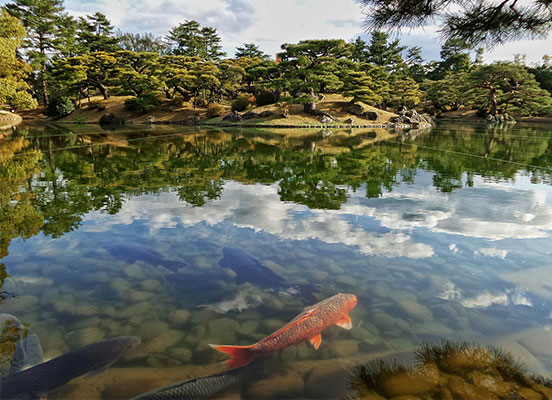 Stones have played an important role in Japanese culture since ancient times. In Shinto large stones are worshipped as kami (Shinto gods) while gravel was used to designate sacred grounds. In today's gardens large stones represent mountains and hills and smaller rocks stand in for ponds and streams.
The earliest Japanese gardens were simple, gravel-covered forest clearings where the gods could manifest themselves. Over the years, the gardens have evolved into an idealized reflection of the natural landscape through the skillful and thoughtful use of stone and water features, trees, plants, and moss.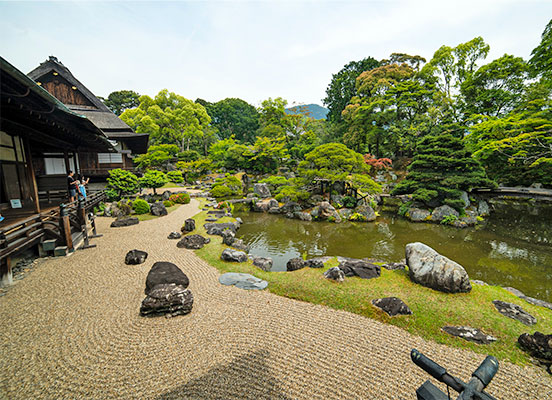 Islands and bridges are a longstanding components of Japanese gardens and range in size from single stone outcroppings to large islands supporting buildings. Some islands have religious symbolism such as those built to resemble turtles and cranes, symbols of longevity and health.
The selection of plants reflects the interest in seasonal variations. Maple and cherry trees are chosen for their seasonal appeal. Pine trees, bamboo, and plum trees are esteemed for their winter beauty. Moss is used extensively for practical reasons (moss will thrive even in nutrient poor soil) and for its ability to grow over large area and cover trees and stones.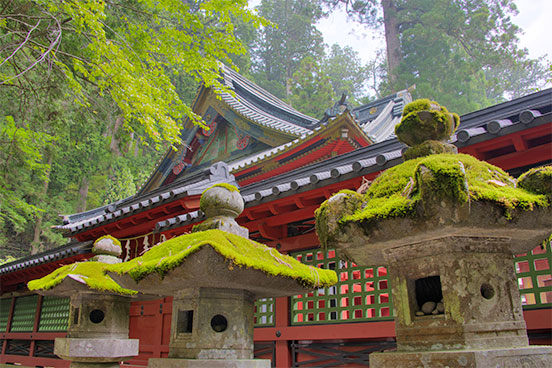 Futarasan Shrine, Nikko
Gardens are designed to lead the eye to a perfectly framed view. Trees and plants are carefully selected for certain qualities of form, colour, and texture to create an atmosphere of calm and contemplation. Autumn and spring foliage are especially highly prized.
Japanese gardens demonstrate the Buddhist influences that were brought to Japan from China in the 600s. These merged with the ancient Shinto beliefs prevalent in Japan at the time to create a harmonious mix.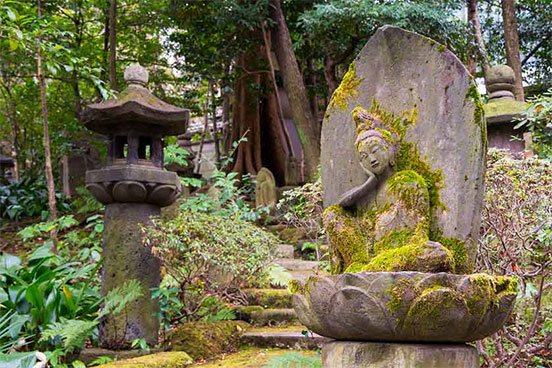 Stone Buddha in the garden of the Nezu Museum, Tokyo
Between 1333 and 1573, Zen monks promoted the tea ceremony and chaniwa gardens designed specifically for tea ceremonies began to thrive. Later, tea ceremony pavilions and other style elements such as lanterns, steppingstones, and bridges became increasingly fashionable. In the Edo period between 1603 and 1867, the 'strolling' garden was established. These gardens were built on the feudal lord's estate and often recreated landscapes from the shogun's personal experience.
---
We're travelling to Japan in November 2021 to study "Everyday Beauty: Japanese Art and Culture" spending eight days in Kyoto where we will delight in gardens in their brilliant red and gold autumn colours.