Classical Pursuits founder and avid walker Ann Kirkland has walked different sections of the
Camino de Santiago
six times over the last 10 years. In this short piece, Ann shares why walking has become the most satisfying way she can think of to spend several days or weeks.
For some, walking is a time-wasting and arduous chore when there are so many faster ways to get from A to B. And days-long hiking is a pointless and punishing undertaking.
For others, the idea of a pilgrimage smacks of self-denying piety.
These folks would roll their eyes in incredulity at me and the 17 Classical Pursuits travellers who accompanied me in April as we walked over 160 kilometers through the Portuguese and Spanish countryside to the city of Santiago de Compostela in Galicia in northwestern Spain. Santiago de Compostela is the meeting point and culmination of network of pilgrims' ways, and tradition has it that the remains of the apostle Saint James (Santiago) are buried here.
Their disbelief would likely only deepen when they learn this was my fifth Camino, and it will not be my last.
Why do I, and many others, make this walk over and over again?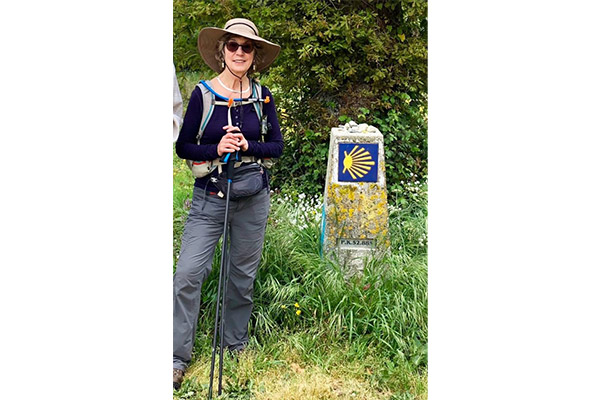 Ann on the Camino de Santiago
First, it must be admitted that there were blisters. Lots of blisters. And sore knees and ankles, and other body parts. And there were tough stretches climbing steep and rugged hills and even harder descents. And there is weather.
I will simply offer a few personal reasons why walking, and why this particular walk, has become one of the most satisfying ways I can think of to spend several weeks.
Sore muscles are part of the package
Freedom from daily decisions.
It's like the sound a refrigerator makes, a sound you hear only when it stops: We are generally unaware of the mental demands made on us as we deal with a load of big and little decisions every day. I find my mind and heart open wide when the only decision I am called to make each day is whether or not to don a jacket in the morning.
The glory of nature and the outdoors.
All my senses come to life when I am outside. The sun on my face and the wind in my hair; the ever-changing scents, from fresh air to roses to fresh manure; the infinite variety of flowers and leaves; the shifting patterns of clouds and shadow; the sounds of buzzing bees, birdsong, church bells, cowbells, feet on the trail, hints of various languages; the flying life of butterflies, birds, dragon flies; the heightened taste of café con leche, cerveza, or a fat slice of tortilla at wayside bars.
Spending the day in nature opens up the spirit
Freedom from traffic, congestion, noise, and pollution.
I savour the distinct absence of those urban irritants.
Becoming open to surprise.
Although one has a definite route on the Camino and a fixed distance to cover each day, I step out in the morning with few expectations. The weather may surprise me. I will meet new and interesting people each day. I will see things unfamiliar or see them in a new way. New ideas and insights may find their way into my consciousness. I find I am alert and open to noticing and delighting in all manner of things.
Connection to others one meets.
I cherish the ease with which one starts walking in step with a stranger and starts a conversation. It will often be challenged by language, but across tongue, age, and background, there is a warm and trusting camaraderie that inspires a sense that we are all one human family.
Being a part of history.
Knowing that people have walked this route since the Middle Ages and that some of the Camino is made of up old Roman roads where you see the ruts made by cart wheels provides a deeply satisfying sense of being part of something big. How often do we feel a part of history that spans millennia?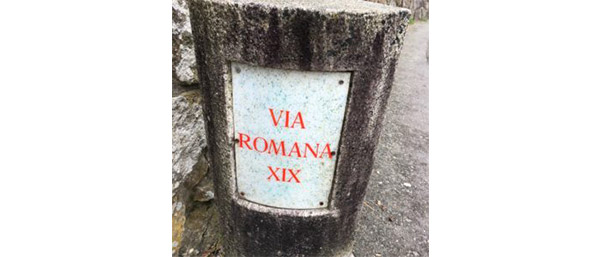 Awareness of the non-rational; the appeal of ritual
However skeptical or secular one might be, it is not difficult to be seduced by the many Camino rituals. It starts with your "credencial del peregrino," a pilgrim passport. Pilgrims must get at least two stamps each consecutive day for at least the last 100 kilometres of the route in order to be awarded the "Compostela," the original religious certificate written in Latin, expended by the Church when pilgrims prove they have either walked 100 kilometres or cycled (or travelled on horseback) 200 kilometres to Santiago de Compostela. If this sounds silly and a little like seeking gold stars in your elementary school copy book, it is. But is it fun.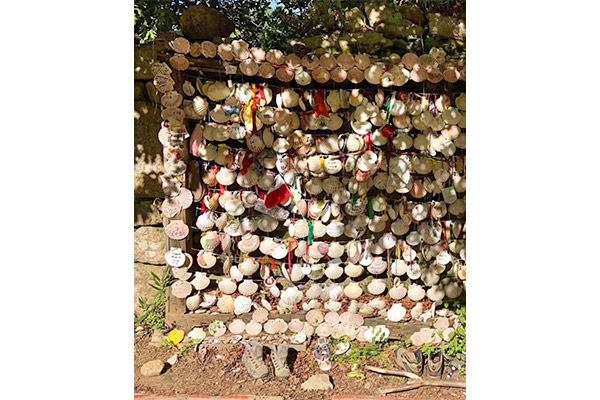 The iconic scallop shell
Pilgrims invariably sport a scallop shell on their backpacks. The scallop shell is the most iconic symbol associated with the Camino de Santiago. It's seen everywhere, from churches and distance markers to pavements and backpacks. There are also traditions about stones – bringing a stone from home to leave at designated or chosen place to represent leaving burdens behind. We also pick up a stone and carry it until we find an answer to a question we are asking ourselves. Perhaps the wackiest tradition is the hugging of the bejeweled bust of St. James in the cathedral in Santiago. And yet, there is always a long queue to do just that. I find that choosing to take part in these rituals and traditions is both fun and deeply moving.

Testing of one's physical limits and knowing one's limits.
The Camino is both a humbling and inspiring experience. I find am able to do more than I ever imagined. I can also be caught up short in ways I never expected. I have to assess and reassess my capabilities on a day-by-day basis. I need to let go of pride and competitiveness. I get to know myself better and to accept myself, strengths and weaknesses alike.
For me, the Camino is never over. Once home, it is easy to slip back into an unexamined life of routine and some false goals. But time is running out. And so I find myself returning to the experience of the Camino. Those memories help me stop and reset my life. For a real tune-up, it's to the Camino I will return.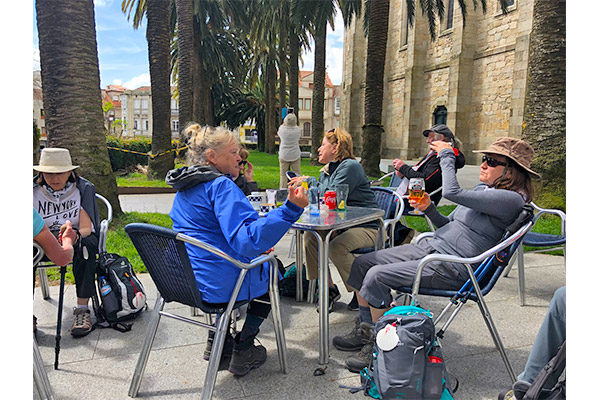 Relaxing for lunch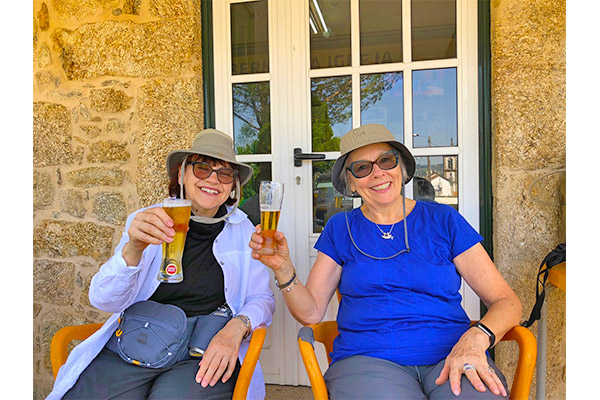 Well-deserved-beers