Sunshine, seaside promenade, and that bohemian feel

The Promenade des Anglais, the perfect little café, those chic little shops…. Nice on the French Riviera has always appealed to the romantic in each of us. You may not know that there's a hidden outpost of France on India's southeast coast. And we think this Gallic anomaly is even more appealing than the busier heart of the empire.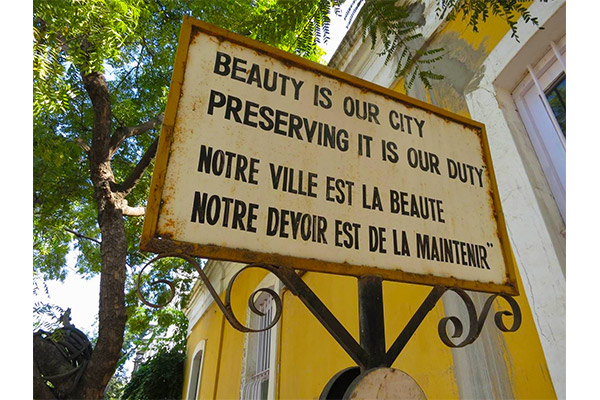 The French East India Company set up a trading centre at Pondicherry in 1674 and the area remained in French hands of various forms on and off until 1954. It still feels like an elegant French country town has been transported to the Bay of Bengal. Cafés serving crepes, French street signs, and képi-wearing policemen all add to the very French atmosphere.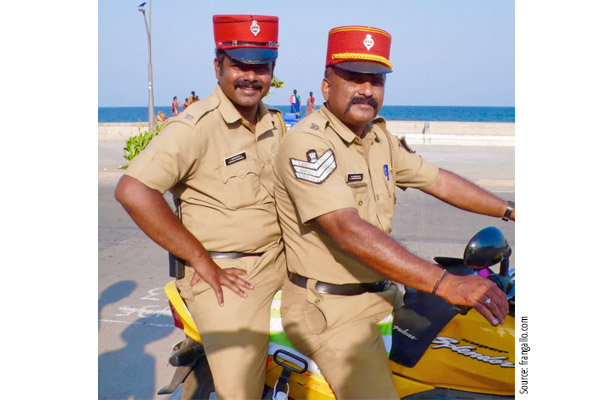 Start your day with a cycle excursion along the shaded streets; you'll be in good company as many locals cycle in the 'Ville Blanche', as the French heart of the town is known. Drop in at the cathedral of Notre-Dame-des-Anges, a lovely meeting of South Indian and French with duck-egg blue doors and bright orange pillars where mass in French is still celebrated once a week. If it all feels vaguely like the movies, you're right, there's a
cinematographic connection too.
The opening scenes of the Ang Lee film
Life of Pi
were set in Pondicherry.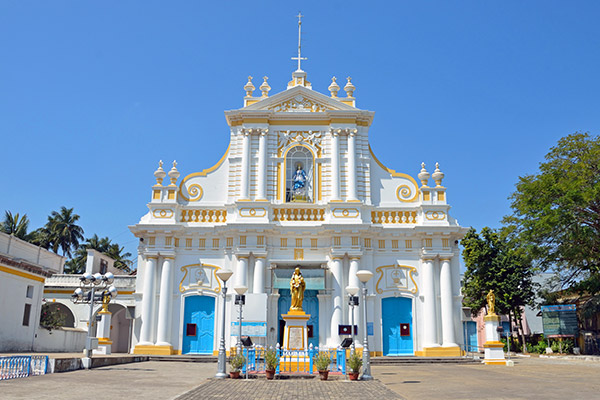 Immaculate Conception Cathedral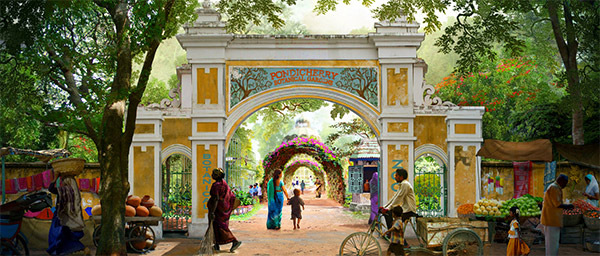 Scene from Life of Pi
Recent restorations have created lovely boutique hotels. From the charming six-suite The Hotel de l'Orient to our favourite Palais de Mahé, accommodation is relaxed with a very successful
Indian interpretation of the French Riviera vibe.
The mélange is reflected in other buildings too. There's a flurry of restoration work that is transforming buildings in the
quartier.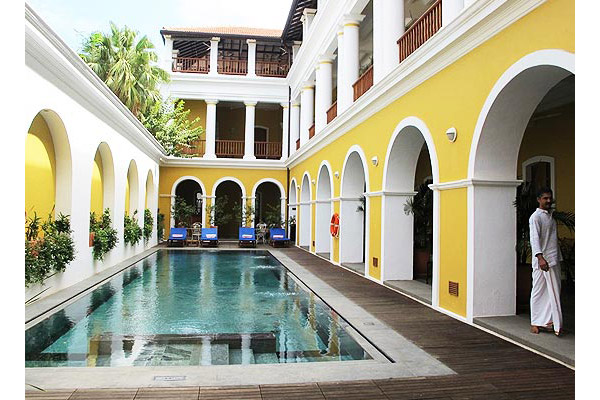 Palais de Mahé
Fancy a
curry-leaf martini?
Tamarind glazed chicken? Jeera (cumin) pasta? Paneer pizza? It's all on the menu at the Coromandel Café. Drop in at dinner or high tea for locally sourced ingredients served in a quiet outdoor patio. And don't miss the beautiful boutiques in the area with inspired handmade creations from the softest scarves, to flowing dresses, and imaginative jewellery.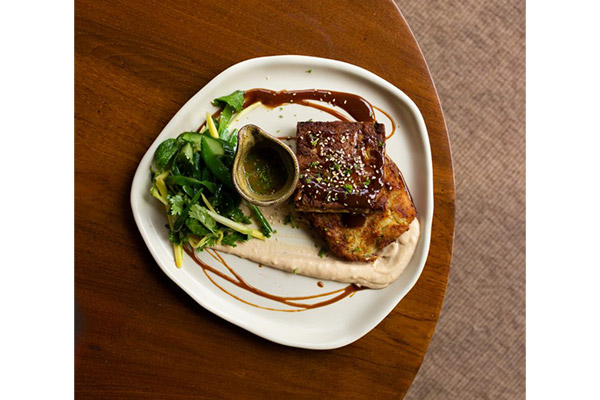 Tamarind Glazed Chicken at Coromandel Café
A stroll along
the seaside promenade
to the Place de la République is the perfect way to end the day. Amazingly for India, the promenade is a well enforced pedestrian-only area in the evenings. Families, courting couples, and seniors all stroll along the promenade in a colourful display –
trés chic!
You can enjoy Pondicherry and more on our
South India and Sri Lanka tour
in November 2021.