It was a moment that perfectly illustrated why I love to travel in India...
One of the hotel staff appointed himself our guide to show us around the village. We strolled the dusty streets and stopped at one of wedding cake mansions. "My family home, please come in," he urged. Nodding to an elderly caretaker dozing on the porch, we entered through carved wooden doors and gasped…
The soaring interiors were more Venice than rural India. Teak pillars from Burma, marble tiles from Italy, ceiling tiles from Spain, stained glass windows, Belgian mirrors and Baccarat chandeliers... Add carved deities – the cavalcade of India gods and goddesses and their animal cohorts – and a number of stern family portraits; statues of Queen Victoria contrast with the Hindu goddess Lakshmi.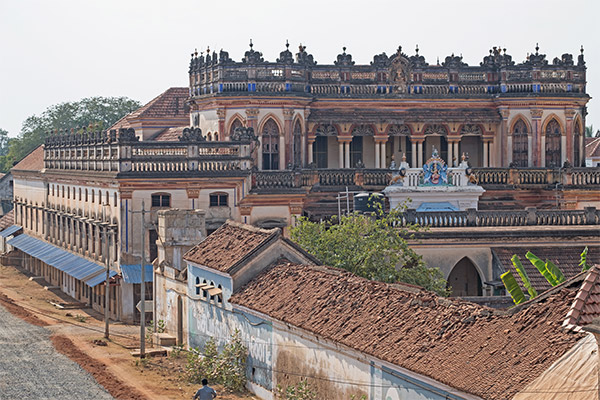 When one thinks of palaces in India, Rajasthan instantly comes to mind. But
I was in Chettinad, Tamil Nadu.
India's far south is set to give Rajasthan's palaces and havelis a run for their money thanks to UNESCO's work in restoring the cultural heritage of the area and to some charming hotels that are now occupying these gorgeous heritage mansions.
Chettinad is the cultural home of the Chettiars, a community that dates back to the Chola period, and made its fortune as money lenders, merchants, and jewellers. Most Chettiars migrated to Sri Lanka, Singapore, Burma, Vietnam and Malaysia in the 19th and 20th centuries. They sent back lavish fittings and furnishings for their ancestral homes. Thousands of these magnificent mansions still stand. Far from the tourist heart of India, seventy dusty villages hide these incredible homes.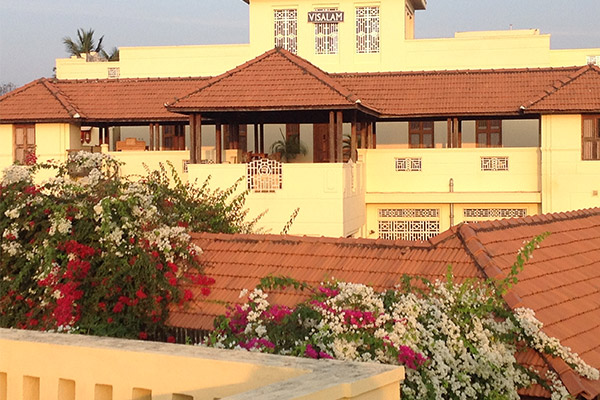 Visalam is one of these. This 80-year-old home in the village of Kanadukathan is now a restored heritage hotel with 15 rooms. The open central courtyard is flanked by tall pillars, intricately carved thresholds, heavy doors, and black and white marble tiled floors. The mix of architectural styles is delightful; Art Deco mixes with colonial mixes with traditional south Indian. All in all, much more 'home' than 'hotel'.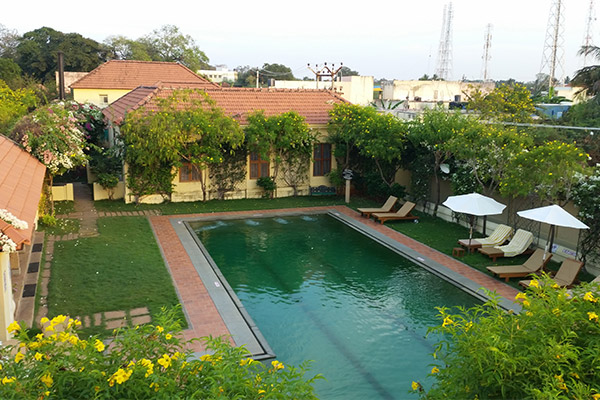 Guestrooms are huge and airy. Tiled floors and overhead fans keep the rooms cool (and there's AC too if you need it). High antique beds are fitted with gorgeous fabrics. Colonial style furniture keeps the right feel. Bathrooms are blissfully modern. There's a lovely swimming pool for lolling away the quiet hours.
While exploring the area, I also enjoyed moments of daily life. The local market is a cornucopia of lush vegetables and fruits. The tile workshops at Athangudi are re-introducing the turn of the last century tradition of hand-made floor tiles; the clever use of colours and techniques create stunning floor tiles in floral, geometric, and paisley patterns. The weaving centre in the village features cotton sari lengths and fabrics. The local temple is decorated by statues of horses presented by devoted villagers. And after my outings, I'm welcomed back by Visalam's 'chai-wallah', serving delicious tea-based concoctions…
And my favourite moment of the day; the early morning, watching the ladies drawing kolams on the ground using colourful powdered chalk. A sign of invitation into the home, kolams are thought to bring prosperity by welcoming Lakshmi, the goddess of wealth. I marvelled at the skill of the hotel's young staff member as she created an intricate, design. It would blow away with the breeze during the day, but the emotion of that welcoming ritual stayed with me for a long time.
---
See Chettinad on tour!
South India & Sri Lanka,
November 1 - 15, 2019 |
Click here