This article was originally posted on
UBC News.


When Philippe Belley came to the University of British Columbia to study how gemstones form, he didn't think he would need to learn how to protect himself from polar bears.
But when some of those precious stones are buried in the Canadian Arctic on Baffin Island, where the world's largest land predator also roams, sometimes you roll the dice in the name of science.
"We spotted four polar bears but luckily there were no close encounters," said Belley, a recent PhD graduate of the department of earth, ocean and atmospheric sciences. "But we did learn a lot about how some unique gems are formed, which will change the way people look for them."
Belley and UBC mineralogist [and
alumni UBC
Study Leader for their
travel program
with Worldwide Quest]
Lee Groat
have published the first scientific study of cobalt-blue spinel in Canada, a mineral that is largely unknown to the general public but produces rare gems that are coveted by collectors and connoisseurs worldwide.
Spinel comes in a variety of colours ranging from red and pink to violet and blue and the fine gemstones are prized for their intense natural colour and high transparency, both measures of gem quality.
"There's considerable interest in cobalt-blue spinel for gems and jewelry," said Belley.
"There are few stones that match its intense blue colour."
Even small stones with good transparency and fine cobalt-blue colour can sell for about ten times the price of a comparable sapphire. But supply is an issue and even production from the most significant source, Vietnam, is limited and sporadic.
"Exploration for coloured gemstones is generally difficult due to challenging terrain or thick vegetation in major gem-producing areas like the Himalayas and Vietnam. Most new deposits are found by accident," said Belley. "But there's excellent rock exposure on Baffin Island, which facilitates exploration and the use of more advanced techniques like imaging using drones or satellites."
The researchers analyzed fourteen occurrences of spinel on Baffin Island, including two occurrences of cobalt-blue spinel, to better understand how it forms.
"It's a simple recipe but you need to combine the right proportions of chemical ingredients," said Belley.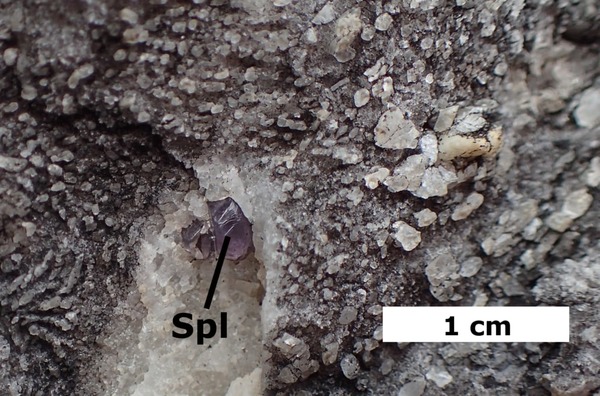 Spinel in dolomitic marble. Soper River spinel occurrence, Kimmirut area.
Credit: Philippe Belley
Philippe Belley and a guide on the Hudson Strait.
Credit: Lee Groat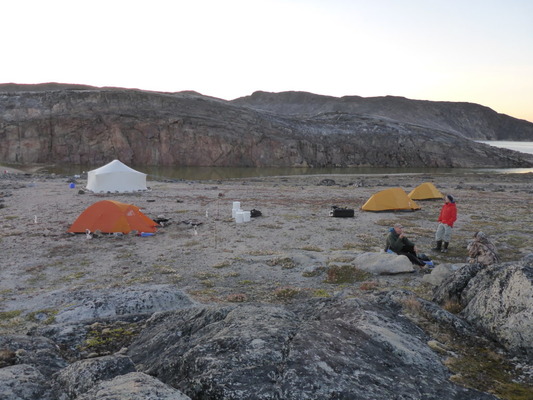 Campsite on Baffin Island.
Credit: Lee Groat
On Baffin Island, spinel formed 1.8 billion years ago from sedimentary deposits of dolomitic marls and dolomite-bearing limestones. These sedimentary rocks metamorphosed at temperatures of about 800 C under immense pressure.

Belley and Groat found that the magic ingredient that produces the distinct blue colour – cobalt – was only present in high-enough concentrations to produce gem quality stones in small, localized areas.

"We found that cobalt was added at some point during sediment deposition or up to early metamorphism," said Groat. "Previous work on other deposits suggested that cobalt was transported during high temperature metamorphism, so our results change the way in which people would explore for cobalt-blue spinel deposits."

According to Belley, Baffin Island spinel contains up to 500 parts-per-million of cobalt, which gives it a vivid blue colour that is comparable to the best sources worldwide.

While accessing the area for scientific study was extremely challenging and involved long boat rides through thick fog in the Hudson Strait, stormy conditions, scouting for polar bears and a lengthy permit process to protect the ecologically sensitive environment, the geology of Baffin Island has been a veritable gem field of scientific discovery for the researchers.

The team has also analyzed Beluga sapphires which were used in the Queen's sapphire jubilee brooch and an occurrence of lapis lazuli.

"Baffin Island is geologically similar to the Himalayas, where some of the world's finest gems have been found," said Belley. "Canada hasn't been widely recognized as a source for fine, coloured gemstones but our research suggests that we have all the right ingredients."