If you believe that positivity is contagious, then you'll want to stop by our office and chat with Worldwide Quest President Lewie Gonsalves about his past visits to
Bhutan.
This relatively small Himalayan nation borders Lewie's home country of India, and he has developed a profound connection to its scared places and alpine vistas.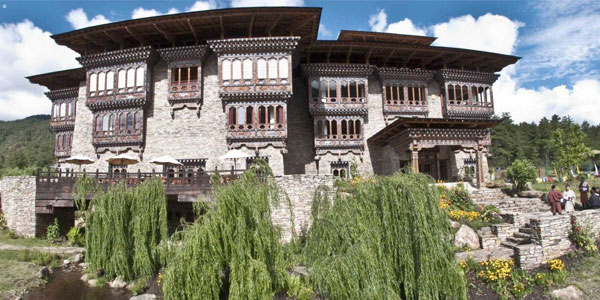 In 2005, a new luxury hotel was constructed in the historic valley town of Paro. The Zhiwa Ling soon joined the ranks of a select few hotels hand-picked by Lewie to appear on our short list of top Bhutanese accommodations. Its 5-star ranking speaks to the maximum comfort visitors enjoy here. For Lewie, what makes Zhiwa Ling particularly special is how well its facilities, location, and staff jive with the spiritual and cultural experiences that travellers seek in Bhutan.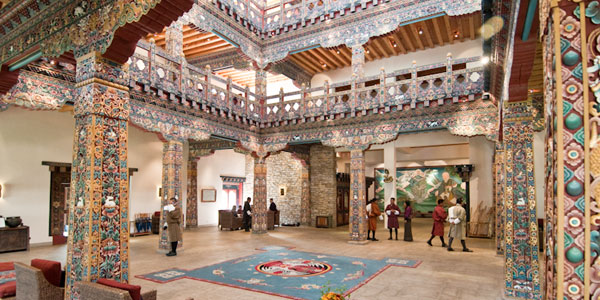 Architecture and design
Every piece of the hotel is handmade. When you arrive to the central court, take a close look at the meticulous craftsmanship of the cornices and wooden beams where deftly hewn designs have been hand-painted with careful reverence for thousand-year-old artistic traditions. On exterior walls or walkways, run your hands over the intricately carved pieces of stone – each one subtly marked with its own touches of unique character.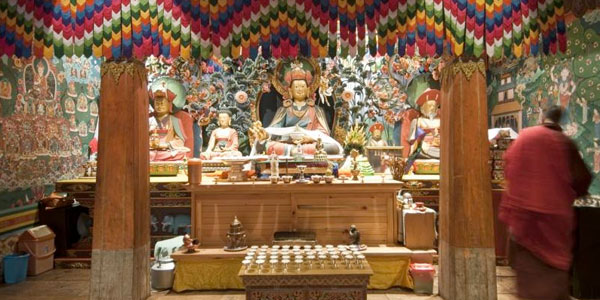 In-house temple
Take a moment of serenity at the in-house altar (temple). The timbers from which it has been constructed once comprised the Gangtey Monastery from A.D. 1613. Intricate hand-painting covers the splendid woodwork, as well as the wall paintings.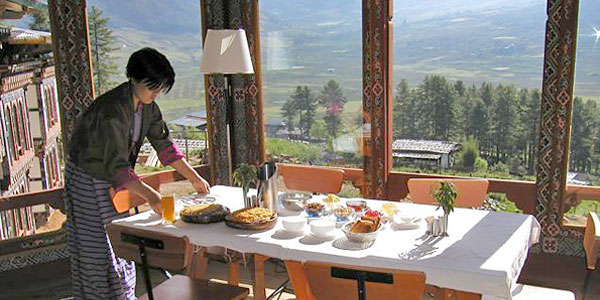 Location (with a view of the Tiger's Nest Monastery)
The iconic cliff-top Taktsang Monastery (Tiger's Nest) sits 800 metres above the Paro valley among the clouds. This temple complex from A.D. 1692 is steeped in 8th Century lore and is one of Bhutan's holiest places. With the Tiger's Nest in view from Zhiwa Ling below, it is hard to resist the seeds of anticipation that steadily grow before you make the two-three-hour trek from the hotel to Tiger's Nest.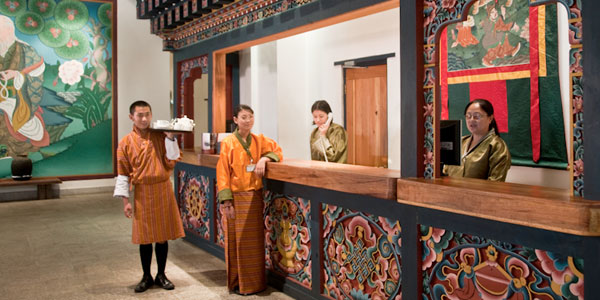 Friendly Staff
Staff at Zhiwa Ling make such a genuine effort to make guests feel welcome, and it makes a profound impression. Here, it is abundantly evident that measuring and preserving Gross National Happiness (GNH) is built into national legislation as well as Zhiwa Ling's business plan. It begins before you even enter the central court, making this luxurious hotel feel like a cozy highland guesthouse.
Lewie is regularly sending private groups to Zhiwa Ling, and he always seems to find time to sing the praises of one of his best-loved destinations and the magnificent hotel at the top of his short list.
---