Get used to saying "wow" a lot in Patagonia.
This region of dramatic Andean landscapes and high altitude wildlife is as mesmerizing as it is vast. Why, then, are we so excited about a relatively small cluster of green domes tucked into the surrounding vegetation in the eastern reaches of Torres del Paine National Park? Those rounded shelters comprise EcoCamp Patagonia, and here are four reasons why we can't wait to send you there…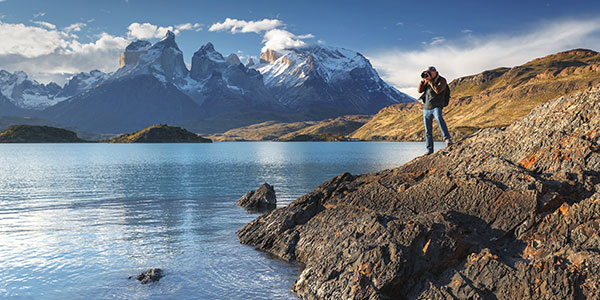 1. Spectacular scenery at 50° South
Torres del Paine has perhaps the most jaw-dropping landscapes of the Southern Hemisphere. Conveniently, EcoCamp Patagonia is situated within the iconic park itself. The Paine Massif or Cordillera del Paine is the geological jewel of the area with its jagged peaks towering ominously above dramatic valleys, ice fields and glaciers. Torres del Paine is truly a trekker's paradise, and the custom adventures can be arranged with EcoCamp's trekking and activities team.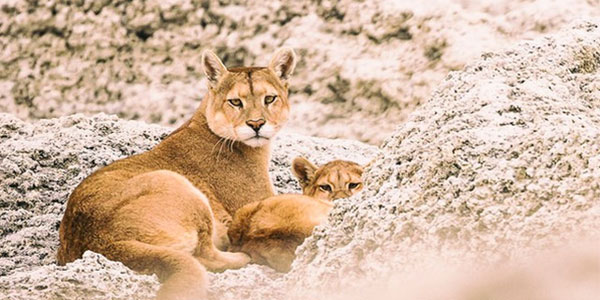 2. Wildlife: Patagonia's Big Five
On EcoCamp's many guided wildlife safari experiences, the so-called "Patagonia Big Five" are prime targets. Guanacos – a thick-furred llama relative – are relatively common, and ever curious; the Ñandú or Lesser Rhea is a hulking flightless bird that frequents the area around EcoCamp; and Andean Condors use their massive wingspans (at 3.2 metres, the world's largest) to peruse the sweeping vistas in search of food. The endangered Huemul (Southern Andean Deer) and the elusive Puma round out the list. EcoCamp's superbly trained and experienced nature and wildlife guides are your best resource for experiencing the world of Patagonia's charismatic megafauna.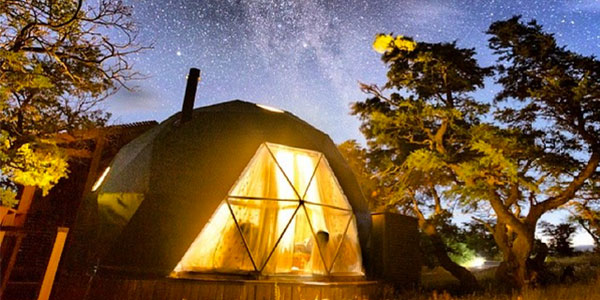 3. Green – and not just the colour of the domes
When EcoCamp opened in 2001, it became the region's first fully sustainable accommodation south of the Amazon. After seven years, it was Carbon Neutral, and its Carbon footprint continues to diminish as the lodge marches towards its goal of being entirely Carbon-free. Electricity is available, but limited. You don't really need much of it at EcoCamp. What is needed for basic amenities is derived from a micro-hydro turbine and photovoltaic panels. With 17 hours of sunlight in the southern summer, solar energy isn't too hard to come by.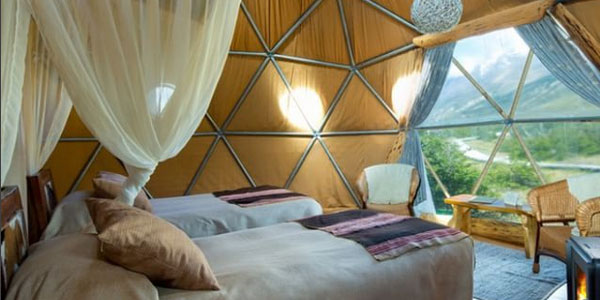 4. Inside a geodesic dome
The creative rustic design should not be confused for a rustic experience. All six geodesic-style domes prioritize comfort, while also ensuring that guests feel connected to the landscape. Domes are framed in wood, and every effort has been made to preserve the natural aesthetic of each piece of timber. Then there's the stars. Patagonia's clear skies are famous for their celestial splendors, and you don't even have to lift your head off the pillow to see the best of the southern constellations. Just look up through the skylight above your bed and let your imagination wander.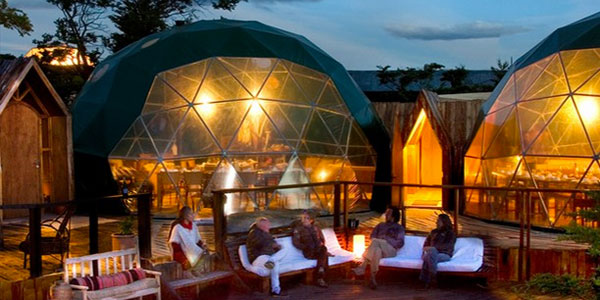 If Patagonia has been burning a hole on your to-travel list, give EcoCamp Patagonia a long look. Few lodges make you feel so connected to the surrounding landscape, and the landscape of Torres del Paine is one you'll want to get to know as intimately as possible.
Email Lewie to start planning your trip today!