We Peruvians are very proud of our ceviche. It is said that before the Spaniards came, ceviche was done with dry salted fish, ají (Peruvian hot pepper) and Tumbo juice (banana passion fruit). It is after the Spaniards came and together with the Moorish influence that ingredients like: onions, lime juice, cilantro and garlic were added.
During the 19th and 20th century a great number of Japanese came to Peru to work in commerce, and it was because of their influence that now sometimes we add a bit of ginger and overall we eat it right away. We don't let the fish marinade more than a couple of minutes.
The first born Japanese in Peru are named Nikkei, and it is because of them that in the 80's a new version of ceviche was introduced to Peruvian tables, the Tiradito - sashimi style cut of the fish. In this version the marinade is more subtle and everyday new creations are being prepared as the following one: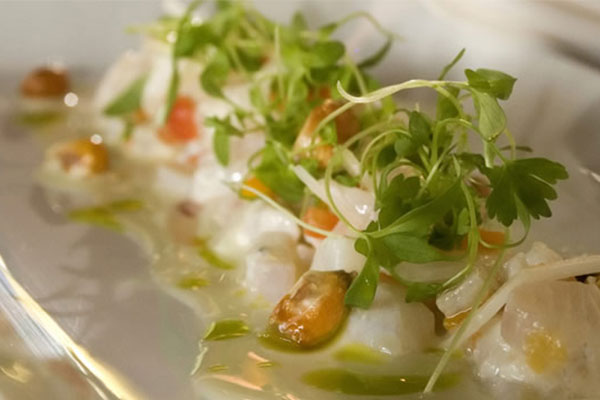 Ingredients (serves 4):
8 key limes, juiced
1 tangerine, juiced
1/8 tsp ají limo or other chili finely chopped
1/8 tsp garlic, finely chopped
1/8 tsp ginger, finely grated
½ red onion, finely julienned
1 tbsp cilantro, finely chopped
1 tbsp chives, finely chopped
Salt (salt balances out sourness)
24 scallops
350g White fish of your preference (better if it's a more sustainable kind) cut in cubes of 1 inch x 1 inch or sashimi style
4-5 ice cubes
1 Mango, not so ripe nor so green, diced
1/2 cup corn kernels boiled and strained (optional)
Fried plantain chips (optional)
Cilantro sprouts and or leafs (optional)
Preparation
- Have your fish and scallops kept in the fridge until ready to be used.
- In a stainless steel, ceramic or glass bowl, combine all the ingredients of the first group.
- Add scallops, fish and ice cubes. Toss a couple of times. Remove ice cubes.
- Adjust seasoning if necessary and serve
- Add optional toppings, such as the corn, plantains, cilantro and sprouts
Serve right away.