Our second consecutive day highlighted by jaw-dropping Arctic whale encounters was drawing to a close. After spending the final day of August exploring the dramatic Gibbs Fjord and sighting 2 pods of Narwhals surfacing against a backdrop of cascading outflow glaciers, September greeted us with glass calm seas, sunny skies and upwards of twenty Bowhead Whales (perhaps the planet's longest-lived mammal) actively feeding as they moved northward towards Baffin Bay whence we had just sailed. Time at sea had served us well as the voyage entered its final leg. As such, there was only slight disappointment when expedition leader Boris Wise collected all passengers in the dining hall just prior to dinner on September 1st to announce that the following day's intended landing on the eastern shore of Baffin Island was quite literally being iced out.
As almost any account of the search for the fabled Northwest Passage will attest, an undesired build-up of sea ice can quickly derail even the best-considered plans. In the days of Franklin, Parry, Ross and so many others, such an event undoubtedly signalled oncoming hardship: in a best case scenario—an extra winter trapped in the ice; worst case—sickness and death. For us in 2015, it meant opportunity.
If the pack ice was going to dictate the itinerary on this day, there was no sense in resisting it; as such, Plan B was set: on September 2nd, we would skirt the edge of the sea ice that was keeping us away from Baffin Island, search the crystalline floes for wildlife and then take a peaceful zodiac paddle amidst the sculptures of the Davis Strait.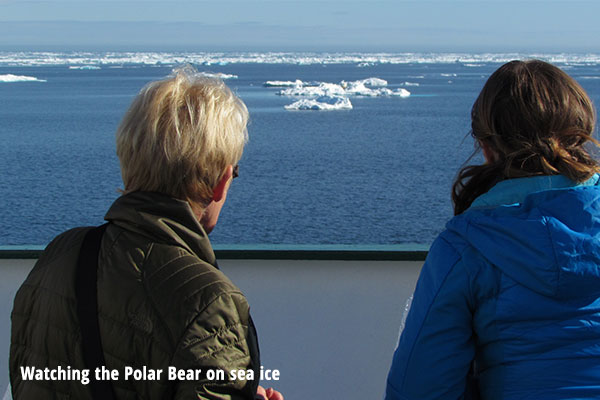 The trip had already produced many Polar Bears: on the land, with cubs, swimming in the sea, and, most impressively, on the ice floes themselves; but we hadn't yet seen one on a kill. That moment came in mid-morning while during one of the twice-daily presentations, One Ocean Expeditions photographer David Sinclair quietly slipped into the dining room with an unassuming, "sorry for the interruption, but we have a male bear on a kill just ahead on port side." It didn't take long for the room to clear. Within minutes, almost every soul aboard the
Akademik Ioffe
was on the bow deck taking in our most spectacular Polar Bear encounter of the trip.
Such an experience is fit for a celebration, so an outdoor buffet lunch was provided on the stern deck. With sunny skies, above-zero temperatures, music and dancing, the vibe couldn't have been better. Well, amazingly, it could and it did in short order on account of 4 Orcas moving northward on starboard side just as our celebratory lunch wound to a close. Plan B had delivered so far.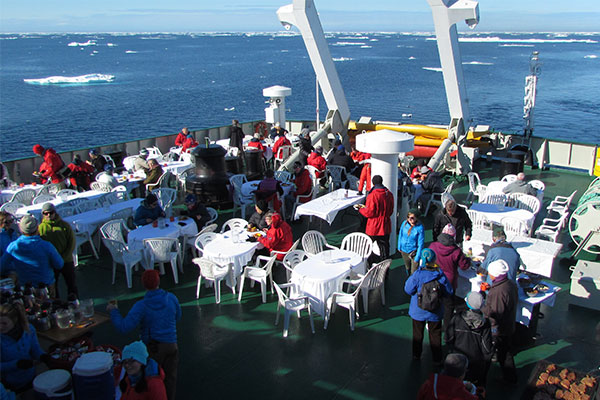 Prior to our late afternoon zodiac paddle among the sea ice, the crew had arranged for a tour of the ship's inner mechanics. Not 20 minutes into this, however, did expedition leader Boris announce over the PA system that "it looks like our Orcas have returned on starboard side." Back out onto the deck we poured.
Any whale with a dorsal fin is conspicuous in the Arctic, as the 3 resident whales of the northern ocean—Bowhead, Beluga, and Narwhal —each endure without one. I caught my first glimpse of a dorsal fin less than a minute after emerging from the ship's bowels—and immediately it was clear that something was different...yet strangely familiar.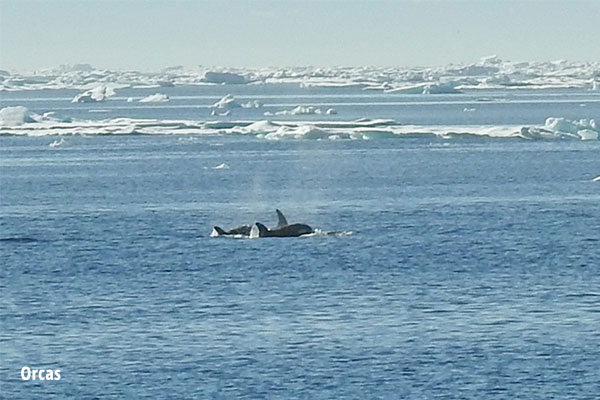 As a young naturalist with a healthy obsession for whales, my father would often record whale-centric nature documentaries for me to marvel at once I had finished my homework. Amidst images of breeching Humpbacks and deep-diving Sperm Whales, one episode featuring a more obscure deep-diving northern species has always stuck in my mind. For all of the talk of the "Big 3" Arctic whales (and rightfully so), it was this much less known migratory species about which I have been particularly intrigued for years. Though it occurs in the Davis Strait during summer and early autumn, encountering this species would be akin to seeing a Jaguar in the Central American rainforest: they live there and it is possible to see them, but given their elusive lifestyle, don't bet on it. Well, here we were in the Davis Strait in late summer with three members of this species giving us the best looks of the trip of any marine mammal not covered in white fur. As the ship slowed to canoe speed, the three whales repeatedly surfaced for about an hour, including twice emerging so close to the ship that we had to lean over the railing to see them.
Perfect conditions and a very healthy dose of luck are required for such a dream encounter to become a reality. The luck part of the equation had certainly weaved its magic, but few realized just how perfect the conditions actually were. In one of the finest nature texts published in recent years, author Donna Naughton writes about this species in
The Natural History of Canadian Mammals
that
"...as the whales move into the Davis Strait, they will wait at the edge of the sea ice for the pack to melt or shift" and that "they are curiously attracted to slow-moving or stationary boats...and have been known to circle around such a vessel for more than an hour.
" What are "they" that fit this description so closely and whose sudden appearance so enchanted a shipload of onlookers?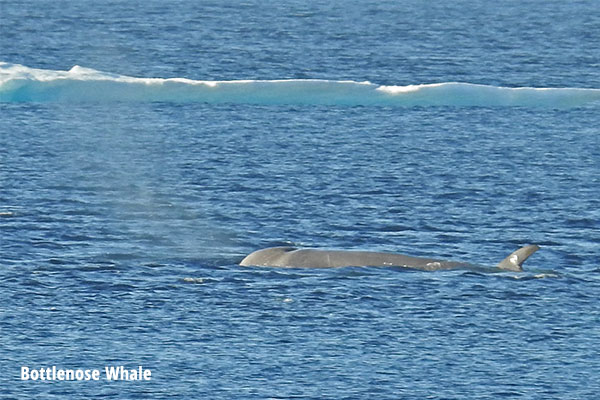 Page 688: Northern Bottlenose Whale.
Does 'Arctic Plan B' mean Bowhead or Beluga? Surely, no one would ever protest if it did, but on September 2nd, 2015, it stood for something equally breathtaking, but considerably less expected: Bottlenose.
Whale photos here were taken by Ian's fellow expedition leader, Jean Iron.