On Quest's
In Search of Whoopers
tour, we explore many back roads in pursuit of one of North America's most iconic birds: the Whooping Crane. Though many of these unpaved roads are in excellent condition, we will inevitably encounter a few potholes one generally prefers to avoid...on the road. Off the road, the 'potholes' are exactly what one doesn't want to miss and what give this area its nickname of Prairie Pothole Region. Thanks to the forces of glaciers during the last Ice Age, this massive area centred on south-central Saskatchewan is dotted by millions of shallow depressions that have since filled with water and become various types of wetlands. Not only are these lakes, ponds and marshes used by numerous breeding waterfowl, but they are essential for migrant birds moving to and from their Arctic nesting grounds. The migration is at its most spectacular during the southbound leg in the fall and that is precisely when Quest offers its 'Prairie Pothole' exploration. This is also the best time to see Whooping Cranes, but we'll get to them later...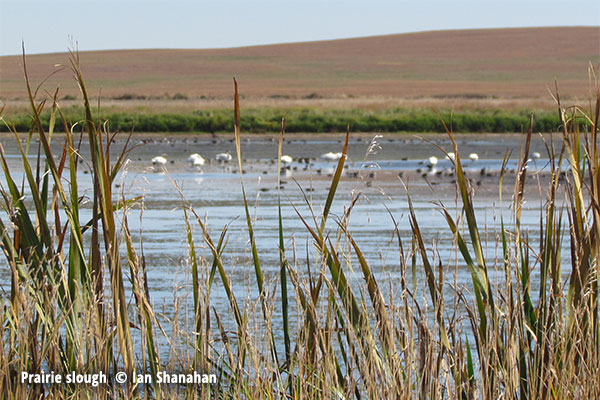 In my correspondence with the Saskatchewan Nature Society, my first questions are always about the aforementioned crown jewel species, and after providing me insights on where best to find them, I am unfailingly reminded that there is much to see during migration in Saskatchewan other than Whooping Cranes. During Quest's first tour in 2014, this was plainly evident about 30 minutes outside Saskatoon on Day # 1. Snow is possible in late September/early October in Saskatchewan, both in the frozen and feathered varieties. The frozen kind is fortunately rare in mid-autumn, but the snow-coloured feathers adorning the few thousand Snow Geese in this first noisy flock were impossible to ignore. The superlatives being bandied about the bus were numerous as the late afternoon sun illuminated this gleaming spectacle, even though this flock would end up being one of the smallest seen over the course of the next few days. By the end of the first tour, we had easily seen hundreds of thousands of these Arctic breeders—too many to count in the truest sense of this often over-used phrase.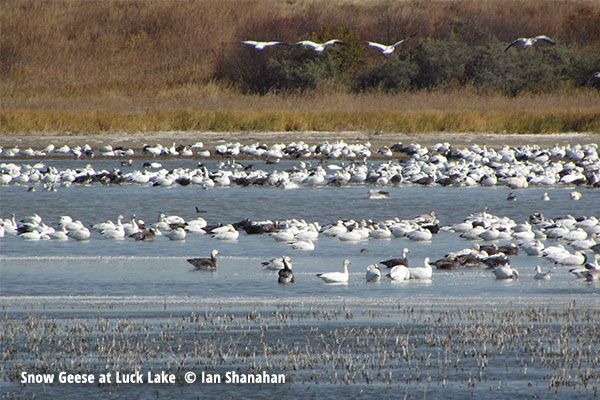 Mixed in with the Snow Geese are often other goose species such as Ross's, Canada, Cackling and Greater White-fronted Geese. Fifteen or more other species of waterfowl are likely to be encountered, none more so than at the massive Quill Lakes east of Saskatoon. This complex of freshwater lakes might be worthy of a trip all its own as it holds congregations of several species larger than most of our travellers had ever seen! "I didn't know this many shovelers existed!" was the first of such comments made about common ducks such as American Wigeon and Gadwall or other aquatic birds such as coots and grebes. If we add the pale 'prairie morph' of that little falcon – the Merlin – and the always elegant American Avocet, we have the sort of "wow moment" for which every tour guide strives.
As for cranes, the smaller Sandhill Cranes were so ubiquitous that we nearly had to shoo resting birds off the road on numerous occasions. Fortunately, they react a little more readily to slow-moving vehicles than some cattle. The trip is called
In Search of Whoopers
for a reason, though, and while there are fewer Whooping Cranes than almost every other bird seen on this trip, finding them always tops the list of favourite trip moments. They are, after all, the epitome of a "good news" conservation story, having rebounded from about 15 individuals in 1941 to presently over 300, thanks to assiduous human efforts. Their annual migration from the nesting grounds in Wood Buffalo National Park to the wintering grounds along the Texas Gulf Coast is impressive but, most of all, they are just downright gorgeous.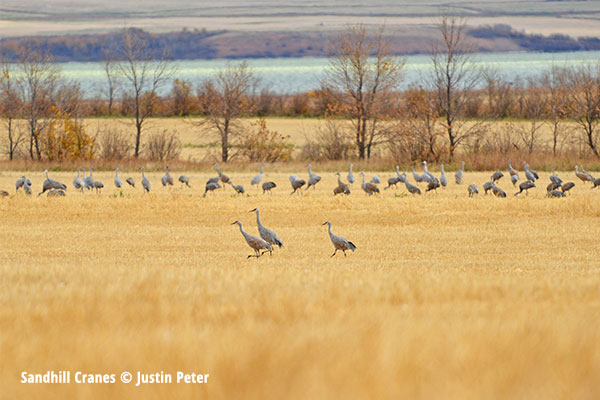 One particular lake near Saskatoon has been a dependable stopping point for several years, including during my scouting trip to Saskatchewan in 2012 when 16 Whoopers rested with hundreds of Sandhills against a backdrop that could easily have inspired Sting's classic song Fields of Gold. As such, this was our primary destination on Day 1 of the first departure. Sandhill Cranes once again abounded, but there were no Whoopers to be found this time. We scanned the surrounding hills thoroughly, but the only pure white specs were errant Snow Geese from a nearby flock. Resigning ourselves to a Whooper-less first day, we continued along the gravel road; that is, until a voice that can only be described as "blind tour leader's instinct" told me to turn back for one last shot. We did just that and, once again, no Whoopers. All the same, we disembarked the van for one final scan. With half the group still filing out of the vehicle, a single bugle echoed across the farm fields, and three Whooping Cranes gracefully landed exactly where they had been two years earlier. After resting long enough for all to get an excellent look, the 2 adults and their lone offspring spiralled up and overhead until they drifted out of sight.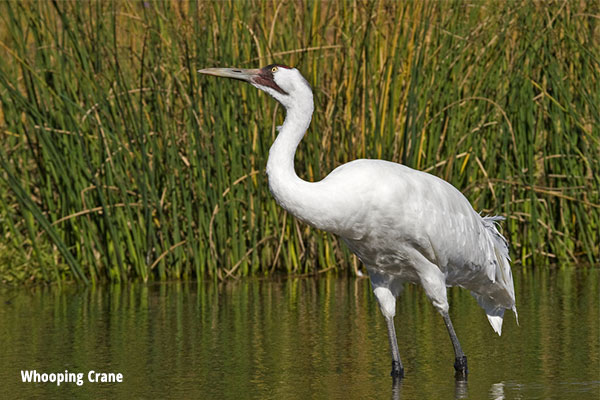 Most passengers had started the day with an early rise and a flight from one of several distant corners of eastern or western Canada, and here we were in the midst of the great annual flight of the Whooping Crane under the living skies of the Prairie Pothole Region. Needless to say, we all slept pretty well that night!
*Editor's Note:
We're offering our "In Search of Whoopers" tour once again in September 2016.
Click here to find out more about this short autumn getaway.