About 10 species of birds are hardy enough to stay in the Arctic year round. On our recent expedition to the Northwest Passage, we had exciting encounters with two specialties: Rock Ptarmigan and Gyrfalcon. I was able to take some great shots with my camera and here you'll find a first-hand account of these special moments.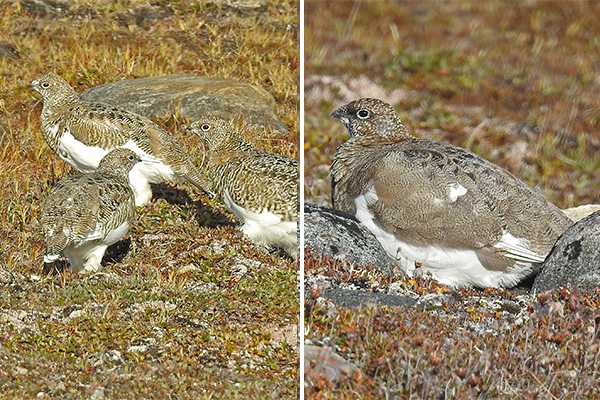 Rock Ptarmigan - Nunavut's Territorial Bird
The ultimate Arctic bird is the Rock Ptarmigan, superbly adapted to living its entire life in the north. Common throughout Nunavut even to the northernmost tip of Ellesmere Island, this ptarmigan is nevertheless hard to find.

A surprise awaited us when we went ashore for our land excursion at Stromness Bay, Victoria Island. Our naturalist guides were thrilled because they located a flock of nine Rock Ptarmigan well camouflaged among rocks on the tundra. It was fitting that our Inuit guide was first to spot Nunavut's territorial bird. We watched them forage for seeds, leaves, flowers and insects. Quietly we crept up on them to get better views and take photos. Typical of some Arctic species that are very tame, they didn't fly or run, and stayed feeding in the same spot all afternoon.

We noticed their legs and feet were feathered right to their toes, giving them wide snowshoe-like feet for walking on snow and even for shovelling it. In winter, they dig into snow drifts where they stay protected from chilling winds and frigid temperatures. Long claws on their toes are for scratching in the snow for seeds and buds. Their spectacular winter plumage is all white except for a dark tail and a dark line behind the eye on males. Rock Ptamigan are the favourite food of Gyrfalcons.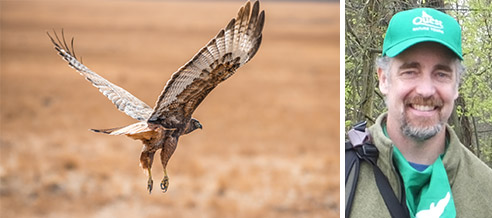 Gyrfalcon and Arctic History
Largest of the world's falcons, the Gyrfalcon is a stunning Arctic resident that we very much wanted to see. Our opportunity came at Beechey Island after a touching ceremony at the graves of three Franklin Expedition sailors. In our zodiacs we sailed to nearby Northumberland House, an historic site with remnants of a supply depot for Franklin searchers and a memorial to Bellot, a French explorer who drowned in 1853 while looking for Franklin. There, like a beacon, perched on Bellot's monument was a dazzling juvenile white morph Gyrfalcon. Soon there were two.
These Gyrfalcons weren't bothered by us as we watched and took photos from our zodiacs. Gyrfalcons breed across Nunavut in a range that closely overlaps Rock Ptarmigan, one of their preferred prey. Many Gyrfalcons stay in the Arctic in winter and some wander south.
Seeing these two young birds that hatched in 2015 lifted our hearts from solemn reflections on past human tragedies to excitement about the survival of a new generation in the Arctic.
If you're interested in exploring the Arctic for yourself, I encourage you to request a detailed itinerary from
one of these fine tours.
Worldwide Quest will be chartering another Northwest Passage expedition similar to this in 2017. To get more information and pre-register, please
email Kerry.