Josh Vandermeulen
Josh Vandermeulen is a professional Field Biologist and is an active and well-known member of Ontario's naturalist community. He regularly travels the province in pursuit of his two core interests, field herpetology and ornithology. In 2012, he broke the Ontario "Big Year" birding record by seeing more bird species in a single year than anyone else previously. Josh's interests in ecology and travel have led him to places such as Panama, Morocco, Portugal and Colombia in recent years. He is an emerging wildlife photographer with a special interest in reptile and amphibian macrophotography. Josh is the current regional editor for the Ontario winter season bird report and is also the Chair of the Ontario Bird Records Committee. Josh led our successful Best of Cuba and Spain in Spring tours in 2016 as well as our Borneo tour for Dartmouth College Alumni, and he looks forward to hosting you on tour in 2018.

Here's what travellers are saying about Josh:
"Amazing. Extremely knowledgeable, helpful in pointing out wildlife, always attentive to the needs of the tour group, worked extremely well with the local guides." - Iain, Borneo, 2016
Upcoming Tours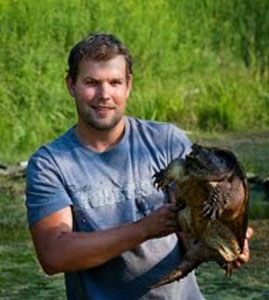 Current Projects
Completing breeding bird surveys in northern Ontario, including projects in Kenora, the west coast of James Bay, and North Caribou Lake. Also, editing the thousands of photos from a recent birding trip to Colombia.
Memorable Moment
Enjoying several Swainson's Warblers foraging at our feet in the understorey of coastal deciduous forest in the beautiful Zapata Swamp, only moments after watching a tiny Bee Hummingbird feeding at its favourite tree.