France
WORLD-CLASS ART & ARCHITECTURE
A storied past has produced a rich cultural heritage in one of Europe's most beautiful nations. UNESCO has designated 27 World Heritage sites here, among them some of the world's best known monuments and architectural wonders. Paris alone commands a trip unto itself; its world-renowned art museums the Louvre and Orsay can be visited multiple times and so often are. Foodies will be overwhelmed by the wide selection of culinary treasures. History buffs can relive the uprisings of the French Revolution and marvel at the iconic Arc de Triomphe, or be dazzled by the visual splendor and literary fame of the Notre Dame de Paris. Beyond the borders of Paris are lush vineyards, quaint villages, expansive fields of lavender and the warm beaches of the Mediterranean. Standing on the beaches of Normandy in the northwest is a uniquely humbling experience. Butterflies patrol the glamourous gardens, while the resplendent European Bee-eater delights casual and keen birders alike. It's no wonder that France is one of the planet's premier destinations for travellers.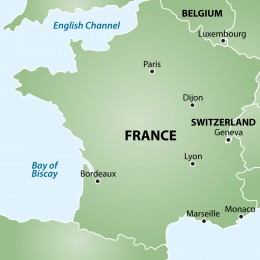 ---
BEST TIME TO TRAVEL
The best time to visit Paris is from April to June and October to early November
---
GOOD TO KNOW
The best view of Paris isn't from the Eiffel Tower; it's actually from the Arc de Triomphe!
---
SIGNATURE MOMENTS
Seeing major works in the newly renovated Museum of Modern Art
Walking in the footsteps of Hemingway, Apollinaire and other writers
Enjoying superb views of the Eiffel Tower from the Trocadéro
---
BE SURE TO TRY
• Créme Brûlée
• French Onion Soup
• Foie Gras

---
RECOMMENDED READING
My Paris Kitchen: Recipes And Stories by David Lebovitz
My Grape Year by Laura Bradbury
Paris in Stride: An Insider's Walking Guide by Jessie Kanelos Weiner
---
VISAS
American and Canadian citizens do not require a visa.