Croatia
TURQUOISE WATERS & ANCIENT WALLED TOWNS
Tourism is on the rise in this coastal nation of southeast Europe both due to its glamourous architecture and natural elegance. 1246 islands are clustered off its pristine coast on the Mediterranean Sea where the bountiful waters make for a menu full of excellent seafood options. Tasting the local wine is also highly recommended in this peaceful area of shore paths and picturesque villages. Shorelines and nearby wetlands are home to herons, spoonbills, pelicans and storks, while the rugged mountainous regions inland allow hearty mammals such as lynx, wolves and bears to exist undisturbed. You may also try some basic phrases in the complex Croatian language to add a further dimension to this authentic nation.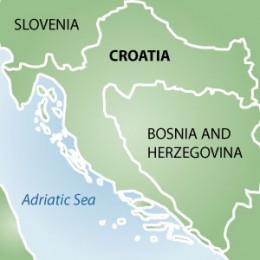 ---
BEST TIME TO TRAVEL
The best time to visit Croatia is in May and June or September and October.
---
GOOD TO KNOW
The Dalmatia region is the original home of, you guessed it, the Dalmation
---
SIGNATURE MOMENTS
Visiting a submarine tunnel on the Island of Vis
Enjoying a traditional lunch in Zagreb
Hike the World Heritage Plitvice Lakes area

---
BE SURE TO TRY
• Octopus Salad
• Pršut / Kulen & Pag Cheese
• Soparnik
---
RECOMMENDED READING
The Tiger's Wife
by Téa Obreht
Croatia: A Nation Forged in War by Marcus Tanner
The First Rule of Swimming by Courtney Angela Brkic
---
VISAS
Canadian and American visitors don't need a visa for visits up to 90 days.