North India's Tigers, the Taj, and more: Your Way
Choose your dates
14 days | India | Private Journeys
Rajasthan is our most popular destination in India – to many, the very essence of India. Travelling with your own private car and driver means you can make Rajasthan your own. You'll be met by private guides at each destination who will show you their own special corners. You'll stay in heritage properties of tremendous charm: castles, palaces, forts and ornate havelis, many of which are still home to India's royal families. And, with your driver, you'll stop when you want along the way to take those one-of-a-kind photos, to enjoy the blessings of temples and to feel the romance of Rajasthan.

You begin with a good look at the iconic Taj Mahal (your guide can usually get you past the long lines and help you get that great photo). Next, that other Indian icon; the Bengal Tiger. You'll likely be the first jeep into Ranthambore Park to maximize your viewing opportunities. You'll explore the grand sights of Rajasthan, filled with princely palaces and bustling markets. If there's a polo match to be seen or a wedding to attend, we'll make sure you're part of it!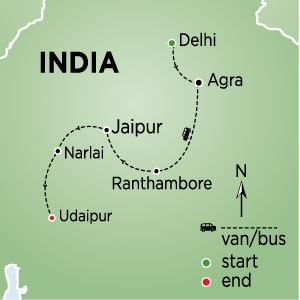 Itinerary at a Glance
| | |
| --- | --- |
| Day | Activity |
| 1 | Arrive in Delhi |
| 2 | Old and New Delhi by rickshaw |
| 3 | Overland to Agra |
| 4 | The iconic Taj Mahal and Agra Fort |
| 5 | Overland to Ranthambore National Park |
| 6 | Game drives in the park |
| 7 | Overland to vibrant Jaipur |
| 8 | Travel like a Maharaja! By elephant to Amber Fort |
| 9 | Overland to medieval Jodhpur in the heart of the Thar Desert |
| 10 | Setting of The Jungle Book: the Meherangarh Fort |
| 11 | Travel into the Aravalli hills and the peaceful village of Narlai |
| 12 | The magnificent Jain temple in Ranakpur and on to Udaipur |
| 13 | The City Palace and lake city of Udaipur |
| 14 | Depart Udaipur |
Download Itinerary
Or call 1-800-387-1483 with any questions or to reserve your spot!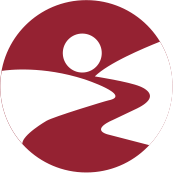 Tour Cost (per person):
From US$4595 per person (based on 2 people travelling)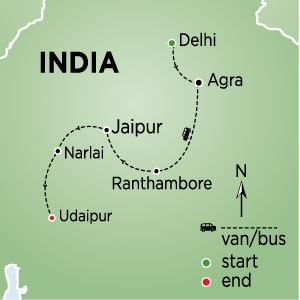 View More Trips In...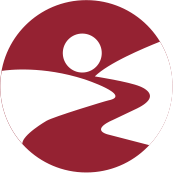 Private Journeys
You may Also be interested in...