Baltics
BAROQUE ARCHITECTURE & MEDIEVAL HISTORY
The Baltic states of Estonia, Latvia, and Lithuania have each worked hard to reinvent themselves after Soviet occupation ended in 1991 with the Singing Revolution. Especially on expedition cruises in the Baltic Sea, travellers often strive to visit all three countries, with their respective capital cities as primary targets. Estonia's capital Tallinn emits a storybook vibe in its walled medieval Old Town, with Baroque, Modern and Soviet touches making for an overall intriguing mix. Riga, Latvia, also has an impressive medieval Old Town to go along with delightful wooden houses, Gothic architecture and dashes of Art Nouveau. The Baltic trifecta of charming medieval Old Towns is completed in Vilinius, Lithuania, which, like Riga, is a growing hub of artistic expression amid more sombre reminders of a trying past. With sparsely populated rural and wilderness areas, it's no wonder the Baltics are attracting more and more people seeking a refreshing immersion in the stillness of nature. Swaths of pine forest are home to numerous large northern mammals. The many lakes attract millions of migrating waterfowl, and coastal sand dunes and beaches are gateways to the world's youngest sea.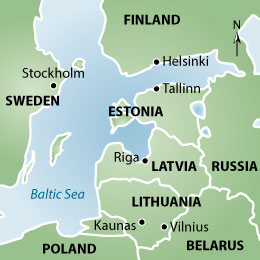 ---
BEST TIME TO TRAVEL
September and early October are the best time to visit the Baltics.
---
GOOD TO KNOW
Hemingway called Riga the "Paris of the North"
---
SIGNATURE MOMENTS
Visit Trakai Castle, situated on an island
Drink hot wine and meander around an old fortress in Tallin
---
BE SURE TO TRY
• Beet Soup
• Pickles
• Kepta duona
---
RECOMMENDED READING
The Man Who Spoke Snakish by Andrus Kivirähk

Exit into History: A Journey Through the New Eastern Europe by Eva Hoffman
---
VISAS
American and Canadian citizens do not need a visa to enter.
Nearby Destinations