Marisa Mae
Marisa Mae has trained clients 1:1 and in small groups for over 12 years from her base in Vancouver, British Columbia. She creates and leads programs, workshops, and workouts for UBC Faculty of Medicine Department of Paediatrics and BC Children's Hospital staff. Marisa is a BCRPA registered Personal Trainer and has certifications as a specialized instructor in Weight Training, Older Adults, Yoga Fitness, Hardstyle Kettlebell and Precision Nutrition.

She believes fitness can (and should be) fun! It's just a matter of finding something that you enjoy. She is passionate about educating clients so they can achieve long term results and health, rather than short term quick fixes that don't last. She loves motivating people to accomplish more than they think they are capable of and is constantly inspired by what her clients achieve. Her love of life, a good laugh, and positive energy are contagious.

"Marisa is so accessible and inspiring!" - Anne S.
Contact us
to be the first to know when this leader is travelling next!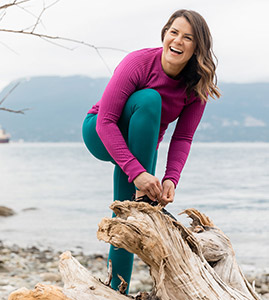 Recent Blog Posts
For more blogs written by this leader, click here.