Jessica Linton
President of the Toronto Entomologists's Association, Jessica Linton is a senior consulting biologist with a background in environmental resource studies. Based in Ontario, she manages a wide range of natural heritage projects including natural area inventories, research of the life histories of various animal species, species-at-risk recovery planning and environmental impact assessments. Jessica is also an avid traveller who has visited exciting destinations throughout Central and South America, Africa and North America. She has travelled to several of the Monarch butterfly overwintering colonies in central Mexico and recently led a wildly successful first Monarchs of Mexico tour, which is confirmed again in 2018! Jessica is an ideal host for this tour as she has participated in and coordinated a number of initiatives and studies focused on the Monarch and has appeared before the Ontario Environmental Review Tribunal as an expert witness on Monarch ecology. One might say Jessica is most passionate about butterflies and she has over 10 years of experience conducting butterfly surveys, behavioral monitoring, and migration studies. Jessica has also lived in Costa Rica where she worked as a guide and later as manager at the Monteverde Butterfly Gardens. During that time, she also travelled extensively through the country and its many habitats. She particularly loves Costa Rica's cloud forest and all of its sounds! Jessica is always excited to share her passion for the natural world with fellow avid travellers!

Here's what 2018 travellers said about Jessica Linton on the Monarchs of Mexico tour:

"She is the best. Personable, caring, informative and organized."
- Cheryl L.
"Jessica Linton is a wonderful educator who shared her wealth of information about the monarchs life cycle, migration, threats, as well as other species. I'm sure my travel mates would agree with me that Jessica is the best."
- Marilyn


---
ARTICLE:
A Women in Entomology Q&A featuring Jessica Linton, a terrestrial and wetland biologist with Natural Resource Solutions Inc. Read it here.

Contact us
to be the first to know when this leader is travelling next!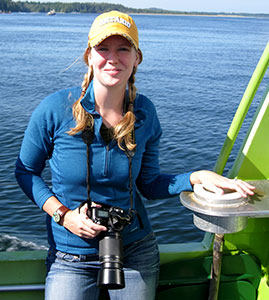 Recent Blog Posts
North American Monarch Population Primed to Deliver a Spectacular Show in Mexico in 2020!

For more blogs written by this leader, click here.