Trinidad & Tobago
A WORLD-RENOWNED TROPICAL BIRDING HOT SPOT
Few natural events are as dramatic and magical as the evening flight of the Scarlet Ibis at the famous Caroni Marsh. This is but one experience bound to leave a lasting impression on a visit to these two verdant islands off of Venezuela's northeast coast. A world-renowned tropical birding "hotspot", Trinidad and Tobago collectively offer tremendous habitat diversity, allowing for their teeming flora and fauna. The rainforest-covered slopes of the Northern Range are dripping with birds. Lowland forest and grassland habitats as well as coastal tidepools and mangroves offer an entirely different array of species. Snorkelling off of Tobago in the warm aquamarine waters adds another dimension to your adventure still. Classic tropical beings such as leaf-cutter and army ants, dazzling butterflies and a multitude of orchids provide endless photo and video opportunities on these tiny, but breathtaking gems of the Caribbean.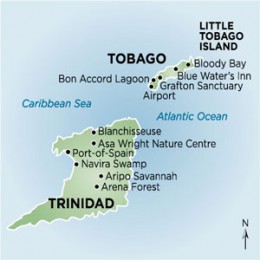 ---
BEST TIME TO TRAVEL
The best time to visit is between January and May.
---
GOOD TO KNOW
This small country has over 400 species of birds, making it one of the richest birding countries per square mile
---
SIGNATURE MOMENTS
Seeing 25 new bird species before breakfast!
Waking up to the raucous call of the Crested Oropendolas
Observing the evening flight of the Scarlet Ibis at Caroni Swamp
---
BE SURE TO TRY
• Doubles
• Pholourie
• Coconut Jelly


---
RECOMMENDED READING
A Guide to the Birds of Trinidad and Tobago
by Richard French
Sweet Hands: Island Cooking from Trinidad and Tobago
by Ramin Ganeshram
---
VISAS
American and Canadian citizens do not require a visa.
Nearby Destinations