Tanzania
LAND OF THE GREAT MIGRATION
The quintessential African experience is had in Tanzania with its unimaginable array of internationally-renowned destinations. The Great Rift Valley, the Serengeti Plains, Mount Kilimanjaro and the Ngorongoro Crater all amazingly fall within this lone nation's borders. Africa's "Big Five" mammals – African Elephant, Cape Buffalo, Lion, Leopard, and the extremely rare Black Rhinoceros can be seen in a single day in at Ngorongoro – a self-sustaining ecosystem that is often described as a natural "wonder of the world". One of Earth's great natural spectacles – the mass migration of the wildebeest – is observed in the sweeping, golden grasslands of Maasai; hippos are an ominous presence in the Simba River. And what's not to say about Mount Kilimanjaro? A climb up this legendary behemoth is an experience rivalled by few others on the planet. Join one of our treks or safaris and let Africa's eastern jewel leave a lasting impression.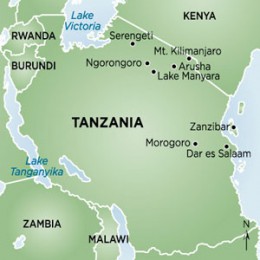 ---
BEST TIME TO TRAVEL
The best time to visit Tanzania is from July to October.
---
GOOD TO KNOW
A kitenge is an African garment similar to a sarong, worn around the chest or waist, and makes a great gift or souvenir as it's lightweight and easy to pack
---
SIGNATURE MOMENTS
Spotting the spectacular Fischer's Lovebirds in the Serengeti
Hearing the distant laughs of Spotted Hyena in the evening
Having close encounters with the Big Five

---
BE SURE TO TRY
• Ugali
• Ndizi Kaanga
• Mchuzi wa samaki
---
RECOMMENDED READING
The Tree Where Man Was Born by Matthiesson, Peter
The Safari Companion by Estes, Richard
Out of Africa by Dinesen, Isak
---
VISAS
Canadian and American citizens require visas to travel to Tanzania.
Nearby Destinations