New Zealand
MADE FOR OUTDOOR EXPLORERS
It has been said that you can't take a bad picture in New Zealand – something many of our travellers can attest to after returning from this tiny country where everything exists on a grand scale. New Zealand's story began 80 million years ago when it broke away from supercontinent Gondwanaland. Since then, its isolation in the South Pacific catalyzed the evolution of numerous endemic species – most notably, the Kakapo Parrot and the iconic Kiwi. There are also reminders of prehistoric wildlife with the Tuatara (a reptile), Weta (a group of insects) and Giant Snail. These and other creatures are protected in the 20% of the country's surface area covered by national parks and nature reserves. The dramatic glaciers, deep fjords, rugged mountains and volcanic plateaus will inspire as they did for the creators of the epic Lord of the Rings film trilogy. There are also miles of beautiful beaches for those seeking a place to enjoy the southern sun. Reminders of native Maori life dot the landscape in historic sites, while magnificent colonial-era buildings invite exploration in more urban areas. Your camera and sense of wonder will be well-served here on the other side of the world.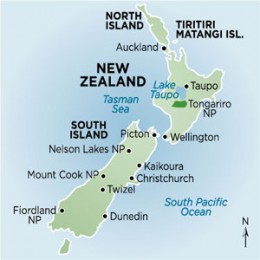 ---
BEST TIME TO TRAVEL
Enjoy spring and summer weather from September - March
---
GOOD TO KNOW
The population of New Zealand is 4.2 million humans and 40 million sheep.
---
SIGNATURE MOMENTS
Seeing a kiwi on a night walk
Visiting the Pureora Forest with its millennial trees
Exploring spectacular Fiordland
---
BE SURE TO TRY
Pavlova, a meringue-based dessert filled with fruit

---
RECOMMENDED READING
New Zealand's Alpine Plants Inside and Out
by Nancy and Bill Malcolm
The Mosses of New Zealand by Beever, Jessica, John Child and K.W. Allison
Whales, Dolphins and Porpoises. Eyewitness Handbook by Dorling Kindersley
Nearby Destinations