Namibia
SAFARIS AND SAND DUNES
Life and landscape exist on a grand scale in the harsh but jaw-dropping wilds of Namibia. From the world's highest dunes of 300 metres in the Namib Desert with its desert elephants and rare Black Rhinos to the flocks of 200 000 birds at Sandwich Harbour, there will be no shortage of "wow moments". The ancient rock engravings of Damaraland leave a lasting impression, while other expanse vistas show no evidence of any prior human habitation. A consistent highlight is Etosha National Park in the northwest where Giraffe, Blue Wildebeest, Black-faced Impala and Plains Zebra are some of the many species of charismatic megafauna that peacefully roam. Further wildlife viewing and photographic opportunities abound in the Kalahari Desert east of the mountains and the lush green Caprivi Strip. Namibia is a land of grandeur and spell-binding solitude that is certain to enchant.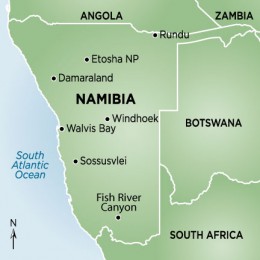 ---
BEST TIME TO TRAVEL
The best time to visit Namibia is from July to October.
---
GOOD TO KNOW
German style beer and watermelon wine are equally available
---
SIGNATURE MOMENTS
Photograph the dunes in the morning light at Sossusvlei
Track Leopards and Cheetahs at Okonjima
Cruise Walvis Bay in search of marine life
---
BE SURE TO TRY
• Biltong
• Namibian Oysters
• Omajowa
---
RECOMMENDED READING
The Old Way: A Story of the First People by Elizabeth Marshall Thomas
The Black Rhinos of Namibia: Searching for Survivors in the African Desert by Rick Bass
East Wind: a True Story by Jacqueline Richards, Lessil Richards
---
VISAS
American citizens require a visa to enter Namibia. Canadian citizens do not require a visa.
Nearby Destinations