Kenya
WITNESS AFRICA'S CIRCLE OF LIFE
Wildlife viewing reigns supreme both in diversity and sheer numbers of individual animals. Indeed, Kenya has become synonymous with first-rate safaris where stunning views can be had at the Big Five: lion, elephant, leopard, buffalo and rhino. That is to say nothing of the amazing bird diversity and fascinating tribal culture. Learn from Masai people about the challenges of living in harmony with nature in an ever-changing world during a guided tracking expedition for big game wildlife at the celebrated Masai Mara National Reserve. Here, the fabled Great Migration is the star event with millions of wildebeest and zebra moving en masse from the Serengeti in neighbouring Tanzania. Cheetah, Spotted Hyena, Topi and Hippo headline a supporting list of wildlife that help make this one of the world's pre-eminent big mammal destinations. Lake Nakuru in central Kenya attracts millions of Lesser Flamingoes – a phenomenon that has led to the title of "greatest bird spectacle on Earth" by some. On the shores of the Indian Ocean is Malindi Marine National Park where beautiful beaches and dazzling corals add variety to your Kenyan adventure.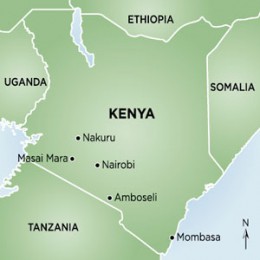 ---
BEST TIME TO TRAVEL
The best times to visit Kenya is from January, February and July to October.
---
GOOD TO KNOW
"Jambo" is the most common Swahili greeting, one that you'll hear and say many times.
---
SIGNATURE MOMENTS
Participating in the great cycle of life on the Serengeti
Spotting all of the Big Five on one day!

Walking in Africa's Garden of Eden: the Ngorongoro Crater
---
RECOMMENDED READING
Play Like a Girl by Ellie Roscher
North of South, An African Journey by Shivia Naipaul
The Safari Companion
by Richard Estes
---
VISAS
Canadian and American citizens require travel visas for Kenya, which are obtained on arrival.
Nearby Destinations