Honduras
MAYAN RUINS AMONG DIVERSE TROPICAL WILDLIFE
A land of mountains and forests, beaches and coral reefs, mangroves and wilderness, Honduras is awaiting the attention it so well deserves. The country is at the southern tip of the vast Mesoamerican barrier reef system - the second biggest barrier reef in the world - which runs more than 1,000 km down from Mexico's Yucatan Peninsula, and offers exceptional snorkeling and diving opportunities. Honduras is renowned for the enigmatic Maya ruins of Copán, a UNESCO World Heritage site distinguished by its beautiful stone temples, altars, hieroglyphs, and stelae. The country's national parks, wildlife refuges and biological reserves for a chance to appreciate the work that Hondurans have made to protect their natural spaces and to delight in their wildlife. Pico Bonito is perhaps the best-known for its wonderful array of wildlife, including Puma and Jaguar, and an extravagant assortment of birds. Among bird enthusiasts, Honduras is particularly well-known for the Honduran Emerald, a hummingbird that is Honduras' sole endemic bird species.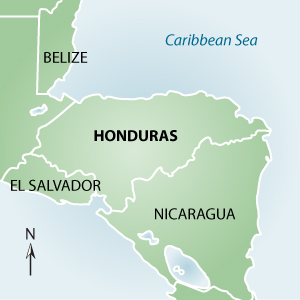 NO UPCOMING TOURS AT THIS TIME
---
BEST TIME TO TRAVEL
Take adventage of the dry season between December and April.
---
GOOD TO KNOW
Honduras is a diver's paradise, located near the Mesoamerican Barrier Reef – the largest barrier reef in the Caribbean Sea.

---
SIGNATURE MOMENTS
Seeing the Lovely Cotinga at Pico Bonito
Exploring Lancetilla Botanical Gardens
---
LANGUAGE
Spanish is the official language of Honduras.
---
RECOMMENDED READING
A New Neotropical Companion by John Kricher
Breaking the Maya Code by Michael D. Coe, Thames and Hudson
---
VISAS
A visa is not required for Canadian or U.S. citizens entering Honduras.
Nearby Destinations