Just spent some time with the latest addition to my Burma/Myanmar bookshelf "Daybreak in Myanmar." I accidentally discovered the publication fundraising efforts of this book on Kickstarter and liked what I read about the approach to the subject matter of photographer Geoffrey Hiller, who travelled a number of times to Burma/ Myanmar starting in the '80s.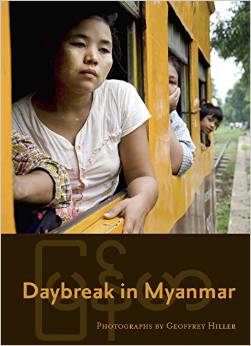 While this is a book of photographs, there is much to read. Reading each picture, which have amazing narrative detail and juxtaposition of imagery within some of the pictures, as well as reading the thoughtful interviews with notable Burmese people of different background conducted by British journalist Francis Wade.
It is said, that a picture is worth a thousand words. The selection of over 160 pictures, taken in different cities, offer much to read and explore about the people, culture, life and change in Myanmar in the past couple of years.
This publication is not a large coffee table size book, but a smaller handheld and therefore a more intimate encounter with the subject matter. I think the arrangement of the photographs by time of day a wonderful cohesive approach following daily rhythms and routines.
Well done Geoffrey Hiller and team!