Travelling the Ganges by river cruiser means walking up to a whole new experience every day and enjoying the perfect mix of activity and relaxation in this exotic setting.
I like to start the day with a yoga session on the Sun Deck. The rising sun, mist lifting off the vast expanse of water, and fishermen casting their nets provide the perfect setting. I'll often join in with the yoga teacher or sometimes, just take a seat and watch quietly as villages come awake on the shores.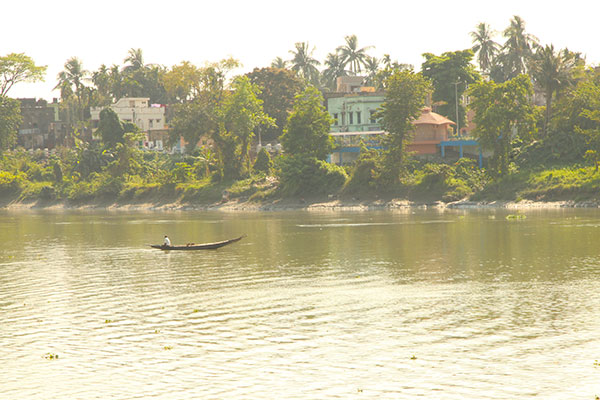 A good strong coffee or a cup of the chef's own chai follows. Breakfast is a delicious spread of Western and Indian fare with lots of fresh fruit.
After breakfast, we disembark and head out to explore. One of my favourite visits is to the sleepy village of Kalna. Once an important trading port, it's now better known for its magnificent Rajbari Hindu temples. I always enjoy engaging with local people; here in Kalna we support village economies by hiring trishaws (pedal-powered three-wheeled rickshaws) to tour the village.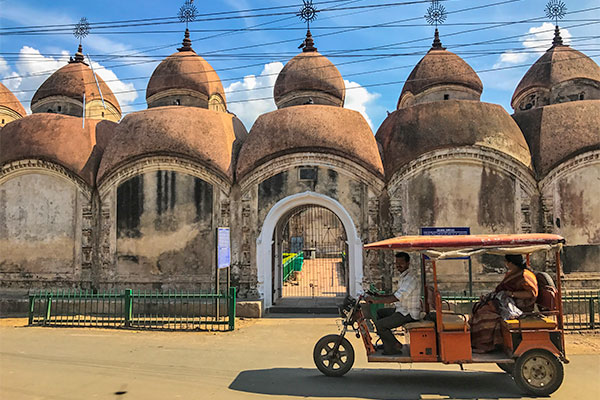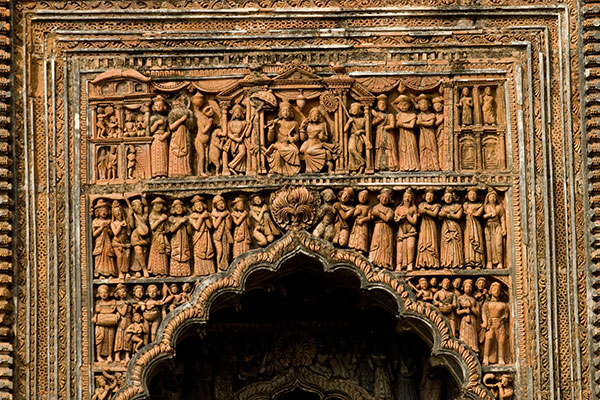 At the Pratapeshwar Temple (above), embellished with exceptional terra-cotta carvings as well as scenes of everyday life, your driver enjoys challenging you to see if you can spot the girl in typical Victorian dress with a violin among the hundreds of figures! I like to take time in the amazing Naba Kailash; two concentric circles of intricately carved temples. The outer circle symbolizing the everyday world and the inner ring symbolizing pure thought. The depth of discovery in these small villages will surprise you!
We get back to our ship for a late lunch on board, as the ship gets underway. This afternoon, I'll catch up on a good book from the comfort of my teak lounger outside my cabin. I try to treat myself once during the cruise to an Ayurvedic massage with the onboard therapist.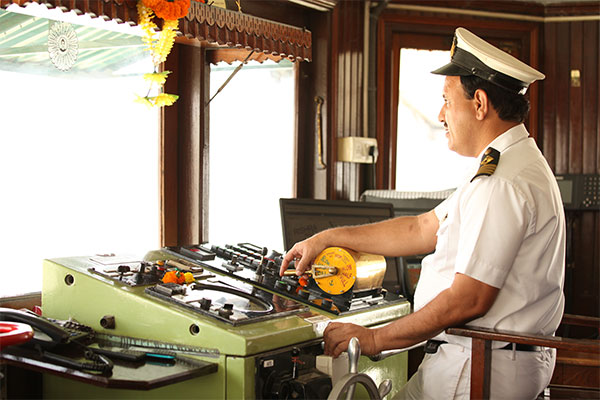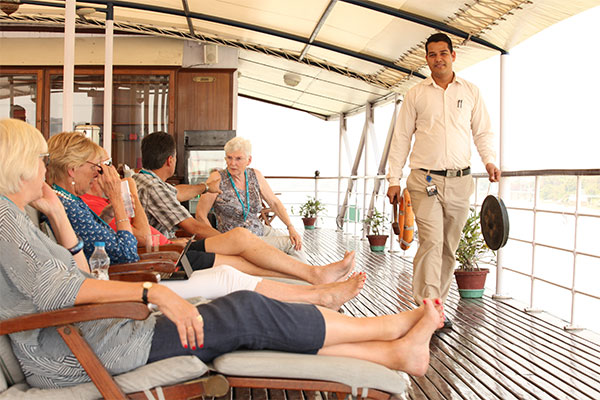 I'm up on the Sun Deck before dinner (likely with an ice-cold bottle of Kingfisher!), to take part in a presentation by one of our on-board experts; a deep dive into Hindu mythology, a discussion on modern Indian politics, or a cooking demonstration by our talented chef.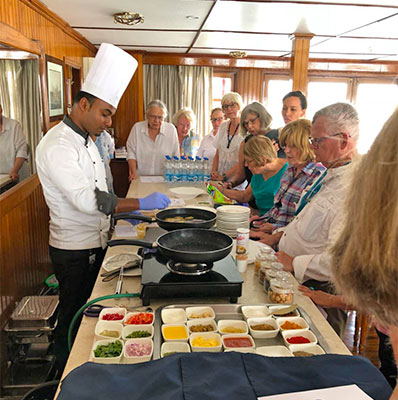 Dinner is served in the Main Deck dining room, a lovely old-fashioned all teak setting that feels perfectly in keeping with the relaxed tone of the ship. It's likely I'll enjoy a dish famous to this region such as Bengali Doi Maach (below), a thick and spicy fish curry with marinated pieces of fish cooked in a yogurt-based gravy. The curry is robust, slightly spicy and delicately sour with a balance of curd and spices…. Never quite the same when eaten outside of Bengal.
After a briefing on the following day's activities, I'll enjoy a nightcap in the cozy saloon, sharing discoveries of this magical part of India. Then it's off to bed in my comfortable cabin; the ship is moored overnight, and the gentle rocking motion lulls me to sleep.
Each day on board brings its own discoveries, big and small, as the Ganges works its charm in myriad ways.
---
Ganges River Cruise
* Limited availability!
Onboard the exclusively chartered 28-cabin
R/V Bengal Ganga
January 25 – February 6, 2023 |
Learn more