Each year at Point Pelee National Park's Festival of Birds, we share a recipe for birds from Sue Read, a fellow nature lover and extraordinary baker. Here are some of her favourites that you can make at home: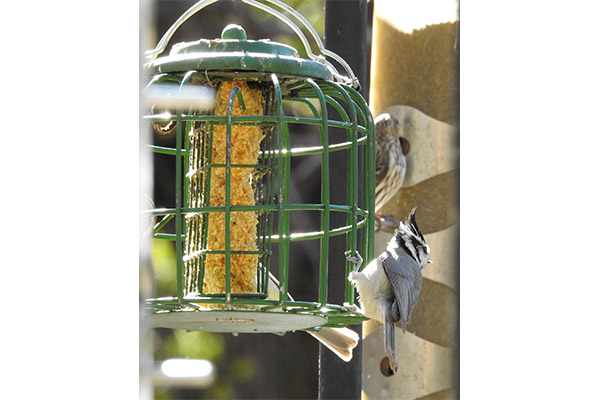 Peanut Butter Cakes
From the feeding station at Ash Canyon Bird Sanctuary in Arizona.
INGREDIENTS
2 cups chunky peanut butter
2 cups lard
2 cups flour
4 cups corn meal
4 cups quick oats
DIRECTIONS
Melt together on low heat and stir to blend the peanut butter and lard. Take off heat and add dry ingredients one at a time, in order given, mixing well after each addition. Blend all ingredients thoroughly.

Option #1: Press into waxed paper lined 9x13 pan, cool, and cut into squares
Option #2: Press into cavities in suet container.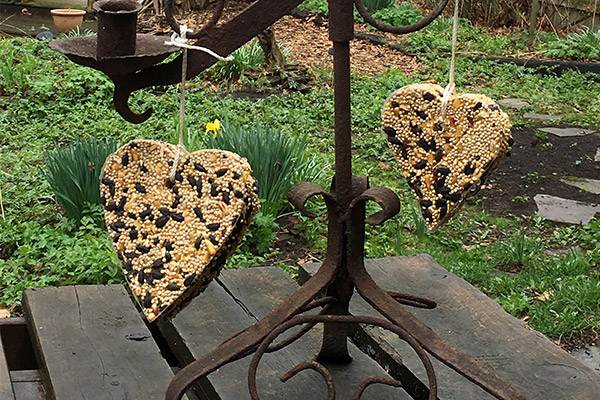 Birdseed Ornaments
INGREDIENTS
2/3 cup boiling water
2 packages of gelatine
2 cups bird seed
Parchment or waxed paper
Large simple cookie cutters
Straws cut into two inch pieces
Moulds
String
DIRECTIONS
Pour water into bowl and add gelatine, stirring until completely dissolved. Add birdseed and mix until thoroughly coated. Place cookie cutters onto parchment paper layered cookie sheet. Scoop birdseed mixture in until heaping full. Cover with parchment paper and push firmly to pack in all the seeds. Poke straws through the shapes, but not too close to the edge. Refrigerate for 2 hours. Let dry on counter for 3 hours, turning once. Once hard and fully dry, gently remove from the moulds. Carefully remove the straws and tie a string through the hole. Hang on a tree.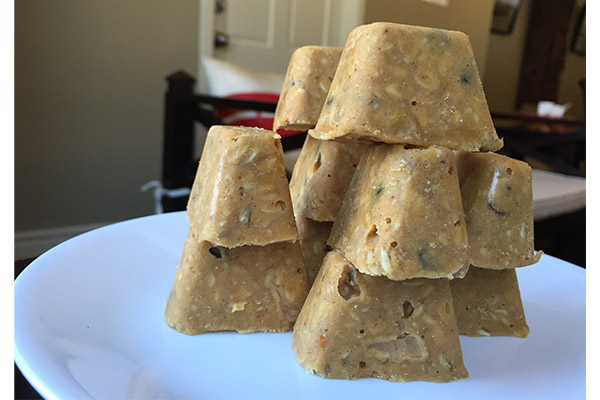 No-Melt Peanut Butter Suet
INGREDIENTS
1 cup Lard
1 cup Crunchy peanut butter
1 cup Cornmeal
1 cup Flour
2 cups Rolled oats
1/2 cup Raisins
1 Apple, diced small
DIRECTIONS
Melt the lard and peanut butter together in the microwave, then stir in remaining ingredients. Pour the mixture into an ice cube tray. Allow to cool and store in freezer until needed.
Makes about 32 cubes.



Bonus!
LUSCIOUS LEMON SQUARES (FOR HUMANS!)
INGREDIENTS
Crust:
1 cup unsalted butter
2 cups flour
1/2 cup icing sugar
Top Layer:
4 large eggs at room temp.
2 cups sugar
Grated rind of 1 lemon
6 tbsp lemon juice
1 1/2 tbsp flour
1 1/2 tsp baking powder
Icing sugar, sprinkled
DIRECTIONS
Crust
Beat butter, flour, and icing sugar until fluffy. Press into greased 9" X 13" pan. Bake at 325°F for 20 – 25 minutes.
Top Layer
In another bowl beat eggs and sugar until light.Stir in lemon zest and juice. Sprinkle flour and baking powder on top and stir well. Pour lemon mixture over baked crust and bake for another 30 – 35 minutes until filling is set. (Filling is set when a knife comes out clean.) Let cool and cut into squares. Sprinkle with icing sugar.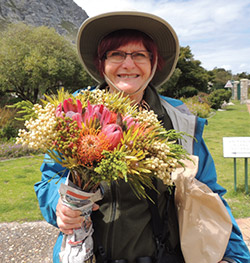 Sue Read
is a lifelong nature lover and an important part of her career as a teacher at an inner city school was to pass this love on to her students. She has served as President of Nature London and was involved for many years with Project Peregrine, a program to assist fledglings taking their first flights from an eyrie on a London tower. She has had the pleasure and pain of being bitten by a Peregrine Falcon in London as well as a Scarlet Macaw in Brazil. She embraces the cultures and flora and fauna of the world and has undertaken expeditions on all seven continents! She is the "better half" of
Pete Read,
a veteran Quest leader.