There are perennial global hot spots like Tokyo or New York and then there are those places so cool you may not even have heard of them.
Described as "the perfect destination for those interested in culture, gastronomy, diversity", Tbilisi, the capital of the country of
Georgia,
has quickly climbed to the top of travel destination wish lists in 2020.
Why?
Often described as a city of contrasts, Tbilisi has something for everyone. With a storied past, the city offers culture and tradition for those that enjoy a journey through history. And, as a burgeoning city full of up and coming restaurants and modern architecture, Tbilisi is attracting a young and sophisticated crowd.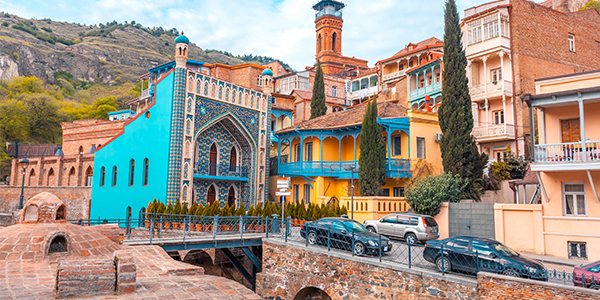 Tbilisi the Cultural
Founded in the 5th century AD, Tbilisi has a population of 1.5 million people living there today. Legend says Tbilisi was founded by King Vakhtang I Gorgasali. He was hunting in the heavily wooded region with a falcon and the royal bird allegedly caught or injured a pheasant during the hunt. Both birds then fell into a nearby hot spring and died from burns. King Vakhtang became so impressed with the hot springs that he decided to cut down the forest and build a city. The name Tbilisi derives from the Old Georgian word "tbili", meaning warm. Today, the area is still well-known for its sulfur bathhouses fed by the natural hot springs.
Visitors to Tbilisi can see the main sights of the city clustered in the Old Tbilisi district. Narikala Fortress can be seen from any point within Old Tbilisi. It was constructed for defense purposes in the 4th century and was considerably expanded over subsequent historical periods. Also 'standing guard' over the city is the Kartlis Deda (Mother Georgia) monument, erected in 1958 to mark the city's 1500th anniversary.
Agmashenebeli Avenue is one of the longest and most beautiful streets of the city. There you can find gorgeous historic buildings, painted entryways and distinctive architectural ornaments.
Historically, Tbilisi has been home to people of multiple cultural, ethnic, and religious backgrounds. Georgian tourism promotes the multi-ethnic, multi-cultural, multi-religious city and celebrates the existence of Georgian Orthodox, Armenian Gregorian and Roman Catholic churches, a synagogue, a mosque and a Zoroastrian temple all within a 5-minute walk of each other.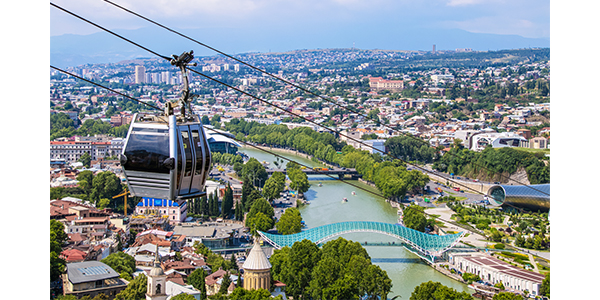 Tbilisi the Cosmopolitan
Spread out on both banks of the Mtkvari River, and surrounded on three sides by mountains, Tbilisi spent most of its history getting conquered and reconquered. But today, the city, its citizens and visitors are rejoicing in freedom with a celebration of fashion, food and music. Technological and architectural advancements have also propelled the city forward and helped give it a more modern vibe.
Example of this modernity include:
The Peace Bridge, a wavy pedestrians-only glass and steel structure stands in stark contrast to the rest of surrounding Old Tbilisi. The bridge links the west side of the Mtkvari River with flower-filled Rike Park.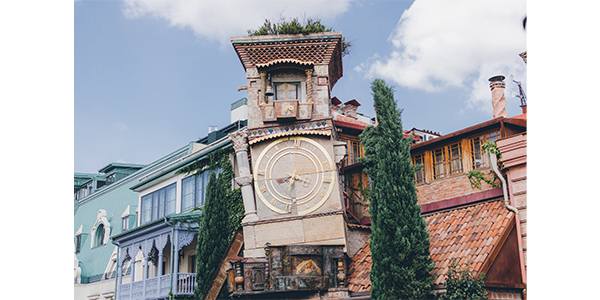 The Leaning Tower of Tbilisi (also referred to as The Gabriadze Clock). This modern addition to the city was built by a puppet master in 2010 and includes an angel that pops out from the door and strikes a bell every hour.
Since 2012, Tbilisi has a modern, high-capacity gondola lift which operates between Rike Park and the Narikala fortress; each gondola can carry up to 8 persons.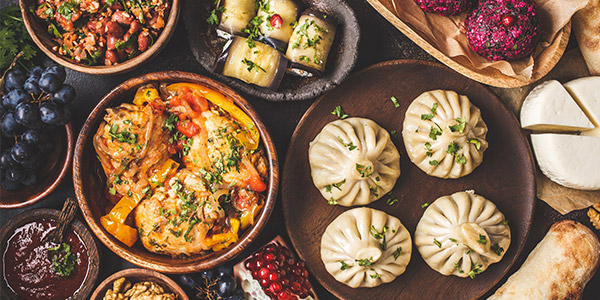 Tbilisi is considered by many to be a trendy hot spot because of the amazing restaurants and clubs that have opened in recent years. It may be the flash and glam of what's new that gets the attention but it is the history and culture of a city that has survived for years that captures the heart of those that visit.
---
Let's see Georgia for ourselves, September 25 - October 5, 2020
Click here
to learn more today