Quest traveller Shelia S. reminisces about a prize sighting on our Tanzania Classic Safari in February 2019.
I first visited Tanzania in 1992. It was July, in the dry season. A haze of smoke often spread over the golden sea of buffalo grass and millet in the fields. Large animals were moving north for food and water as the country dried up. Our guides, though fluent in more than two languages, knew relatively little about the "big picture" ecology of the wildlife we were seeing. This is in contrast with today's guides, who must have degrees in wildlife management and/or ecology. More familiar with their territory and the habits of the wildlife, they know where to look.
But no one goes out at night. Nocturnal, solitary, animals like the Caracal – a medium-sized cat –
have remained largely unstudied and unseen in the wild. Once, Caracal inhabited suitable habitat in Africa, the Mideast and parts of India. The name comes from the Turkish kara...black; and kulak...ear, referring to the spectacular black ear tassels.
Caracal were live-trapped and sold to wealthy bird hunters in Iran and other countries, for powerful hind legs make this cat able to make giant leaps to catch prey rocketing skyward. The result is that what is known about the Caracal has probably come from captive animals.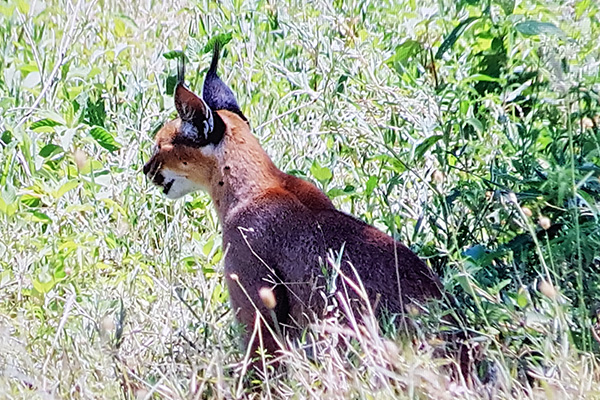 So seeing a Caracal in broad daylight was a very fortunate find on the Quest Tanzania Safari. This sighting was, for me, at the top of our list of observations ranging from rhinos and elephants to the flowers and butterflies bursting forth from the sweet rain that encouraged new growth.
A magical Tanzanian spring...
---

Editor's Note:
We'd consider ourselves immensely fortunate and lucky to see a Caracal again. But we will try on our next Tanzania Classic Safari! Please consider joining us.
Click here
to learn more.