This article was originally posted to The Guardian, written by Killian Fox in December, 2018.
No lesson in the complex art of Georgian cuisine is complete without a toast or two, says a writer on a tour of the country's mountains and cities Suzanne Moore in '
mind-blowingly gorgeous Georgia
'.
"This is a crazy Georgian situation," says Ketino Sujashvili, with a hint of theatrical relish, as a dozen different crises flare up in her kitchen all at once.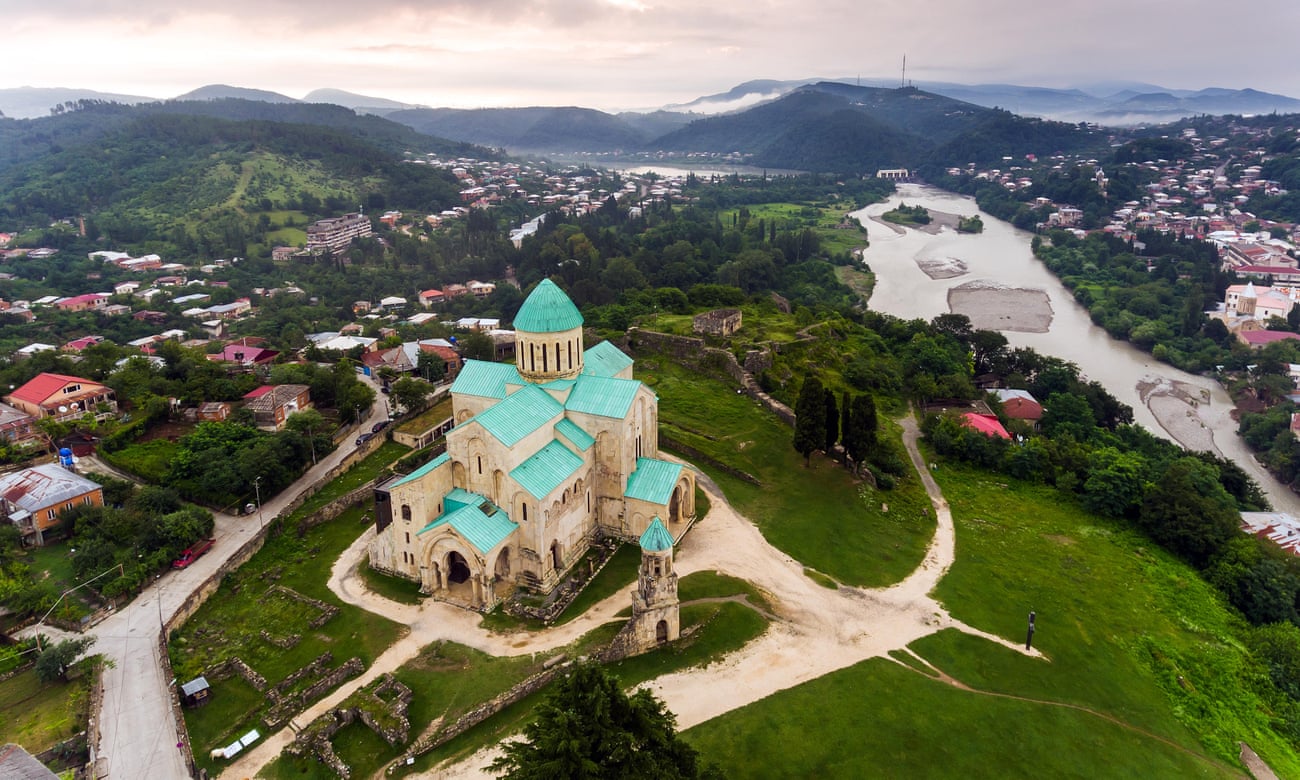 Faded grandeur: the 11th-century Bagrati Cathedral in Kutaisi. Photograph: Kosmenko Dmytro/Alamy
I've just arrived at Ketino's guesthouse in Kazbegi, northern Georgia, for an informal cooking class – the plan is to make khinkali, the soupy minced-meat dumplings prized in this spectacular region of the High Caucasus mountains. It begins smoothly enough, with the women in Ketino's kitchen creating a space for me at their table, clearly amused by this lanky Irishman eager to learn the secrets of Georgian cuisine.
Just as I'm getting to grips with the art of making khinkali, which involves dolloping lamb mince into palm-sized circles of dough and carefully wrinkling up the edges into a frilly pouch with your fingers, a group of 18 Israeli tourists turns up early for lunch. The kitchen explodes into action.

Ketino dashes around, spooning beetroots with tkemali (plum) sauce and pickled jonjoli (bladdernut flowers) on to serving plates, while simultaneously trying to coax an oven back to life and fielding requests from her ravenous guests. "But a lovely one," she adds, grinning, in case I get the wrong impression from the frenzied activity around me. "We love cooking!"

This is the overriding impression I take from my two-week visit: Georgians love cooking and they love eating – food is of paramount importance in this beautiful, cultured country on the crossroads of Eastern Europe and Western Asia. And word is beginning to spread to the UK, with recent books by Olia Hercules and Carla Capalbo teasing out the complexities of Georgian cuisine, fusing as it does the flavours of Turkey, the Slavic region and Iran into something utterly compelling.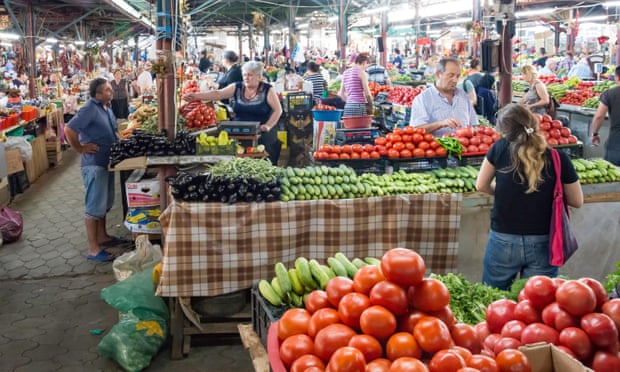 'Atmospheric': the Green Bazaar. Photograph: Greg Balfour Evans/Alamy Stock Photo
Georgians also, as I discover to my cost, really love drinking, be it the complex amber wine for which the country is increasingly renowned, or the potent chacha spirit made from leftover grape skins and pips. If you get into a situation where one or the other is being knocked back over a period of several hours, punctuated by increasingly heartfelt toasts from a tamada, or toast master, I can only wish you the best of luck.
My culinary journey around Georgia begins in the western city of Kutaisi, (not so) fresh off a budget flight from Luton. A capital of the medieval Kingdom of Georgia, Kutaisi suffered economically after the country gained independence from the Soviet Union in 1991 and today it exudes an air of faded grandeur, with buildings standing derelict just off the central David Agmashenebeli Square. But there's lots to see here, from the 11th-century Bagrati Cathedral that looms over the city, with its controversial new roof added at the behest of former president Mikheil Saakashvili, to the atmospheric Green Bazaar.
In this sprawling food market in the centre of town, I clock some of the key components of Georgian cuisine: burstingly ripe tomatoes, heaps of blue-purple plums and veritable forests of herbs and edible flowers – parsley, tarragon, dill, purple basil and marigold – with spices and salt mixes piled up on tables like little volcanoes of flavour.

After stocking up on sheets of sour-sweet fruit leather, I board a marshrutka – the ubiquitous yellow minibuses that whisk locals and tourists around the country at high speeds – and head to the capital Tbilisi, four hours to the east. A city of 1.5 million people on the banks of the Mt'k'vari river, with mountains looming up on three sides, Tbilisi bears the marks of a complicated history in its lively melange of cultures and architectural styles. After checking into Old Tbilisi Gate, an ornate little hotel close to the river, I head out to explore.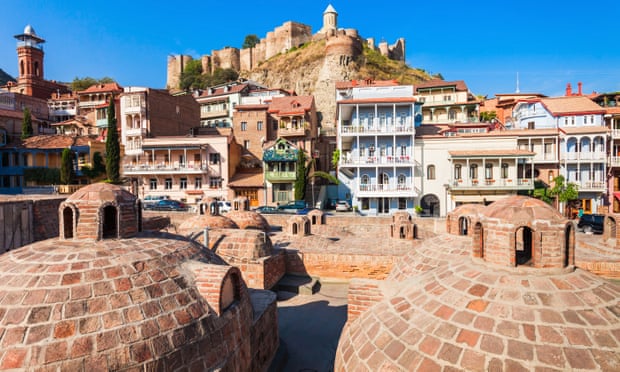 'A complicated history': bathhouse roofs in the capital, Tbilisi. Photograph: Getty Images

I haven't come to Georgia merely to gorge, and in Tbilisi I'm happy to simply lose myself in the maze of streets in the Old Town, where centuries-old churches rub up against Soviet-era apartment blocks and gleaming 21st-century towers. I stroll the botanical gardens and spend a lot of time soaking in the sulphuric waters of Tbilisi's bathhouses (the city's name refers to the warmth of its many hot springs).

In mountainous Kazbegi, meanwhile, I'm game for a spot of hiking, followed by a spot of well-earned lounging at Rooms Hotel. This brutalist establishment in the shadow of Mount Kazbek was built as a Soviet resort. Now it's been transformed – very convincingly – into a plush design hotel, with a spa, a good restaurant and a wide balcony where tourists from around the world recline and marvel at the views.
Most eye-catching is the Gergeti Trinity Church, which looms dramatically over the town on its 2,170m peak. To reach this striking 14th-century building you can either climb or take one of a fleet of taxis shuttling tourists to the top. I go by foot and then continue up the trail for another couple of hours until the glacier at the base of Mount Kazbek heaves into view. Some of my fellow hikers are headed all the way up to the 5,047m summit, but this is enough climbing for me for one day, so I about-turn and head back down to the hotel with stiff legs and a ferocious appetite.

As the days go by, my regard for Georgian food grows. I get hooked on lobio, the nurturing bean stew served in clay pots, and eat far too many khachapuri cheese-breads for my own good.

At Pheasant's Tears in Signagi, where a gentle-giant of a chef called Gia Rokashvili does wonders with humble ingredients, I eat the best omelette of my life, with potatoes, red peppers and a perfectly judged kick of lemon. Up the street at Okro's Wines, I get an insight into Georgian viniculture while tasting a selection of natural wines made by John Okruashvili and his sister, Jane.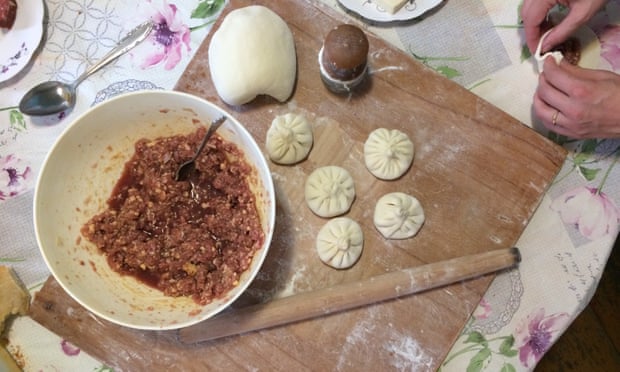 Dough delights: learning to make khinkali dumplings at Ketino Sujashvili's guesthouse. Photograph: Killian Fox
Georgia is one of the oldest wine-producing countries in the world – there's evidence of grape fermenting here 8,000 years ago – but the Soviets whittled more than 500 grape varieties down to just four or five, to maximise efficiency. Since then, Georgian winemakers have been working hard to bring lost varieties back to life.

They've also revived traditional winemaking methods that fell out of favour during the Soviet era. Jane takes me down to her cellar, where she and her brother are fermenting wine in qvevris – giant clay jars buried in the ground for six months or more. Burial in clay keeps the temperature of the wine stable, she says, which means less intervention is needed during fermentation.

Unsealing the qvevri and tasting the wine after months underground can, however, be a nerve-wracking experience. "You never know exactly what you're going to get," another qvevri winemaker Ramaz Nikoladze tells me. "I lose sleep at night worrying about my wine."
All the wines I try at Okro's, and at Ramaz's tiny winery outside Kutaisi, are delicious and distinctive – nuanced and perfumed with an intriguing sweet-savoury balance. Whether it's the influence of the clay, the grapes or the unfamiliar terroir, I'm hooked – and pleased to note that both labels are available in the UK.

The qvevri method does seem a stressful way to make wine, but – after my cooking lesson with Ketino Sujashvili in Kazbegi – I shouldn't be surprised. It's a crazy Georgian situation, full of pressure, passion and uncertainty till the very last moment, but it comes together beautifully in the end. After a couple of weeks in this captivating country, I feel like it makes total sense.

Gorgeous Georgia
Caves, mountains, monasteries: three sites not to miss

Vardzia This extraordinary cave city in the south of the country, settled in the 5th century BC, was expanded greatly during the golden age reign of Queen Tamar (1184-1213). At its height, it contained some 3,000 rooms hewn from the rock. Six hundred or so survive, but it remains a spectacular sight.

Gelati Monastery One of Georgia's proudest attractions, this monastery complex in the rolling hills outside Kutaisi – dubbed 'a second Jerusalem' by impressed medieval chroniclers – is famous for its frescoes and mosaics, and the grave of its founder, David the Builder.

Svaneti The extra effort it takes to reach this remote region of northwest Georgia is rewarded by stunning mountain scenery, fantastic trekking and an introduction to the distinctive cultural heritage of the Svan people, renowned for their ancient watchtowers and polyphonic singing.
---
Worldwide Quest is heading to Azerbaijan & Georgia, September 26 - October 10, 2019.
Click here
to see the tour and request a detailed itinerary!