The only thing we are truly in agreement on concerning short stories, claims R. K. Narayan, often considered the father of modern Indian fiction in English, is that they are short. Agreement on what a story is remains elusive. For his part, Narayan "discover[s] a story when a personality passes through a crisis of spirit or circumstances. Almost invariably the central character faces some kind of crisis and either resolves it or lives with it."
On the face of it, Narayan's conception of a story is straightforward. From this simple structure, however, Narayan creates stories of astrologers and bureaucrats, flute players and train travellers, and dreamers and strivers of all sorts. Like Faulkner, he developed a fictional place and used it throughout his career as a backdrop to explore the human condition and as a kind of character itself. Like Maupassant's, his stories demonstrate "mastery of compression, […] and lives radically changing in paragraphs that can be numbered on two hands."
Narayan's stories are of course also his own. The sharpness of his insights is almost hidden under—although never dulled by—his simplicity of style. The crises his characters face are ones we have also struggled with. How do we properly value time and money? How much can we ever truly own something? To what extent do we have control over our lives? I chose Malgudi Days for the sheer variety of life in these stories, and for the wry humour with which Narayan write about our many failings as humans.
Malgudi, Narayan's fictional city, is any small city in any country and also just Malgudi, a make-believe place in the real Tamil Nadu. For Narayan, it was firmly "South-Indian in costume, tone and content." Although you will not find Malgudi on a map, something of it exists outside the pages of Narayan's books. Part of the fun of this trip will be to discover what that is. On the Travel Pursuit Temples, Traders & Tamarind: Culture and History in South India we will explore both Narayan's world and the sights, sounds, and smells of South India.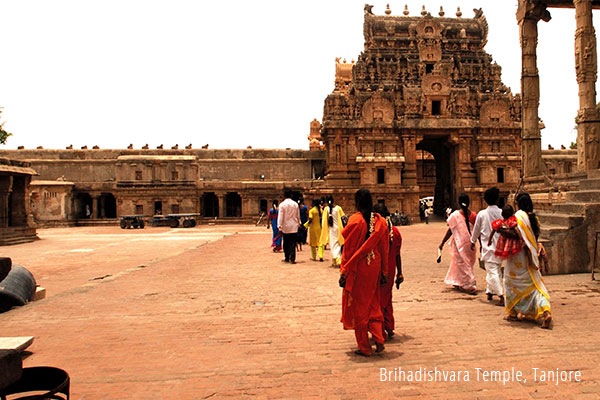 Tamil Nadu lies on the eastern side of the southernmost part of the Indian peninsula. Our trip will focus on the coastal plains, a lush region full of abundant vegetation. We'll also We'll visit three distinct places: Chennai, Pondicherry, and Chettinad.
Chennai is the capital of Tamil Nadu and the cultural and economic centre of South India. It features a tremendous diversity of architecture and is second only to Kolkata in number of heritage buildings. Some of the standouts we'll visit are Kapaleeshwarwar temple, a 7th-century temple of Shiva; Ft. George, thought to be the site of the first British settlement in India; and the Kalakshetra Foundation, a 100-acre complex dedicated to the teaching, preservation, and practice of fine arts. We'll also benefit from Chennai's status as one of India's best food scenes—top-rate dosas, idli, and sambar, but also many excellent Western options.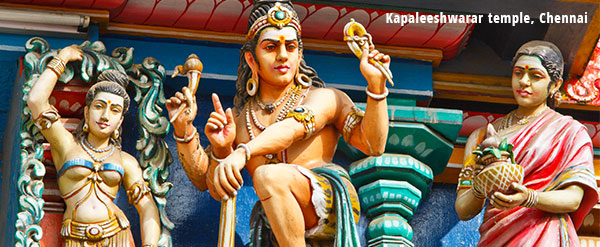 We'll leave the big city and head for Pondicherry, 170 kilometres south of Chennai on the Coromandel Coast. Pondicherry was purchased by the French from a local ruler in 1674 and remained a French colonial possession until 1962. We'll have two days to take in the relaxing seaside vibe, admire the Franco-Tamil architecture, and shop in the city's boutiques and galleries. We'll also visit Auroville, an ashram established by Sri Aurobindo. This seer, poet and Indian nationalist was dedicated to integral yoga, a practice borne of his "rejection of moksha (liberation from the cycle of death and rebirth) as a means of reaching happier, transcendental planes of existence." Instead, "Aurobindo held that terrestrial life itself, in its higher evolutionary stages, is the real goal of creation."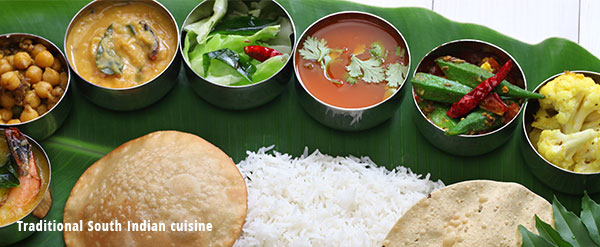 We end by heading inland toward Tanjore, birthplace of the Chola dynasty that ruled South India from the first though twelfth centuries CE and spread Hinduism as far as the Mekong River. We'll stop at the Brihadishwara Temple, a 1,000-year-old temple to Shiva that is a World Heritage Site. Finally, we'll dial the relaxation way up in Chettinad, cultural home to the Chettiars. We'll be staying at Visalam, a resort in a restored mansion—one of many built by the Chettiars, who grew wealthy as merchants, bankers, and landowners. We'll enjoy distinctive Chettinad cuisine flavoured with quality herbs and spices and visit one last temple. Dedicated to Vishnu, Sri Ranaganathaswamy Temple is the largest in India.
I hope you will join me on this
Literary Adventure
that combines some of the best sites in beautiful Tamil Nadu with an in-depth look at the father of modern Indian fiction in English!
A final note:
I was amused to see Narayan, because he wrote about the everyday goings-on in Malgudi, referred to as "the god of small things" in a 2005 article published in the Guardian. The other main reading for our trip is The God of Small Things by Arundhati Roy. Watch this space for another post on Roy, her work, and this unique Travel Pursuit.