Ann Kirkland
Ann Kirkland is the founder of Classical Pursuits, which includes Toronto's famed 'salon in the sun' and literary adventures around the world. Her latest brainchild is
Most Liveable Cities,
trips to people-oriented cities in both the developed and the developing world to get to know why their residents love to call them home.
Recent blogs written by Ann Kirkland:
Upcoming Tours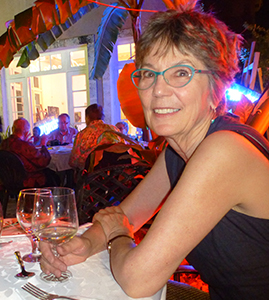 Current Projects
I am returning to my urban planning roots, thinking about the places I enjoy most and why. Cities, done well, count among humanity's greatest masterpieces. Cities are the birthplaces of civilization; centres of culture, trade, and progress. I am happily planning a series of trips to some of the world's most liveable cities where we will discover what delights and enlivens people who call a particular city home.
Memorable Moment
During our January 2019 trip to Havana, my most memorable moment was visiting a barbershop! Barber Papito created a shop in his apartment that doubles as an exquisite barber museum. But his success did not stop there.

Papito is giving back to his community in creative ways that invigorate the entire neighborhood.

Across the street from his shop, he has created a barber school, a hairdressing school, and a bartender school – all run by volunteers for at-risk youth. He has created a barber-themed playground where a parent can get a haircut while the kids play. Then there is the lively seniors centre in the middle of the action on the street that is has become beautiful and lively.

Could Papito's project offer a model for a caring economy where businesses can be profitable, while serving the needs of their community with ingenuity and delight?