Ann Kirkland
Ann Kirkland is the founder of Classical Pursuits, which includes Toronto's famed 'salon in the sun' and literary adventures around the world. Her latest brainchild is Most Liveable Cities, trips to people-oriented cities in both the developed and the developing world to get to know why their residents love to call them home.
Upcoming Tours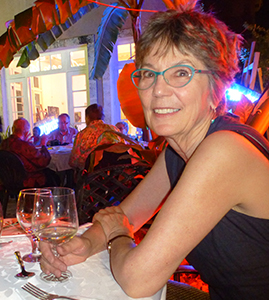 Current Projects
I am returning to my urban planning roots, thinking about the places I enjoy most and why. Cities, done well, count among humanity's greatest masterpieces. Cities are the birthplaces of civilization; centres of culture, trade, and progress. I am happily planning a series of trips to some of the world's most liveable cities where we will discover what delights and enlivens people who call a particular city home.
Memorable Moment
As part of our June Classical Pursuits 2016 trip, The Pity of War, I was able to take part in the nightly Last Post ceremony at the Menin Gate in Ypres, Belgium. I had discovered that a relative of a friend back home was memorialized on the wall of the gate, one of the 55,000 soldiers who were killed in the Ypres Salient of World War I and whose graves are unknown. Placing a poppy wreath during that solemn ceremony and accompanying others on the trip who sought and found the graves of their own fallen relatives were deeply moving. Reading the stirring words of the many young war poets at their own well-tended graves only heightened the horror and futility of this war.