Jeff de Jong
Jeff de Jong is a horticulturist who lives in Victoria BC. He has been teaching in the field of horticulture ever since he graduated from Olds College in the Landscape Management Program. Jeff has worked as the Head of Horticulture Programing for the Calgary Zoo where he taught the Master Gardening Program as well as many other garden related classes. He was an instructor at Olds College teaching classes in the Landscape Design Program. Jeff has a passion for garden design and has won many awards for his own garden and other yards that he has designed.

Jeff is also a garden writer, photographer and watercolor artist. He has a love for travelling and leading garden tours to exciting places around the world. Most recently he toured gardens of The Netherlands and Belgium. After moving to Victoria BC, he continued working in the field of horticulture.

Jeff has continued to teach at many Horticultural Institutions on the Island as well as a host of Garden Clubs and Seedy Saturdays. He has been the host of Gardening 101 on C-FAX1070AM This is the only weekly garden program in Victoria that reaches a wide audience across Canada and other countries.

Jeff sees the beauty in the world around him and is always willing to share it with others no matter if we are strolling through a garden or dining on a delicious meal with a great glass of wine.
Contact us
to be the first to know when this leader is travelling next!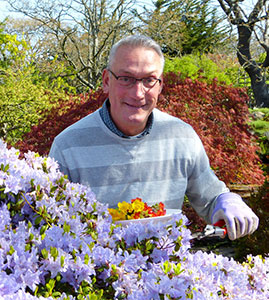 Recent Blog Posts
For more blogs written by this leader, click here.