Mexico
WHERE MOUNTAINS AND MONARCHS THRIVE
Mexico is a rare gateway destination for travellers as it transitions from sub-topical to tropical at about the country's halfway point where the Tropic of Cancer lies. For many travellers, Mexico is an ideal destination for a beach vacation along its coastal lowlands; the heart of Mexico, however, is in its mountainous regions which cover most of the country. Winding through the Sierra Madre Occidental mountain range in the dry northwest is the spectacular Copper Canyon, where one can take the Chihuahua al Paciífico railway through a series of spectacular canyons which collectively dwarf the Grand Canyon. Here reside the Tarahumara peoples, one of several indigenous groups with a rich history in Mexico. The heart of Mayan territory is marked most notably by the mesmerizing Chichen Itza archaeological site. Its Kukulkan Pyramid is one of the seven new wonders of the world. The Yucatan is also home to a remarkable biodiversity, including several species endemic to the peninsula. These life forms contribute to Mexico being classified as one of the most "mega-diverse" countries in the world, making it a choice destination for naturalists.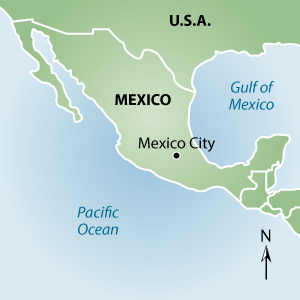 ---
BEST TIME TO TRAVEL
The best time to visit Mexico is between December and April, during dry season.
---
GOOD TO KNOW
Mexico introduced chocolate, chillies and corn to the world.
---
SIGNATURE MOMENTS
Observing endemic wildlife of the pine-oaks forest ecoregion.
Visiting the wintering grounds for the most impressive insect migration in the world
Witnessing millions of butterflies cover trees and fill the sky when they take flight
---
BE SURE TO TRY
• Chilaquiles
• Elote
• Pozole
---
Language
Spanish is the most widely-spoken language in Mexico. The government also recognizes 68 Mexican indigenous languages.
---
VISAS
Americans only need a tourist visa if visiting for more than 180 days. Canadians must obtain a tourist card to enter Mexico.
Nearby Destinations