Ecuador
From the Pacific coastal lowlands to the west, to the Amazon lowlands of the east, to the towering Andean highlands in between, Ecuador is brimming with life in all forms, colours, shapes and sizes. There is also a unique convergence of colonial, indigenous and modern cultural traditions to be found in this relatively small tropical nation. Amid the snow-capped volcanoes of the Andes are the colonial meccas of Quito and Cuenca. North of Quito lies the indigenous market of Otavalo, while beautifully haunting ruins from various tribal traditions dot the highlands. The nation's crown jewel is perhaps the Galapagos Islands, 1000 kilometres westward off the Pacific coast. This storied archipelago is a living laboratory of evolutionary biology, with a host of strange and wonderful creatures unique to the Galapagos, and, in many cases, individual islands.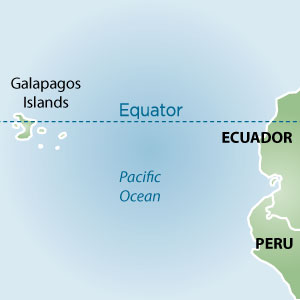 ---
BEST TIME TO TRAVEL
The best time to visit Ecuador depends on which area of the country you travel to!
---
GOOD TO KNOW
The Otavalo Market offers a stunning array of art and crafts without any of the dreaded hucksterism
---
SIGNATURE MOMENTS
Getting the perfect picture of iconic Pinnacle Rock
Dining at our favourite hacienda near Otavalo
---
BE SURE TO TRY
• Fanesca
• Ecuadorian ceviche
• Llapingachos

---
RECOMMENDED READING
The Beak of the Finch: A Story of Evolution in Our Time by Weiner, Jonathan.

The Ecuador Reader: History, Culture, Politics by Carlos de la Torre and Steve Striffler
---
VISAS
There are no visa requirements for Canadian or American citizens visiting Ecuador for stays of up to 90 days.
Nearby Destinations