Brazil
FOR THE NATURE-LOVER AND CULTURE VULTURE
It is a country that exudes a passion for life among its people and boasts an abundance of it in its natural and urban spaces alike. Big and bold in every way, Brazil is an ideal destination for both the nature-lover and culture vulture. Coastal Rio de Janeiro offers breathtaking views and countless opportunities to sample local cuisine and marvel at its historic neighbourhoods and compelling architecture. Visiting Ouro Preto is a step back into the height of the colonial baroque, while a decidedly African feel permeates Salvador with its Capoeira and Candomblé. In the country's humid northern reaches, the magnificent Amazon is home to pink and gray river dolphins, monkeys trouping through the forest canopy, colourful birds screeching through the understory and flying buttresses of eye-popping size propping up even more impressively-sizes rainforest trees. In the world's largest wetland – the Pantanal – the continent's greatest concentration of wildlife is found. Not to be forgotten is the Itatiaia region with its two extremes: Atlantic coastal rainforest and the treeless summit of Agulhas Negras.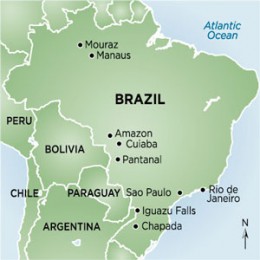 ---
BEST TIME TO TRAVEL
September and October are the best time to visit Brazil.
---
GOOD TO KNOW
The Christ the Redeemer Statue in Rio de Janeiro is one of the New 7 Wonders of the World
---
SIGNATURE MOMENTS
Floating just a few metres away, while a Jaguar grooms itself on the beach

Watching the Maned Wolf at Caraça


Sitting on the porch of our lodge as a pair of Hyacinth Macaws preen each other above
---
BE SURE TO TRY
• Moqueca
• Cachaça
• Brigadeiros
---
RECOMMENDED READING
Brazil, Five Centuries of Change by Thomas E. Skidmore

Brazil on the Rise, The Story of a Country Transformed by Larry Rohter
The River of Doubt: Theodore Roosevelt's Darkest Journey by Candice Millart
---
VISAS
Canadian and American passport holders do not need a visa for stays of up to 90 days.