Namibia Flying Safari: Your Way
Choose your dates
7 days | Namibia | Private Journeys
The great unbound spaces of Namibia are best appreciated from the air – this is the ultimate destination for any traveller looking for amazing landscapes, endless horizons, and untouched nature. And for a bird's eye view, a flying safari is the only way to go. Our flying safari is a wonderful (and cost efficient) option. You'll cross the country from Etosha National Park in the north to the Namib Desert in the far south. The flights are not mere transfers from A to B, but eye-popping experiences in themselves. You'll fly low over dunes and deserts, mountains and migrations. And when you land at air strips you'll be met by 4WD vehicles and your ground safari guide to take you on game drives in the national parks. Here you'll find desert adapted elephants, rhinos, zebra and many of the big cats. You'll climb some of the highest dunes in the world at Sossusvlei and play with seals in Walvis Bay. The country is a visual feast and a photographer's dream. Prepare your lenses and set off on this aerial adventure! We offer a mouth-watering range of flying safari routes from nine to 21 days, from Namibia to Ethiopia. Our pilot guides are experts not only at piloting their planes but at making the safari experience come alive through their deep knowledge of southern Africa and their personal contacts. Accommodation choices range from simple lodges to ultra-remote deluxe tented camps. Please contact us to discuss creating your personal flying safari.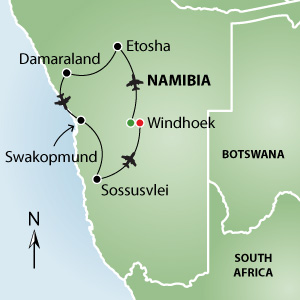 FEATURED ON THE BLOG
Itinerary at a Glance
| | |
| --- | --- |
| Day | Activity |
| 1 | Arrive in Windhoek |
| 2 | Meet you private pilot and set off by air over the Waterberg Plateau to Etosha National Park |
| 3 | Enjoy game drives in Etosha National Park to encounter elephant, giraffe, zebra and with luck lions, cheetahs and leopards |
| 4 | Fly over the remote and rugged Kaokoland and along the Skeleton Coast to the Etendeka Mountains |
| 5 | Fly over volcanic plains to Cape Cross to visit the Steller Sea Lion colony and then to Swakopmund: a German seaside town |
| 6 | Cruise Walvis Bay and in the best afternoon light, fly over the Namib Desert dunes to Sossousvlei |
| 7 | Explore the famous dunes of Sossousvlei and the dry white lake of Deadvlei and then fly back to Windhoek |
| 8 | Depart Windhoek |
Download Itinerary
Or call 1-800-387-1483 with any questions or to reserve your spot!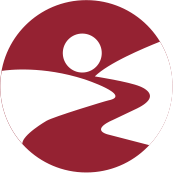 Tour Cost (per person):
From US$4995 per person (based on 4 passengers travelling)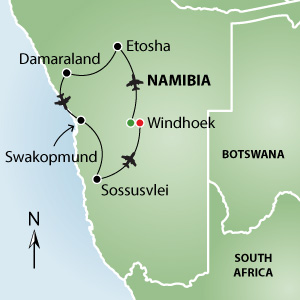 FEATURED ON THE BLOG
View More Trips In...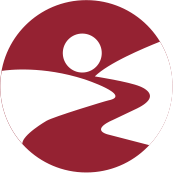 Private Journeys
You may Also be interested in...