Algonquin Provincial Park: A Closer Look
Jun 13-19, 2021
7 days | Canada | Cultural Explorations
Tom Thomson wrote this line upon trying to paint the maple trees, the birch, and the pristine waters of Algonquin National Park. While he makes clear that there was something about the place that would always escape him, whatever he felt there, whatever he saw, it would draw him back. He would return to this park time and time again. And he would bring his friends and colleagues to join him. Group of Seven members Frank Varley, Arthur Lismer, A.Y Jackson journeyed to/journey through this place with Thomson, through these forests, on these rivers and lakes as they too tried to capture something of its unique beauty, of its wonder on their canvases.

They would leave the place transformed. They would go back to their studios, go back to their canvases with sketches in hand, and re-create with line, colour and composition something of their experience there. In so doing, they would forever change how we see the natural world.

Join philosopher, art lover and nature observer Wendy O'Brien as she takes a closer look at Algonquin National Park through the eyes of Thomson and The Group of Seven. Framed by shared readings, offering time for guided reflection on the natural environment and on the artworks created by these artists and their first nations predecessors and contemporaries, this trip provides an opportunity to explore the beauty of the park and of the paintings in order to develop a deeper understanding of our place in the natural world and the natural world's place in us.

We are staying at the picture-perfect Arowhon Pines Resort, one of just three lodges inside the wilds of Algonquin Provincial Park, on the shores of Little Joe Lake. Enjoy the simple elegance of comfortable, rustic accommodation, wonderful cuisine made from local ingredients, and the peace and tranquility of the wilderness.

Artists have come to this place and allowed it to change them. In turn, the paintings they created changed how we understand and, perhaps more importantly, how we see the natural world. Their artworks provide us with studies in observing nature, in the creation of paintings and in the practice of the appreciation of both. Dare to take up/take on their project and explore this beautiful, untouched land and rethink our relationship to nature. Please join us!


Instructions for Living a Life:

Pay Attention;
Be Astonished;
Tell About It.

- Mary Oliver, "Sometimes"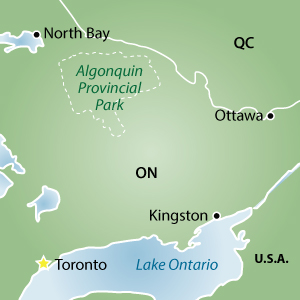 What's included: Roundtrip transportation from Toronto to Algonquin Park; accommodation based on double occupancy; transportation for daily activities; most meals; experienced guides for walks and excursions; all sightseeing and entrance fees; gratuities; daily discussions hosted by Wendy O'Brien
"The best I can do does not do the place much justice in the way of beauty." - Tom Thomson
Itinerary at a Glance
| | |
| --- | --- |
| Day | Activity |
| 1 | Head north by private coach from Toronto to Algonquin P.P. |
| 2 | Tom Thomson in the Park |
| 3 | The Group of Seven |
| 4 | The Art Centre |
| 5 | Looking Outwards, Seeing Inwards |
| 6 | From The Forest To The Canvas |
| 7 | The Art Gallery of Ontario |
Download Itinerary
Your Tour Leader

Dr. Wendy O'Brien is a celebrated philosopher, teacher and interviewer. With over 30 years experience teaching in post-secondary education, she's given talks and led seminars on creativity, beauty and wonder at Humber College, Oxford University, Harvard, The Art Gallery of Ontario, The Women's Art Association, Classical Pursuits and The International Festival of Authors.
Or call 1-800-387-1483 with any questions or to reserve your spot!
Tour Cost (per person):
Approx. C$3795 + GST
Group Size:
10 - 16 participants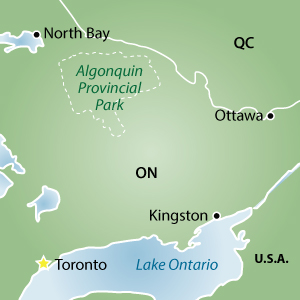 What's included: Roundtrip transportation from Toronto to Algonquin Park; accommodation based on double occupancy; transportation for daily activities; most meals; experienced guides for walks and excursions; all sightseeing and entrance fees; gratuities; daily discussions hosted by Wendy O'Brien
View More Trips In...
Cultural Explorations
You may Also be interested in...