Diane and Doug Clement
Diane & Doug Clement are both former Olympians in track and field, and are highly regarded in their athletic and culinary professions. Diane Clement was a sprinter on the 1956 Canadian Olympic team and a bronze medalist at the 1958 Commonwealth Games. She is also an accomplished chef, author of the bestselling Chef on the Run series, and the former host of Global TV's "Saturday Chefs." Dr. Doug Clement is a former Olympic and Commonwealth athlete and coach, and a Member of the Order of Canada. He taught and practiced sports medicine for over 20 years at the University of British Columbia, and co-founded UBC's Allan McGavin Sports Medicine Centre. Together, they have received numerous awards and honours including the Queen's Jubilee Medal for their outstanding contributions to health, fitness and sport in Canada.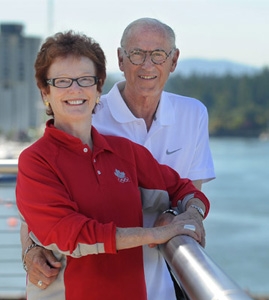 Current Projects
As founders of the Vancouver Sun Run, they look forward to it every year. It has grown to be one of Canada's largest races (the world's second largest timed 10k), and they enjoy gathering alongside nearly one million people each year for this tradition .
Memorable Moment
Diane: "When we travelled, Doug coached Olympic athletes and I was team manager and media liaison. I would take cooking classes along the way and make sure the teams got proper breakfasts and lunches while they trained."